Jump to Winery List
Cudal and Manildra Wine District
The Cudal and Manildra Wine District includes wineries, vineyards and cellar doors surrounding the small townships of Cudal and Manildra. It is located in the heart of Cabonne Country, about 35 kilometres west of Orange. The area has rich soils and a mild climate supporting a range of agricultural industries including sheep and wool, fat lambs, wheat and canola, cattle and vineyards, viticulture and wine making. Cudal has a wide range of accommodation at farmstays bed and breakfasts, the Cudal Motel, the Royal Hotel and a local caravan park. The old Commercial Exchange Stores in Cudal is the famous Cabonne Food Wine and Cultural Centre. The Cudal Mohair Stud produces top quality mohair fibre and apparel is also a unique feature that is worth a visit. Cudal is a great place to stay and use as a base for exploring the many attractions and activities available in the area including wineries and cellar doors such as Monument Vineyard, located on The Escort Way at Cudal.

The renowned Orange Wine Region is home to more than 35 vineyards in ten districts: Orange City ; Burrendong Way ; Borenore ; Cudal ; Cargo Road ; Pinnacle Road ; Emu Swamp ; Millthorpe ; Blayney ; Lyndhurst .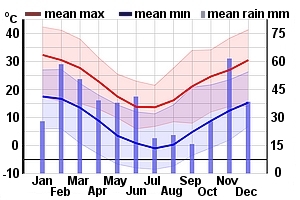 Winery Tour Map
Wineries
Cumulus, NSW `Quondong`, Cargo Road, Cudal NSW 2864
The Rolling vineyard lies in the hills surrounding the Orange township of NSW and grows wines of elegance and power. In 2003, Assetinsure with primary shareholders Babcock and Brown, purchased an existing wine business, consisting of an exceptional winery and vineyard in this emerging cool climate region. Planted in 1995, our vineyard Rolling was named after the near perfect wave effect that rippl...
Monument Vineyard, NSW Cnr Escort Way and Manildra Road, Cudal NSW
The original concept for the Monument Vineyard originated in the early 1990s with a group of five Charles Sturt University Viticulture and Wine Science students. These were mature-age students, successful in their own professions who wanted to become seriously involved in wine growing. First thoughts were directed to cooler regions and the high altitude region near Orange in NSW. The partnership b...