Jump to Winery List
Mount Barker West Sub Region
The Mt Barker West District in the Great Southern Wine Region lies North of Albany, and West of Mt Barker. It includes vineyards and wineries surrounding the township of Mt Barker and Forest Hill. Mount Barker, is located about 360 km south of Perth and 55 km north of Albany on the Albany Highway. The township of Mount Barker services a large and rich agricultural area and is the base administration base for the Plantagenet Shire. Originally Mount Barker was known for apples, but today the focus is mostly on sheep and cattle farming and vineyards. The Mount Barkers wineries and vineyards are famous in Australia and worldwide. The unique high quality table wines produced in this region have won many prizes throughout Australia. The library and adjoining art gallery are worth visiting. Mount Barker is a perfect holiday centre with a wonderful range of accommodation and a great range of attractions and activities. There are excellent recreational facilities and Mount Barker is adjoins a wonderful range of Natural Parks and nature areas. Some of the many historic buildings and attractions include: The Scenic look-out, The Porongurup Ranges and National Park, The old Police station and gaol, St Werburgh's Chapel.

The Great Southern Wine Region includes eleven districts : Albany ; Denmark ; Frankland River ; Cranbrook ; Mount Barker ; Porongurup ; Walpole ; Broome Hill ; Borden ; Redmont ; Mount Barker West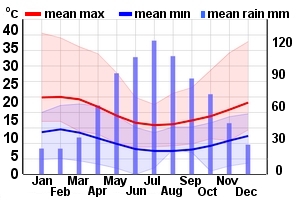 Winery Tour Map
Wineries
3 Drops, WA 16 km West; Wragg Rd, Mount Barker WA 6324
3drops began with a family farm and a vision- a vision to produce premium wines and extra virgin olive oil whilst maintaining the integrity of the land for generations to come. Our vineyard comprises 15 fertile hectares planted with varieties of Riesling, Sauvignon Blanc, Chardonnay, Pinot Noir, Merlot, Cabernet Franc and Shiraz. Italian, Greek and Spanish varieties of olive trees thrive alongside the vines. The name 3drops was chosen to reflect the attributes of three precious liquids wine, olive oil and water, with both the vineyard and olive grove carefully irrigated from a large wetland on the property.
Garlands Wines, WA Lot 503 Marmion St, Mt Barker WA 6324
Mount Barker leads the way in Western Australia, producing outstanding wines that benefit from the cool, long ripening climatic conditions of the region. Mike Garland has produced his finest wines to date from a standout vintage producing stunning fruit intensity and quality. Such great value and consistency from such a diverse range of wines is a rarity. At Garlands the emphasis is on elegance an...
Goundrey Wines, WA Langton, Muir Highway, Mt Barker, WA 6324
Goundrey Wines established in the early 1970`s. Amongst the original vineyards were 2 hectares of Riesling and Cabernet Sauvignon, planted by the Goundrey family in 1971 at the original Windy Hill property. Following the success of this `hobby` sized development, further vines were planted at the Windy Hill property, and in 1976 and the first vintage was produced by Michael Goundrey in a garage sh...
Merrebee Estate, WA 15 km W of town, 3339 St Werburghs Rd, Mount Barker, WA 6324 Muirs road
Merrebee Estate is situated 15 kms west of Mount Barker near the Hay River nearby the historic old St Werburgh`s Chapel. The vineyard, established in 1985, is planted to 3 acres each of Riesling, Chardonnay and Shiraz grape varieties. New planting of Cabernet Franc, Cabernet Sauvignon and Merlot were completed in 2000. Located in Mt Barker subregion, 350kms from Perth, the soils are predominantly ...
Pattersons Wines, WA St Werburghs Rd., Mount Barker, WA 6324
Sue and Arthur Patterson planted their 4 ha vineyard in the early 1980`s. It is situated on St Werburghs Road in a small offshoot from the Hay River Valley. The vines have thrived in the moist, cool and sheltered valley where they produce grapes of the finest quality. Pattersons produce premium quality, dry table wines. Most have been wood matured and bottle aged prior to release. All are ready fo...