Jump to Winery List
Mount Barker Sub-Region
The Mount Barker Wine Region lies North of Albany and West of Porongurup in the Great Southern Wine Region and includes the area surrounding Mount Barker. The region lies at the heart of the Great Southern Region, about 350 km from Perth and 50km inland from the coast. The altitude of most of the vineyards is about 300 m above sea level. The climate is Mediterranean with lower levels of humidity and more sunshine than the coast. The climate of the region is very similar to that of the Medoc region of Bordeaux in France with very similar effective day degrees. In summer regular sea breezes from the Southern Ocean keep temperature down. Evening temperatures, even in summer can be below 10 degrees C. Mid-Winter temperatures generally range from 2 to 12 degrees and most rainfall occurs during winter. The cool climate is most suitable for medium bodied Cabernet Sauvignon and early ripening Shiraz. The Mount Barker Region also has a reputation as one of the best Riesling producing areas in Western Australia and the Chardonnay wines vary from lean to moderately flavoured styles. Most wineries and vineyards are established on gravelly loam soils called 'marri' , which have low fertility abut are well drained.

The Great Southern Wine Region includes eleven districts : Albany ; Denmark ; Frankland River ; Cranbrook ; Mount Barker ; Porongurup ; Walpole ; Broome Hill ; Borden ; Redmont ; Mount Barker West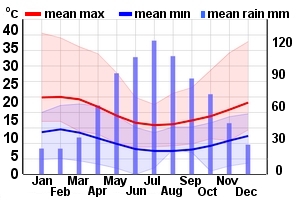 Winery Tour Map
Wineries
Abbey Creek Vineyard, 2388 Porongurup Rd, Mount Barker WA 6323
Abbey Creek Vineyard is the family-owned boutique vineyard of Mike and Mary Dilworth, situated on the northern slopes of the Porongurup Range in the Great Southern wine region of Western Australia. The Porongurup sub-region excels in growing cool-climate grape varieties, resulting in intensely flavoured wines. We produce Riesling, Sauvignon Blanc, Pinot Noir and Cabernet Sauvignon.Our wines have had considerable wine show recognition, with many gold and silver medals, including nine wine show trophies. The 2013 Abbey Creek Riesling won two trophies (Champion Riesling and Champion White Wine) at the 2013 National Cool Climate Show.
Deep Water Estate, WA East of Mt Barker; PO Box 110 Mount Barker
At Deep Water Estate they believe in making premium quality affordable wines for everyone`s enjoyment, after all they can only drink so much ourselves. Their newest vineyard is located on Porongurup Road midway between Mount Barker and the magnificent Porongurup Ranges. It is 10 acres in area and was constructed and planted in 2003 with Cabernet Franc,Merlot, Riesling and Chardonnay. Kincora Viney...
Galafrey Wines , WA 432 Quangellup Rd Mount Barker WA 6324 Australia
Galafrey Wines is a family-owned winery, established in 1977 by Ian Tyrer (1946-2003). Galafrey has continued to prosper under the management of mother and daughter team Linda and Kim Tyrer, and Kim's husband Nigel Rowe, who all maintain hands-on roles to ensure that the Galafrey philosophy lives on. Galafrey has twelve hectares under vine consisting of Chardonnay, Riesling, Cabernet Sauvignon, Shiraz, Cabernet Franc, Pinot Noir, and Merlot. They also grow Muller-Thurgau, a unique white grape variety that produces a light, flavourful, fruity grape that's low in acid. Galafrey Wines' philosophy is to strive for excellence to produce small parcels of distinctive and consistently exceptional wines through commitment to producing fruit of the highest quality which they believe is the key to great winemaking.
Jeeleunup Gully, WA RMB 905 Duck Road Mount Barker WA 6324
Jeeleunup Gully wines is a small family run vineyard, set amongst grazing land and Jarrah/Marri woodlands in the heart of Western Australia`s Great Southern Region. At Jeeleunup Gully we have years of experience in growing great tasting fruit. Made in accordance with Organic standards, the wines are clean and crisp and exhibit loads of intense fruit flavours. Regular application of the biodynamic ...
Karrelea Estate, WA Duck Road, Mt Barker WA 6324
Karrelea Estate Vineyard is located 4km from Albany Highway at the foot of Mt Barrow in the picturesque farming region of Mt Barker. It is producing wines of a very fine character, wines often described as having quite distinctive floral overtones and complex fruit flavours. The high quality of wines being produced reflects the bio-dynamic farming practices used in the vineyard. These practices ex...
Landsdale, WA Denmark Rd, Mount Barker, WA 6324
The 14-year old Landsdale Vineyard is located in the renowned premium grape-growing region of Mount Barker in the Great Southern, Western Australia. The vineyard is one of the oldest in the region and is held in extremely high regard. The highly regarded Landsdale Vineyard is located in the heart of Mount Barker. Its creeks contain the native West Australian marron (freshwater lobster). A striking...
Plantagenet, WA Lot 45 Albany Hwy, Mount Barker Western Australia 6324
Plantagenet Wines is the oldest winery in the Great Southern. The vineyards were established in 1968 and the winery itself in 1974. We have 126 hectares under vine across five sites to the south and west of the Mount Barker township We produce premium wines from Riesling, Sauvignon Blanc, Chardonnay, Pinot Noir, Shiraz and Cabernet Sauvignon.  Plantagenet Wines possess the fruit resource and winery infrastructure, including a bottling line, to ensure that all parts of the process are 100% controlled for the best result possible. We are owned by a West Australian family and hold a 5 Red Star Winery rating from the James Halliday 2019 Wine Companion.
Poacher`s Ridge, WA 1630 Spencer Road, Denbarker WA 6324
Founded in 1999 by Alex and Janet Taylor, Poacher's Ridge is nestled amongst the undulating hills of the Great Southern, on the western outskirts of the small townsite of Narrikup. We took our name after being mistaken for sheep rustlers when first inspecting this ancient land. We knew right then that we'd found a place of story and promise. A place where the distinct terroir now imbibes the wine with a certain complexity only found from our small patch of dirt. A small, family-run vineyard, consisting of Alex, Janet, Marcus and Andrew Taylor, and Winemaker (James Halliday's Winemaker of the Year, 2015) Robert Diletti, we take great care producing hand-crafted wines driven by the land, the seasons and a dedication to honest winemaking traditions. We hand-tend our twenty acres under vine, cultivating grapes that best reflect the lay of the land and the style of wine we love to drink: cool-climate, medium-bodied varietals, with a particular focus on Riesling, Marsanne, Shiraz, Merlot and Cabernet Sauvignon.
West Cape Howe Wines, 14923 Muir Hwy, Mount Barker WA 6324
West Cape Howe was founded in 1997 and soon became one of the most popular wine brands in Western Australia. Over time it has acquired some of the oldest vineyard resources in the state, giving it un-equalled access to the best and most consistent quality fruit that the cool Great Southern wine region has to offer. The West Cape Howe Langton Vineyard in Mount Barker consistently produces the highest quality fruit resulting in wines of harmony, balance, structure and flavour. Established in 1978, the Langton Vineyard has some of the most mature vines in the Great Southern. It includes: Riesling Block 6 (4 Ha) Fruit from this block has now produced three Wine Show Trophies; Cabernet Sauvignon Block 1 (1.8 Ha); Shiraz Block 5 (3.5 Ha)