Jump to Winery List
Albany District
The Albany Region, south of Perth in the Great Southern Wine Region area, includes vineyards and wineries close to the townships of Albany, Nanarup, Kalgan and King River. The popular tourist destination of Albany is located on the southern coast of Western Australia about 300 km south of Perth. (4.5 hour drive). Albany is a place of dramatic contrasts with dramatic convict history, rugged granite coastline, yellow beaches, green seas and the wild beauty of its forests. You can explore the old taverns, convict jails, historic buildings, settlers cottages and whaling ships that are a popular feature of Albany. Many of the historic buildings now house art and craft galleries, museums, bed and breakfasts and restaurants which you can see along the Amity Trail, which is a 30 minute long self-guided walk through the town. You can also tour the old whaling station, clamber aboard a restored whaling boat and explore the famous Brig Amity - a lovingly built replica of the first ship that brought the settlers and convicts Albany. Alternatively you can explore the many natural attractions along the rugged coastline of Torndirrup National Park, or see the famous Natural Bridge granite formation. At the right time of the year you can watch from a shore-based lookout or take a whale watching cruise to see the magnificent Humpback and Southern Right whales that visit the area. Albany also offers fabulous boating canoeing kayaking, fishing, sailing and swimming. Divers will thrill at the chance to dive on the old HMAS Perth, which was sunk offshore to create a wreck dive experience.

The Great Southern Wine Region includes eleven districts : Albany ; Denmark ; Frankland River ; Cranbrook ; Mount Barker ; Porongurup ; Walpole ; Broome Hill ; Borden ; Redmont ; Mount Barker West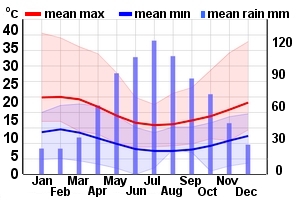 Winery Tour Map
Wineries
Jinnunger Vineyard, WA RMB 8601A Nanarup Rd, Albany, 6330, Western Australia.
Jinnunger vineyard is about 18km east of Western Australia`s most southerly city - Albany - at the western end of the Great Australian Bight. Jinnunger is in the Albany division of the Great Southern wine region. This region around Albany is one of Australia`s finest. With a spectacular coastline, pristine beaches, National Parks protecting great natural biodiversity and a wide selection of seafoo...
Lincoln & Gomm, WA 198 Link Road, Marbelup WA 6330
Here at Lincoln and Gomm Wines, home of the oranjetractor, we do things a little differently. You won`t find us using pesticides, herbicides and an array of synthetic fungicides to grow our grapes. And you probably won`t see us at the usual chain liquor stores. We produce only a small quantity of wine from our sustainably-managed vineyard in Albany, WA, and prefer to deal with our customers on a o...
Montgomery`s Hill, WA 45805 South Coast Hwy (East), Kalgan River via Albany
Montgomery`s Hill Vineyard is situated on the South Coast Highway 15 kilometres east of Albany, Western Australia. Bordered by the Kalgan River, and with north facing slopes it is ideal for premium grape production. The property is set on approximately 200 acres and the vineyard takes up 25 acres, or 10 hectares. In an average year we would produce 70-80 tonne of grapes. At roughly 850 bottles per...
Parish Lane Wines, 4 Moirs Rd, Albany WA 6331
Every vintage the same group of friends gather to lend a hand and somehow the picking becomes more of a day out than a chore. Gossip is shared across rows and the fitter members lug baskets of grapes to the ute. Breaks are frequent, whether for tea, lunch or just to find out why Richard was laughing so much. At the end of the day a trailer sits loaded with huge boxes stuffed with the promise of a new wine. This is the time to sit back in the last glow of the evening sun, to drink the previous vintage and imagine the possibilities before you.