Jump to Winery List
Cranbrook Sub-Region
The Cranbrook Region lies North of Mt Barker and West of Porongurup in the Great Southern Wine Region and includes the townships of Cranbrook, Tenterden, Kendenup, Mt Barker. Cranbrook is renowned as the gateway to the Stirling Ranges National Park and is located about 320 km south east of Perth. As well as a tourist centre Cranbrook is a service centre for the surrounding sheep and cattle grazing properties and vineyards. The magnificent Stirling Range National Park are one of the best natural features in Western Australia. The Stirling Range has about and 50 peaks over 600 m high and 15 peaks over 900 m high. The Park features a great diversity of flora and fauna and stunning scenery. There are a number of major walking trails in the Stirling Range National Park and you can get an excellent brochure from the vistor centre and shops in town. The township of Frankland that lies about 50 km west of the Cranbrook is the gateway to winetours of the Frankland River Wineries.

The Great Southern Wine Region includes eleven districts : Albany ; Denmark ; Frankland River ; Cranbrook ; Mount Barker ; Porongurup ; Walpole ; Broome Hill ; Borden ; Redmont ; Mount Barker West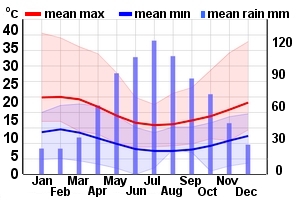 Winery Tour Map
Wineries
Gilberts Wines, WA 30138 Albany Hwy, Kendenup, WA 6323
Third generation family farmers, the Gilberts believe in the nurturing of the regions assets: rich soils, mild climate and clean environment to grow the best grapes. They use the services of a contract winemaker to produces wines that are full of character! Cellar door sales are set in a restored farm cottage with wonderful views of farmlands and the Stirling Ranges. The vineyards at Gilberts Wine...
Marribrook Wines, WA Lot 413 Albany Highway, Kendenup WA 6323
Marribrook vineyard is located 2 km south of the town of Frankland, and some 75 km north of the coastal town of Denmark and 65 km north-west of Mount Barker. Planting started in 1990, with Chardonnay and Cabernet Sauvignon. Marribrook now has 15 acres under vines, consisting of the following varieties: Cabernet Sauvignon, Cabernet Franc, Malbec, Merlot, Chardonnay, Marsanne, Semillon and Sauvignon...
Towerhill Estate, Rmb 501 lot, 2 Albany Hwy, Kojonup WA 6395
Towerhill Estate was established in 1993 at Mt Barker in the heart of the Great Southern Region of Western Australia where mild wet winters, well drained soils and warm, dry summers yield outstanding cool climate wines. Towerhill Estate excels in producing medal winning wines from small parcels of high quality fruit handpicked from responsibly tended, non-irrigated, low yielding vines. In 1993 the Williams family planted 6.5 ha of Cabernet Sauvignon, Riesling, Merlot and Chardonnay vines.
Trevelen Farm, 506 Weir Rd, Cranbrook WA 6321
Our wine is the result of a passion for growing excellent fruit. It all starts in our vineyard, part of a long history with the land here. The Trevelen Farm vines were established as an extension of farming operations in 1993, starting the most northerly vineyard /wine label in the Great Southern Wine Region. Our signature Riesling and Cabernet Sauvignon support our range of wines that include Sauvignon Blanc, Chardonnay, Katie's Kiss Riesling, Merlot and Shiraz. From our first vintages, all our wines have received critical acclaim. Trevelen Farm continues to have wine show success. Current vintages are no exception with current release wines receiving medals. See current release wines tasting notes