Jump to Winery List
Porongurup Sub-Region
Porongurup Wine Region, in the Great Southern Wine Region south of Perth, includes the towns of Porongurup, Mt Barker, Kamballup, Narrikup and Woodburn. The wineries in this region surround the fabulous Porongurup National Park, which includes several wonderful scenic drives throughout the park. The regions vineyards are mostly grown on `karri` loam soils, which are formed from granite. The major varieties grown in the region are Chardonnay, Semillon, Verdelho, Riesling, Cabernet Franc, Pinot Noir, Merlot, Cabernet Sauvignon and Shiraz. The climate is Mediterranean. The major events include the Porongurup Wine Festival in March. The Porongorups are a small, isolated range of intrusive granite, which have a high diversity of plant species that attracts many visitors every year. The climate is Mediterranean with cool to mild winters and warm, sunny summers. The conditions are cooler and more humid in the higher altitude areas. There are occasional snow falls on the higher peaks during winter and early spring. Most of the vineyards are planted on deep karri loam soils derived from the weathering of granite. The Porongurup Wine Region is well known for its splendid white wine varieties such as Riesling, Chardonnay, Traminer and red wine varieties such as Pinot Noir, and Pinot Meunier.

The Great Southern Wine Region includes eleven districts : Albany ; Denmark ; Frankland River ; Cranbrook ; Mount Barker ; Porongurup ; Walpole ; Broome Hill ; Borden ; Redmont ; Mount Barker West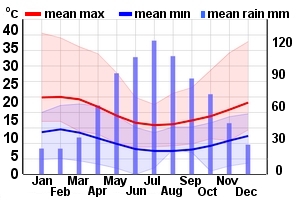 Winery Tour Map
Wineries
Bunn Vineyard, WA PO Box 598, Albany WA 6331
The Bunn family have been connected to the land for generations. They emmigrated from Shrewsbury in the United Kingdom to Albany in Western Australia in the late 1960s. Their farming philosophy has always been to use natural farming methods with a focus on environmental responsibility. Irene and Richard Bunn planted wine grape varieties to suit the local cool climate of the Great Southern wine growing region, located south of Mount Barker in Western Australia. In 1997 Cabernet Sauvignon was planted followed in 1998 by Shiraz vines. In 2017 a block of Riesling was planted to meet the demand for a white wine in the Bunn Wine range. Seeking to produce iconic wines, the expertise of talented winemaker David McNamara was engaged until the 2008 vintage to produce preservative free, natural wines from biodynamically grown fruit. Whilst the vineyard was developing, a purpose built winery was constructed to produce the 2003 vintage, that when released gained a cult-like following. Bunn Wine has been included in the National Australian Slow Food Wine Library at the Melbourne Food and Wine Festival since 2006.
Castle Rock Estate, WA Porongurup Road, PO Box 891, Albany WA 6331
Castle Rock Estate is located on the northeast face of the Porongurup mountain range 40 km north east of Albany and 30 km southeast of Mt. Barker. In 1981 the principals, Angelo and Wendy Diletti, specifically selected the 55-hectare property to grow premium quality table-wine grapes. The choice was based of the altitude, an approximate eastern slope, well-drained soils and excellent water catchme...
Dukes Vineyard, WA Porongurup Road
Duke and Hilde Ranson ended their long search for the perfect property to establish their vineyard as their `retirement`. The first vine was planted on Duke`s 60th birthday, on the 5th August, 1999. We decided to plant beautiful Riesling, beloved Cabernet Sauvignon (by Duke) and spicy Shiraz. We have planted 25 acres of vines on our 160+ acre farm and are running a Suffolk sheep stud on the remain...
Fernbrook Estate, WA 90 Bolganup Rd, Porongurup
Fernbrook Estate Wines (formerly Bolganup Heritage Wines) is located Porongurup, in the Great Southern wine region, in Western Australia's South West. 
IRONWOOD Estate Wines, 2191 Porongurup Rd, Porongurup WA 6324
Welcome to IRONWOOD Estate Wines in the heart of the ancient Porongurup Range in Western Australia's Great Southern Wine region. The IRONWOOD north slope vineyard has the central Porongurup Twin Peaks as a backdrop above and the Stirling Range's 'Sleeping Lady' to the distant north. Planted in the uniquely mineral rich soil, our cool climate elevation and local terroir yields intense, varietal fruit flavours in the wines which consistently exhibit clean palate finishes that pleasantly linger. Cellar and café are open from 11a.m. to 5p.m. Wednesday – Monday for wine tastings & sales, lunches, coffees/teas and cakes.
Karrivale, WA Woodlands Road, Porongurup, WA 6324
A tiny Riesling specialist in the wilds of the Porongurup that forced to change its name from Narang because Lindemans felt it could be confused with its (now defunct) Nyrang Shiraz brand....
Mount Trio Vineyard, WA 2534 Porongurup Rd, Mount Barker WA 6324
Mount Trio was established by Gavin Berry and Gill Graham shortly after they moved to the Mount Barker district in late 1988. Gavin Berry was assistant winemaker to John Wade, and Gill managed the cellar-door sales. Gavin is now senior winemaker and managing director of Plantagenet, and Gill is the mother of two young children. In the meantime they have slowly built up the Mount Trio business, bas...
Zarephath Wines, 424 Moorialup Rd, Napier WA 6330
Set on the eastern end of the ancient and stunning Porongurup Range 40 km North of Albany in the Great Southern Wine Growing Region of WA, Zarephath Wine is a small family run vineyard incorporating a grass roots approach and adopting organic principals where possible. Originally established in 1995 by a Monastic Community and purchased in 2013 by Rosie Singer and Ian Barrett-Lennard, Zarephath's fertile soils, easterly aspect and cool summer breezes contribute to the production of Zarephath's premium, low yield, Award Winning Wine. Wines produced include Riesling, Chardonnay, Pinot Noir, Shiraz, Cabernet Sauvignon and Merlot. All Zarephath Wine is made by local Porongurup Winemaker Rob Diletti.