Jump to Winery List
Denmark Sub-Region
The Denmark Sub-Region, south of Perth in the Great Southern Wine Region includes vineyards and wineries in the area surrounding Denmark. Denmark lies on the coast about 60 km from Albany. The region's reputation has been built around its distinctive Chardonnay and Pinot Noir wines. Denmark is the centre of a thriving tourist industry based on the beaches, fishing and boating. The attraction of the area for visitors has been boosted in recent years by the emerging wine tourism. The climate in the area is Mediterranean with wet winters and warm to hot summers. The proximity to the sea moderate the heat and dryness in summer through the frequent sea breezes that develop each afternoon. The soils are a mix of karri loam and marri loam. While the major focus in the area is on Chardonnay and Pinot Noir, other varieties to excel on the area include red varieties such as Shiraz, Cabernet Franc, Cabernet Sauvignon and white varieties such as Sauvignon Blanc and Semillon. Harvest is generally from early March to mid April.

The Great Southern Wine Region includes eleven districts : Albany ; Denmark ; Frankland River ; Cranbrook ; Mount Barker ; Porongurup ; Walpole ; Broome Hill ; Borden ; Redmont ; Mount Barker West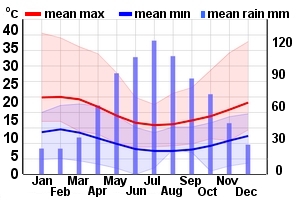 Winery Tour Map
Wineries
Bartholomews Meadery, 2620 South Coast Hwy, Denmark WA 6333
A family run honey business, we are a passionate team of people working to produce the best Honey, Mead and Ice Cream available. Visit us in Denmark to see a glass beehive where you can spot the queen and choose from many bee and honey related gifts, including toys, skin care, drinking horns and all sorts of fun and excitng things that we make and buy in for your pleasure Our hives are kept in the most pristine forests and natural bush land of Western Australia's south west. We search carefully in order to be able to provide varietal honeys, with the result that each honey is very different in flavour. We never put our hives on cultivated crops ensuring the cleanest, purest unprocessed honey that can be produced. With no chemicals or antibiotics used, and each hive being unpainted on the inside, ensuring we adhere to organic guidelines.
Castelli Estate, 380 Mount Shadforth Rd, Denmark WA 6333
A passion for wines, with a relentless commitment to quality "Castelli Estate wines are produced in an idyllic setting on Mount Shadforth in Denmark. The Castelli family's winemaking philosophy is simple; source the best fruit from the southern regions of Western Australia and handcraft wines of individuality and character. Finding those parcels takes a great deal of work. There is a fair bit of country to cover in search of the best fruit, but when that hard work pays off in the bottle, the memory of the miles travelled quickly fades."
Catherine Hill Wines, WA postal PO Box 144, Kalamunda, WA 6076
No data (formerly golden grove, Rise)...
Estate 807, WA 807 Scotsdale Rd Denmark Western Australia 6333
Stephen Junk and Ola Tylestam have been the owner/operators of Estate 807 since 2009. The scenic vineyard is approximately 4.2 hectares, comprising some of the best Pinot Noir and Chardonnay clones. We also have Cabernet Sauvignon and Sauvignon Blanc vines. The vineyard at Estate 807 has a perfect terroir for cool-climate wines. The soils are karri-loam and there is a micro-climate within the valley that has cool nights and long warm days, perfect for slow-ripening of the fruit.
Forest Hill Vineyard, WA Cnr South Coast Highway and Myers Road, Denmark WA 6333
Forest Hill is Western Australia`s oldest cool-climate vineyard. Forest Hill is a proud family-owned boutique winery creating exciting wines of the highest quality. Each is made to be a true reflection of the premium Western Australian grape-growing region of Mt Barker in the State`s Great Southern expressing unique regional and varietal characters combined with finesse, elegance and definition. P...
Harewood Estate, WA Scotsdale Road, Denmark WA 6333
Harewood Estate, established in 1988, is a cool climate vineyard specialising in Chardonnay and Pinot noir. The winery is located in the picturesque coastal town of Denmark in Western Australia. Harewood Estate Wines is constructing a 300-tonne capacity, state of the art winery in preparation for the 2004 vintage. The winery will offer a contract winemaking service, as well as producing an expande...
La Violetta, WA 182 Peace St, Denmark 6333 Western Australia
La Violetta began producing small quantities of wine at Denmark, on Western Australia's south coast, in 2008. Grapes are sourced from a handful of trusted growers with exceptional vineyards, some amongst the oldest in the state. The idea is to keep production at a small scale so that each wine is personally hand-crafted. In 2010, La Violetta's first release, 2008 La Ciornia, featured in Matthew Jukes' Top 100 and Sarah Ahmed's Top Five Australian wines. The wines are not entered into shows due to the limited volumes produced
Monkey Rock Winery, 107 Wentworth Rd, Denmark WA 6333
Monkey Rock Winery was established in 2000 when the first grapevines were planted by Regula and Hermann Fehr on their property, which is located 10km west of Denmark in the Great Southern region of Western Australia. Their dream was to produce wine that had no added preservatives using traditional Italian methods. In collaboration with winemaker Angelo Scifoni the first vintage was produced in 2004. Over the past 13 years they have been perfecting the process of making wine without the need to add preservatives. They also produce traditional Italian liqueurs such as Limoncello and Nocino, and some modern liqueurs such as choc orange, all with no added preservatives.
Moombaki Wines, 341 Parker Rd, Kentdale WA 6333
MOOMBAKI is a small, family run winery committed to making distinctive hand-crafted wines. The vineyard was established in 1997 by David Britten and Melissa Boughey on their property which borders the pristine Kent River (between Denmark & Walpole). A gentle north-facing slope, gravelly soils, and temperate climate all work their magic on low-yielding vines. When we established the vineyard we had a 2 year-old, one on the way and another yet to be thought about. Now our boys are aged 15, 17 & 20 – what an amazing place to raise a family.
Paul Nelson Wines, 14 Roberts Rd, Denmark WA 6333
Paul Nelson Wines is a small family owned and operated wine producer, based in Denmark, Western Australia. Our wines are crafted to reflect the unique regionality and terroir of the Great Southern and Geographe wine regions. We offer a small and boutique selection of wines that is designed to be distinctively different. Our wines are made to express, in every vintage and in every bottle, a taste experience that is intended to delight, challenge and intrigue every and any willing palate.
Rickety Gate Estate - Winery, 1949 Scotsdale Rd, Scotsdale WA 6333
This picturesque vineyard established by Russell and Linda Hubbard is situated 19Kms along the scenic Scotsdale Road tourist Route in Denmark, W.A. It's valley aspect with rich Karri loam's and gravely soils combined with the north facing slopes of the Bennett Ranges makes this site an ideal location for growing cool climate wine grapes. On the 1st January 2000 the Hubbard Family exchanged the hustle and bustle of the city for the pristine environment of Denmark. Their dream was to produce premium wines and to accomplish this they adopted a "No Compromises" ethos.
Rising Star Wines, WA 46 Redman Rd Denmark, Western Australia
Premium boutique wines from Denmark, Western Australia specializing in cool climate grape varieties. Riesling, Chardonnay, Pinot Noir, Cabernet.
Rockcliffe, WA 18 Hamilton Road, Denmark, Great Southern, Western Australia, 6333
The origin of Rockcliffe was an 18 acre expanse of apple orchards planted early in the 1900's in the rich Scotsdale Valley region of Denmark in the Great Southern, Western Australia. In the late 1980's, a local family acquired the property for its fertile soils and position for long afternoon sunshine with cool ocean breezes. It was christened Matilda's Meadow and the planting of dry grown vines commenced. The Pinot and Chardonnay vines were the first planted in the district in 1987. Our premium wines proudly carry the winery's name. The name Rockcliffe comes from the stretch of 100 m high granite cliffs that dominate the coastline of the main bay of Denmark. The Single Site wines are true to their origin and express the individual grapes and terroir they come from.
Silverstream Wines, 241 Scotsdale Rd, Denmark WA 6333
Tony Ruse' passion for farming commenced with his first farming property in West Gingin, purchased in 1973. Ironically the vendors were vigneron/winemakers, the Noack brothers, who owned Swanville Wines in the Swan Valley. They had chosen the West Gingin site due to its this wonderful Terra Rossa limestone yellow and orange soils. It would become insurance against the future urban encroachment predicted in the Swan Valley. This property is still owned by the Ruse family, on which they run fine wool Merino sheep on a mixture of annual and perennial pastures. Tony's passion for soil, pasture and animals was despite no family farming history. It was a very inexperienced beginning.
Singlefile Wines, WA 90 Walter Road, Denmark, Great Southern, Western Australia, 6333
Singlefile Wines represents our family's pursuit of excellence. Every wine in our range embodies a drive to craft wines of exceptional quality from Western Australia's Great Southern wine region. At Singlefile we strive to excel in every task that comes before us. From rigorously analysing soil composition and climatic variations through to vigour in the winery, Singlefile's approach to winemaking is nothing short of singular. inglefile's Chardonnay vineyard in Denmark's Scotsdale Valley is the jewel in the crown. In 2007, Phil and Viv Snowden acquired the former Scotsdale Valley Estate property with an established vineyard (planted in 1986) that grew Chardonnay, Merlot and Shiraz. The vineyard is 60 metres above sea level and slopes north/north-westwards, which assists greatly with irrigation and drainage of winter rains. It is planted on rich karri loam and is sheltered by the surrounding giant karri trees. There is ample rainfall in the area, especially in winter, although the vineyard has an irrigation system fed by a large dam on the property. In 2009, the team made the decision to pull out the Shiraz and Merlot vines in order to focus Singlefile's viticulture efforts on just six acres of chardonnay.
Somerset Hill, WA 891 McLeod Rd, Denmark, WA 6333
Somerset Hill Wines reflect the total dedication of their vignerons and winemakers, producing wines with true varietal intensity and flavours. Our vines have a short cool summer in which to accumulate flavours and ripen on the highest vineyard in the Denmark wine-growing region. Constant wind, summer rain and cloud make viticulture a veritable challenge. The North facing slopes and free draining s...
The Lake House, WA 106 Turner Road, Denmark Western Australia
The Lake House Denmark wine collection captures the superb character and richness of the Great Southern Region comprising of Chardonnay, Riesling, Semillon Sauvignon Blanc blends, Pinot Noir, Merlot, Shiraz and Cabernet Sauvignon. Our high attention to detail on every aspect of our grape-growing process ensures that we grow the highest quality fruit for our award-winning red and white wines. Established in 2006, The Lake House Denmark has a 5 Red Star Winery Rating with James Halliday with our premium reserve wines receiving 95 points and above. Located just five minutes from Denmark, The Lake House Denmark cellar door, restaurant and café is a must visit destination with its natural beauty and rustic charm.
Willoughby Park, 678 South Coast Hwy, Hay WA 6333
On Western Australia's South Coast where the Southern Ocean has sculpted a raw and dramatic coastline; on the eastern edge of the Porongurup Range National Park, lies a tiny vineyard. A true hidden gem of the Great Southern wine region. This is our Kalgan River vineyard. A place James Halliday describes as a "mighty mouse of a vineyard", awarding it a 5-star rating. Its proximity to the Southern Ocean brings cooling summer breezes, slowing the ripening of the grapes and allowing for a long, cool, and even ripening period. These vines are dry-grown with root systems travelling deep into rocky soil beds, creating complex fruit with a unique expression of place. Terroir, natural climatic advantage and sensitive viticulture come together to work their magic in this place of beauty and potential.