Jump to Winery List
Frankland River Sub-Region
The Frankland River Region in the Great Southern Wine Region is located near the townships of Frankland, Kojonup and Rocky Gully, North of Denmark. The delightful Frankland River Wine Region boasts rolling hills, rich and productive farming land, a wonderful range of wineries with cellar doors, spectacular natural forest and bushland areas for camping and bushwalking, and spectacular native wildflower displays in Spring. Located about 360 km south of Perth, the Frankland River wineries are booming and the area is quickly becoming one of Western Australia`s most successful and renowned wine producing regions. While a diverse range of grape varieties are grown, the region is most noted for its Shiraz and Riesling and to a lesser extent Cabernet Sauvignon and Sauvignon blanc. Visitors can spend the day visiting some wonderful modern cellar facilities including those at Bobtail Ridge, Alkoomi, Ferngrove and Frankland Estate and taste first hand the distinct flavours the region has to offer. The Frankland River area was the birthplace of the Great Southern wine region. The area was recommended as a table grape growing area by Harold Olmo an American viticulturalist . The soils are mostly the local 'marri' type, that are derived from granite. The climate is Mediterranean, and because the region is well inland, there are virtually no maritime influences. Harvest time is from mid March to mid April.

The Great Southern Wine Region includes eleven districts : Albany ; Denmark ; Frankland River ; Cranbrook ; Mount Barker ; Porongurup ; Walpole ; Broome Hill ; Borden ; Redmont ; Mount Barker West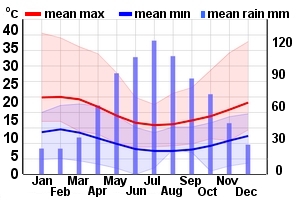 Winery Tour Map
Wineries
Alkoomi, WA Wingeballup Road, Frankland River WA 6396
Alkoomi Wines is the oldest wine producer in the cool climate Frankland River wine district of Australia. It is renowned as a consistent producer of elegant, flavoursome wines of the highest standard. The first vines were planted in 1971 - Riesling, Cabernet Sauvignon, Shiraz and Malbec - and the first wines in 1976. The consistently superb varietal flavours across a wide range of Alkoomi wines ha...
Ferngrove, WA 276 Ferngrove Road, Frankland River, Western Australia 6396
The tourism-oriented winery features rammed earth buildings, corrugated iron roofing, wide verandas, extensive use of local timber, a floor to ceiling glass wall to allow viewing of winery operations and a lookout tower with sweeping views of the spectacular Stirling Ranges. In 1996, with nearly 90 years of beef and dairy farming history behind him, Murray Burton decided to move into premium grape...
Frankland Estate, WA Frankland Road, Fran­k­land, WA 6397
Fran­k­land Estate was estab­lished in 1988 by Bar­rie Smith and Judi Cul­lam who con­tinue to be actively involved in every aspect of the vine­yard and win­ery. They are now assisted by their daugh­ter Eliz­a­beth Smith, son Hunter Smith and a small, hard­work­ing team who enjoy the diverse and idio­syn­cratic chal­lenges asso­ci­ated with work­ing in a fam­ily business. The Iso­la­tion Ridge vin...
Houghton, WA Netley Road, Frankland 6396 WA
Houghton Wines, based in the heart of the Swan Valley, contains a wealth of romantic history. The vineyard, just half an hour`s drive from central Perth, produced its first commercial wine vintage in 1859 although vines are known to have been flourishing on the property`s rich Swan Valley soil nearly thirty years earlier. In addition Houghton operates four of Western Australia`s largest vineyards ...
Lange Estate, 663 Frankland-Cranbrook Rd, Frankland River WA 6396
The Lange family have been cultivating and farming in rural Western Australia for five generations. The tradition continues in Frankland River with the Lange's vineyard, established in 1997 and run by the family, including Kim and Chelsea, their children Jack, Ella and Dylan together with Don and Maxine. The vineyard is situated in the picturesque grape growing region of Frankland River known for producing premium quality fruit - especially Shiraz and Riesling. The vineyard has a high elevation of close to 300m which is unique for Western Australian conditions and when combined with the red jarrah gravel loam soils it leads to wines of great intensity.
Oranje Tractor Wines, 198 Link Rd, Marbelup WA 6330
Doing things a little differently, but always with our fellow inhabitants on this planet in mind, has been our motto from the start. You will find us on a continuous sustainability journey - a route that is challenging yet rewarding. Our goal is to craft unique, terroir-specific wine for you to enjoy using practices that care for the earth. We focus our sustainability efforts on four key areas: Sustainable & Organic Farming; Renewable Energy; Recycling and re-use; Revegetation. Our rustic Tasting Room is packed with vintage items and ambient charm, to help you feel relaxed. The tasting room is reached by a gentle meander through our extensive organic gardens where you'll see a myriad of fruit growing.
Wignalls Wines, 448 Chester Pass Rd, Walmsley WA 6330
Wignalls Wines was established on the outskirts of the then Town of Albany in 1982, after extensive research and investigations into "Terroir" (Environmental factors creating wine quality) by our founder Dr Bill Wignall. Climatology results from the nearby weather bureaux at Albany's airport, showed Albany's growing conditions in Spring and Summer were virtually identical to the famous wine growing region of Burgundy in central France, thus it was decided to experiment with Burgundian varieties such as the then unknown Pinot Noir, Chardonnay and Sauvignon Blanc - all well known in Australia today! First vintages saw amazing results with Trophies and Gold medals for both Pinot and Chardonnay, and subsequently over sixty Trophies and Gold's have been won by our family estate to date, both Domestically and more importantly Internationally