Jump to Winery List
Sevenhill Wine District, SA
The Sevenhill Wine District is located in the Clare Valley Wine Region, includes wineries and vineyards near the townships of Sevenhill and Penwortham, south of Clare. The town of Sevenhill is located about 120 km north of Adelaide. It was first settled in 1848 by the Austrian Jesuit Fathers and Brothers. The name is apparently derived from the reference to the seven hills of Rome. The Jesuits established Sevenhill Cellars, which is the oldest existing winery in the Clare Valley and South Australia. The succession of Jesuit Brother winemakers has developed and maintained a wonderful tradition of dedication and commitment to quality to exemplifies the wonderful wines that they produce. The cellars are situated in the vineyards close to Saint Aloysius Church. Sevenhill Cellars produce a diverse range of renowned quality red, white and various fortified wines that are enjoyed by wine enthusiasts throughout the world.

The Clare Valley Wine Region includes eleven districts : Watervale ; Mintaro ; Leasingham ; Auburn ; Gilbert Valley ; Stanley Flat ; Armagh ; Burra ; Clare ; Polish Hill River ; Sevenhill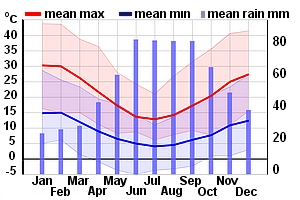 Winery Tour Map
Wineries
Brian Barry, SA Seven Hill Hotel, Seven Hill SA 5343
Welcome to Brian Barry Wines, Makers of low volume, great tasting award winning red and white table wines.BBW is a small, family owned and operated business. Headed by master wine maker Brian Barry O.A.M. along with his son Judson Barry and Judson`s wife Karlei.Why do Brian Barry Wines taste so good and consistently win the industries highest awards? The secret is a combination of excellent natura...
Eldredge Wines, SA 659B Spring Gully Road, Spring Gully, Clare Valley, SA 5453
Beautifully restored cellar door cottage and landscaped gardens set amongst vineyards and scenic natural bushland. Jarrah decked area with panoramic views overlooking the dam. Alfresco dining in summer, cosy log fires in winter. Award winning wines, with fresh regional flavours. Uniquely picturesque venue for weddings, functions or just to enjoy a cheese plate and a glass of wine. Groups please contact us for information and menus. Local gourmet produce such as Olive Oil, jams and relishs are available for purchase at Cellar Door.
Gaelic Cemetery Wines, SA 148 Main North Road, Sevenhill, SA 5453
We are a five star rated, multi-award winning producer of high quality wines that reflect the variety, vintage and uniqueness of the place. The grapes are vinified at Pikes Clare Valley winery facility and the wines are made using a combination of traditional and modern techniques. The focus is on capturing the essence of the vineyard without trying to manipulate the wines too much.
Jeanneret Wines, SA 22 Jeanneret Road, Sevenhill, Clare Valley, South Australia, 5453
Established in 1994 Jeanneret Wines has gained an excellent reputation within the premium sector of the Australian wine industry for producing wines, which demonstrate intense varietal and regional characteristics. Jeanneret`s fully self-contained winery has a most attractive outdoor tasting area and equally attractive picnic facilities situated on the edge of a small lake. Our philosophy is simple and straight to the point, to make the best wines possible. Were not one for trends or rules, we just make what we love. Our wines are generous in flavour and quality. Charismatic and spirited. Our motto is˜naturally perfect reflects our passion to make each of our wines a true expression of the time and place from which they come.
Kilikanoon Wines, SA 30 Penna Lane, Penwortham, Clare Valley, South Australia, 5453
Kilikanoon has 11 hectares of estate vineyards at Leasingham and Penwortham. First Kilikanoon release was April 1998 - 1997 Shiraz, Cabernet, Grenache and two 1998 Rieslings. Owner Kevin Mitchell, rose to fame with win six out of seven trophies in the recent Clare Wine Show, with stately reds - 2000 Oracle shiraz, 2000 Covenant shiraz and 2000 Block`s Road cabernet - and `02 Mort`s Block Riesling. Join us for a tasting at our cosy Cellar Door, housed in the property's original 1860's farmhouse. Nestled in the Skilly Valley and surrounded by pretty cottage gardens, Kilikanoon's Cellar Door is an idyllic setting for tasting through our range of award winning wines. We have a selection of tasting options available, including a private tasting of our Reserve Asset Collection wines in our Revelation Room. Bring along your own picnic, and enjoy the cottage garden and vineyard views, as you settle yourself on the lawns, or take a seat on Tregea's Terrace.
Mitchell Winery, SA 246 Hughes Park Road, Penwortham, Clare Valley, South Australia, 5453
Widely recognised as one of the world's great riesling producers, Mitchell Wines is a small family owned winery in the Clare Valley, South Australia. From their mature, dry grown vineyards the family produces an exclusive range of high quality table wines. As well as the riesling, they craft intensely flavoured, well structured, long living reds from Shiraz, Cabernet and Grenache.
Penna Lane Wines, SA Lot 51 Penna Lane, Penwortham, Clare Valley, South Australia, 5453
Penna Lane Wines is a small vineyard that consistently produces high quality wine. The vines hug the hillsides of the beautiful Skilly Valley, within the world famous Clare Valley wine region of South Australia. Nestled beneath Mt Oakden—one of the highest points in the Clare Valley—the estate vineyards comprise Cabernet Sauvignon, Shiraz and Semillon varieties. The grapes for Penna's distinctive Riesling styles are also grown locally, within the Skilly Valley and Watervale sub-regions of the Clare Valley.The Cellar Door is housed within a nineteenth century dairy, which has been lovingly restored using natural timber, glass and stonework.
Pikes Wines, SA 233 Polish Hill River Road, Sevenhill, Clare Valley, SA 5453
Pikes is a family owned winery, established in 1984 by Neil and Andrew Pike. Over the years the business has grown, but Pikes still has plenty of charm and character. The Pikes label was founded on great Riesling which was again confirmed when the renowned Pikes 'Traditionale' Riesling was awarded the Best Australian Riesling at the 2013 Canberra International Riesling Challenge. Pikes also offers a wide range of wine styles to suit all tastes. Our cellar door and winery is located among the vineyards on our property at Polish Hill River. The restored stone building, originally a shearing shed, was built by Polish immigrants in the 1800's. Adjacent to the cellar door is a beautifully landscaped area for visitors to sit, relax and enjoy a delicious picnic grazing plate and a glass of wine or a Pikes Beer. The grounds are also available to host weddings, wedding photos and other celebrations.
Rhythm Stick Wines, SA Penwortham
At Rhythm Stick Wines we are also proud 2013 winners of the "South Australian Premium Wine from our Clean Environment" Award in the Region of Yorke & the Mid North. We are located among the beautiful Clare Valley Hills at Penwortham in South Australia. All grapes come from our dry grown vineyard the which is a remarkable piece of Clare Valley "terroir". Across all vintages, it consistently produces premium quality Riesling from our single vineyard fruit. Our premium wine claim is backed up by James Halliday consistently high silver and gold ratings for our Rieslings & Reserve Riesling wines across all vintages since our beginning along with the multi Wine Show, Gold &Trophy awards & wine writer accolades received thus far. With an average annual production of 10,000 litres, our Rieslings are rare but well worth the effort to locate. We invite you to become a subscriber to our mailing list and enjoy member discount benefits by simply emailing to us your name, email and address details. If you are a devotee of this "King" of White grapes", no more need be said, if not take the challenge & begin the journey of becoming another one of the increasing number of Riesling fanatics.
Sevenhill Cellars, SA 111 College Road, Sevenhill, Clare Valley, SA 5453
The first winery in the Clare Valley, Sevenhill Cellars was established by Jesuits in 1851 to produce sacramental wine. Today, the award-winning cellar door offers a diverse range of table wines that are highly regarded throughout Australia and overseas. Outside, the park-like grounds provide an ideal picnic spot and play space for families or visitors can explore the many spiritual and historical sites, including the winery museum and underground cellar, the stately St Aloysius' Church and its crypt or the surrounding vineyards, which are some of the oldest in the region. Sevenhill Cellars is a short ride from the region's renowned Riesling Trail and a place you can spend several enjoyable hours.
Shut the Gate Wines, SA 8453 Horrocks Highway, Gillentown, Clare Valley, SA 5453
Rasa Fabian and Richard Woods are the owner / producers behind the boutique wine label Shut the Gate Wines. The wines reflect their passion for targeting small parcels of individual vineyard fruit that display expressive and unique flavour profiles. Visit their atmospheric Cellar Door in Clare for a tasting and enjoy a glass in their beautiful lounge or in the varied outdoor areas. Set amongst vineyards on the main highway into Clare, the cellar door features an onsite Provedore Store to create a DIY Picnic or take a selection of goodies home.
Skillogallee, SA 23 Trevarrick Road, Sevenhill, Clare Valley, South Australia, 5453
Skillogalee Winery and Restaurant is a small family-owned and operated boutique winery set amongst wooded hills in the picturesque Clare Valley, offering cellar door tasting and sales, a winery restaurant and 3 self-contained accommodation venues. The cellar door and restaurant are set in an historic settler's cottage, surrounded by cottage gardens where guests may sample their estate-grown wines or lunch al fresco (in the kinder weather) on the verandah or under the shade of an old olive tree. In winter there are log fires and warm rugs to keep you cosy. The restaurant serves an eclectic al la carte menu featuring selected regional produce in a relaxed atmosphere. Open for breakfasts, lunches, morning & afternoon tea. Dinner functions by appointment.
Stone Bridge Wines, SA 20 Gillentown Road, Sevenhill, 5453
ne of the perks of touring cellar doors in the Clare Valley is that you often encounter the passionate people who founded the wineries. That's the case at Stone Bridge Wines, where you'll find Craig and Lisa Thomson ready to share their diverse range of true-to-style, hand-crafted wines. Their rammed-earth cellar door with combustion fire blazing during winter is a welcoming spot to taste the results from the Thomson's 45-year-old dry-grown Riesling patch or 60-year-old Grenache bush vines. There's something to please all tastes in their line-up, from sparkling wines through to shiraz and even fortified wines.
Stringy Brae, SA Sawmill Road, Sevenhill via Clare SA 5453
Donald and Sally Willson fulfilled a vision for Stringy Brae Estate. They searched long and hard for their precious corner of the Seven Hill region, establishing facilities for guests to drink, eat, sleep and enjoy... Foremost in Donald and Sally Willson`s vision for Stringy Brae was to plant classic grape varieties for vintage wines to be appreciated and respected anywhere in the world. Stringy B...
Sussex Squire Wines, SA 293 Spring Gully Road, Gillentown, Clare Valley, SA 5453
Sussex Squire Wines is a highly award winning family owned winery and cellar door in the beautiful Clare Valley. We are part of the 4th Generation to work the land in the Clare Valley with our focus producing premium dry grown Red wines, specialising in Shiraz. We produce our award winning single vineyard wines with a high focus on the vineyard, with minimal inputs during the wine making process it allows the grapes to express the true character of the vineyard. Our flagship Shiraz is from our dry grown vineyard that is maintained and managed with organic vineyard practices.
The Wilson Vineyard, SA 255 Stonecutting Rd, Polish Hill River SA 5453
Handplunged ; Whole Bunch Pressed ; Hand Picked ; Unfiltered ; Minimal Handling ; Minimal Preservative. These are the techniques employed in our Winery. Low tech, small batch winemaking. There is no substitute. Proof is in every bottle.