Jump to Winery List
Mintaro Wine District, SA
The Mintaro Wine District is located in the eastern part of the Clare Valley Wine Region, and includes vineyards and wineries near the township of Mintaro west of Watervale and Clare in South Australia. Mintaro is a beautifully preserved historic town on the eastern edge of the Clare Valley, located about 126 km from Adelaide. Find your way through the delightful and challenging Mintaro Maze, a living hedge maze of conifers that features fountains and many twists, turns and dead-ends. Mintaro also has the Timandra Gardens that is a multi award winning, Ecotourism accredited attraction. On display are a huge diversity of plants set out in a sustainable design that exhibits water saving principles. Local attrctions include: # Magpie and Stump Hotel that has been a hotel since being licensed in 1851. # Historic towns - Reilly's Cottage Gallery and Wines, The Mintaro Institute (1878), Teapot Inn, The Old Manse, the Pay Office Cottage, Council Chambers and Mintaro Mews, the old General Store that is now an Antiques Store. # The Olde Devonshire Arms that dates from 1856 and now a charming Bed and Breakfast rough the town. # Martindale Hall is a beautifully preserved Georgian style mansion, just out of town. # Mintaro Slate Quarries.

The Clare Valley Wine Region includes eleven districts : Watervale ; Mintaro ; Leasingham ; Auburn ; Gilbert Valley ; Stanley Flat ; Armagh ; Burra ; Clare ; Polish Hill River ; Sevenhill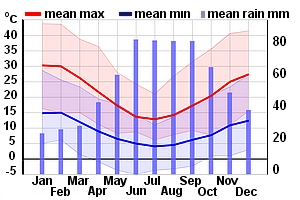 Winery Tour Map
Wineries
Mintaro Wines, SA Leasingham Road, PO Box 47, Mintaro SA 5415
Located on Leasingham Road in Mintaro this small vineyard and winery was established in 1984 and specialises in red and white table wines and tawny port derived from Cabernet Sauvignon, Riesling, Shiraz and Cabernet franc grapes. It is open seven days a week for tastings and sales. For more details contact (08) 8843 9046. Product Range: Riesling, Semillon Chardonnay, Late Picked Riesling, Anastasi...
Reillys Wines, SA Corner Leasingham Road and Hill Street, Mintaro, Clare Valley, SA 5415
Reillys Wines was established in 1993 in an original Mintaro slate building, which was built by Hugh Reilly in 1856. We now utilise this beautiful heritage-listed building as our cellar door and restaurant, which is open 10am - 4pm everyday for wine tastings and bespoke wine experiences showcasing our award winning, estate grown wines. We offer a chef prepared A la Carte lunch menu 7 days a week as well as an indulgent Long Lunch experience on Fridays, Saturdays, Sundays and Mondays. The 4 course Long Lunch is served with personalised wine flights to match individual palates and tastes, and a wine voucher is included so that our guests can take home a dozen wines to share with friends and family.