Jump to Winery List
Clare Wine District, SA
The Clare Wine District in the Clare Valley Wine Region, includes vineyards and wineries between Clare and Sevenhill. The township of Clare The town of Clare lies in the heart of the Clare Valley wine and tourist region about 135 km north of Adelaide. There are many attractions and things to do in Clare: # Stroll of cycle along the Riesling Trail, which follows the route of an old railway line between Clare and Auburn and from which travellers can divert to visit local wineries and craft shops. Bicycles can be hired in Clare. # Historic Bungaree Station - located 12 km north of Clare, is a sheep station and is a living museum that can be visited by appointment. The Bungaree Homestead is one of Australia's finest 19th century houses. # Old Clareville Museum # Old Police Station Museum # Wolta Wolta # Local Lookouts - Neagles Rock Lookout and Billy Goat Hill Lookout.

The Clare Valley Wine Region includes eleven districts : Watervale ; Mintaro ; Leasingham ; Auburn ; Gilbert Valley ; Stanley Flat ; Armagh ; Burra ; Clare ; Polish Hill River ; Sevenhill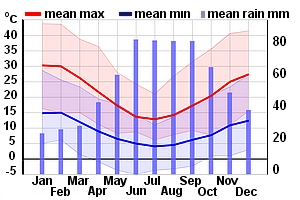 Winery Tour Map
Wineries
Kirrihill Wines, SA Wendouree Rd, Clare SA 5453
Kirrihill Wines is located in the premium winegrowing region of the Clare Valley. Kirrihill Wines was founded on a passion for wine and a desire to produce super-premium wines equal to any in the world. With this as the benchmark, the Kirrihill Wines team has drawn on centuries of winemaking tradition while embracing innovation and technology to produce wine of great varietal flavour and quality. We invite you to join us at our cellar door to experience first-hand the wines of Kirrihill. We can guide you through a tasting of our range daily from 10.00am to 4.00pm. From the regions iconic varieties through to our range of emerging varieties we have a wine to suit all occasions.
Leasingham, SA 12 Main North Road Clare, South Australia 5453
In 1893 the pioneering spirit of the young South Australian colony helped four enterprising men establish the now famous Leasingham Wines in the heart of the Clare Valley, 140 kms north of Adelaide. Leasingham Wines, which celebrated its Centenary in 1993, boasts a well-earned reputation and history of being at the forefront of viticultural and winemaking direction. Leasingham has been instrumenta...
Tim Adams Wines, SA 156 Warenda Road, Clare, Clare Valley, South Australia, 5453
Tim Adams Wines is a family owned and operated winery in the heart of the beautiful Clare Valley. Our wines are made exclusively from grapes grown in the Clare Valley, our own vineyards and vineyards we lease from local growers dedicated to producing the best fruit. The wines reflect the rich soil and climate of the region - always elegant, balanced and distinctively Australian. A joy to make and drink. All are welcome to come and taste our range of wines at cellar door, just two hours north of Adelaide. We deliver wine anywhere in Australia. Tim Adams Wines now has a presence in all major international markets and is a constant recipient of awards, reviews and accolades in Australia and overseas.