Jump to Winery List
Stanley Flat Wine District, SA
The Stanley Flat Wine District includes vineyards and wineries in the Clare Valley Wine Region, near the township of Clare and Stanley Flat, north of Clare. Stanley Flat is located on the Main North Road about 6 km north of Clare. It is the location of the Clare Racecourse and there are a number of cellar door winery outlets in there area. The cellar door of Mt Surmon Wines is a modern building located on a hillside with wonderful views of the northern part of the Clare Valley. The complex includes an art gallery and a studio apartment available for accommodation set in the 50 acre vineyard. The winemaking styles and techniques in the area have been adapted from Rhone, Bordeaux, Italy Burgundy, and various Australian techniques to take best advantage of the top quality Clare grapes.

The Clare Valley Wine Region includes eleven districts : Watervale ; Mintaro ; Leasingham ; Auburn ; Gilbert Valley ; Stanley Flat ; Armagh ; Burra ; Clare ; Polish Hill River ; Sevenhill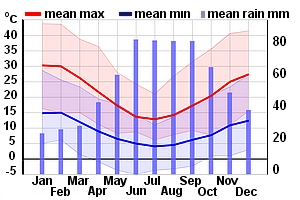 Winery Tour Map
Wineries
Adelina Wines, SA 106 East, Wendouree Rd, Clare SA 5453
We are a small vineyard and winery in the Springfarm sub-region of Clare, set amongst one of the most historically relevant winery and vineyards in Australia. We have small plantings of well established Shiraz, Grenache and Pedro Ximenez, also recently established Shiraz and Mataro. We also work with a very small group of growers in Clare and the Adelaide Hills whom grow fruit for our non-estate wines. The winery is rustic in a sense of mod-cons and mechanisation, where the most elaborate piece of equipment would be the coffee machine.
Cardinham Estates, SA 1955 Main North Road; PO Box 534, Clare SA 5453
Cardinham Estates wine is a family owned vineyard and winery, located in the Stanley Flat region of the Clare Valley, their fruit is all estate grown and they are personally involved in every operation from the vineyard to the bottle. The vineyards are spread along the banks of the Hutt River 5 kilometres north of the township of Clare, the joint venture winery, the Smith John Wine Company, is in ...
Howarth`s Wines, SA Benbournie Road; PO Box 669, Clare SA 5453
The Howarth family progressively established 2.4 hectares of vineyard from 1987, making its first commercial vintage ten years later in 1997. Acacia pycnantha is the botanic name for the golden wattle, which grows wild over the hills of the Howarth farm, and they say it was `a natural choice to name for their vineyards `Pycnantha Hill` Product Range: Riesling, Chardonnay, Shiraz, Cabernet Sauvigno...
Inchiquin Wines, SA PO Box 865, Clare SA 5453
Winemaker: Stephen McInerney learnt his trade on the winery floor on various parts of the world: his first experience came in 1985 at Jim Barry Wines where he spent a number of years before moving to Pikes. In the intervening period he worked as a flying winemaker in France, Oregon, Spain and Argentina. He is now assistant winemaker at the large, new Kirribilly Winery in the Clare Valley. He estab...
Jaeschkes Hill River Clare Estate, SA 406 Quarry Road, Clare, Clare Valley, SA 5453
Welcome to Jaeschkes Hill River Clare Estate. Relax on the deck of our Cellar Door or under the trees at our picnic tables and enjoy a glass of our award-winning wine from the beautiful Polish Hill River region. Enjoy sweeping vineyard views of rolling hills and 100 year-old gum trees. Bring your own picnic and delight in the surrounds of our scenic vineyard, the peace and tranquility. A BBQ is also available for use. A great place for friends, families and groups to meet. Vineyard and farm tours are available by appointment.
Jim Barry Wines, SA Craigs Hill Road, Clare SA 5453
The late Jim Barry was a pioneer of the Australian wine industry. With his wife, Nancy, Jim built a successful wine business which has produced trophy-winning wines since its establishment in 1959. Jim Barry Wines produce all of their own fruit from 10 locations in the Clare Valley totalling more than 250 hectares, along with a 14 hectare property at Coonawarra. This access to high-quality, estate-grown fruit has been instrumental in the development of a number of prominent brands, including The Armagh Shiraz, The McRae Wood Shiraz, The Lodge Hill Shiraz, The First Eleven Cabernet Sauvignon, The Benbournie Cabernet Sauvignon, The Cover Drive Cabernet Sauvignon, The Florita Riesling, The Lodge Hill Riesling and the Watervale Riesling. Jim Barry also produce Australia's only Assyrtiko, a Greek variety that is native to the island of Santorini.
Knappstein Winery, SA 2 Pioneer Avenue, Knappstein Enterprise Winery, Clare, Clare Valley, SA 5453
Knappstein is located in the heritage-listed Enterprise Winey in the heart of Clare township. We are proud of our long standing reputation as a premium Clare producer offering a range of wines that showcase the true expression of a region renowned for Riesling, Shiraz and Cabernet Sauvignon. We also offer alternate varietals such as Rose, Shiraz Malbec and Fortified Shiraz.
Little Brampton Wines, SA PO Box 61, Clare, 5453
The site of the Little Brampton vineyard has been under almost continuous production since the 1860's, although some of the vines were removed during the 1980's in the ill-conceived vine pull scheme. Replanted during the 90's, the premium varieties, riesling, cabernet sauvignon and shiraz thrive on the west facing slopes at the heart of the Clare Valley at an altitude of 520m above sea level. The vines receive minimal supplementary irrigation, relying largely on the natural rainfall of the district. At this altitude a gradual ripening process results in fruit-driven wines with natural acidity. Our plantings are on a 3 metre row spacing with 2 metres between the vines to achieve vine balance for the site enabling us to achieve a super premium quality with minimum intervention. In an average year bud burst occurs in late September and flowering taking place in late November/early December during the idyllic early summer days.
Mad Bastard Wines, SA Lot 2 Main North Road, North Clare, SA 5453
The Mad Bastard label represents Mark's return to the industry as a one-man operation with a determination to do things differently (as he always has), with an emphasis on quality and distinctive wines.
Mercuri Estate Wines, SA 9484 Horrocks Hwy, Clare, SA 5453
Mercuri Estate is an exciting new winery and cellar door located in the northern Clare Valley. South Australian family owned with a rich Italian heritage, we are all about family, wine and food. Created using premium fruit from Clare Valley and Adelaide Hills vineyards, our wines are crafted using traditional winemaking processes resulting in fruit driven styles. With 3 ranges of wines to choose from there is a wine to suit every palate and budget.
Mt Surmon Vineyard, SA Basham Road, North Clare SA 5453
The owner`s property, now named Mt. Surmon, consists of 84 acres of hillside with slopes to south, east and north with stunning vistas to the northern Flinders Ranges. The name `Surmon` is derived from the Old French word `surmonter` meaning `to ascend`, `to rest on top of`. An irresistible word play led us to adopt the name Mt. Surmon. The property was purchased in October 1994. A small galvanize...