Jump to Winery List
Polish Hill River Wine District, SA
The Polish Hill River Valley District (also referred to as a sub-region) in the Clare Valley Wine Region, includes vineyards and wineries in the Polish Hill River Valley, east of the township of Sevenhill and in the area centred by Penwortham and Polish Hill River. The old Catholic Church at Polish Hill River has been transformed into a charming museum dedicated to the history and stories of the Polish migrants who first started arriving in the young South Australian colony in 1850s. The museum showcases the hardships and triumphs of the Polish community as they struggled to build a new life in a country on the other side of the world. One of the typical wineries in the area is Pikes Wines that was established in 1984 with the purchase of 38 ha of prime land on the eastern side of the Clare Valley. The grape vines are planted into red and brown earth soils over clay subsoil. Varieties grown are Riesling, Chardonnay, Cabernet, Shiraz, Sauvignon Blanc, Sangiovese, Semillon, Viognier, Merlot, Mourvedre, Pinot Grigio and others. The climate in this district is a little cooler and the unique soils combine to generate wines with their own distinctive terroir. The wines of the Polish Hill River area are much sought after and have a wonderful reputation.

The Clare Valley Wine Region includes eleven districts : Watervale ; Mintaro ; Leasingham ; Auburn ; Gilbert Valley ; Stanley Flat ; Armagh ; Burra ; Clare ; Polish Hill River ; Sevenhill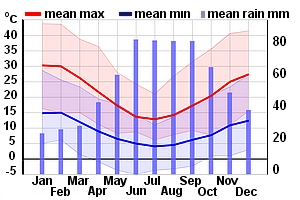 Winery Tour Map
Wineries
Pauletts Wines, SA 752 Jolly Way, Polish Hill River, Clare Valley, South Australia, 5453
Just two hours north of Adelaide you will find the glorious Clare Valley and Paulett Wines. We are nestled into the hills just on the southern side in the beautiful Polish Hill River Valley. Our Cellar Door has views that will take your breath away. We also have a viewing platform that lets you peek into the depths of our operational winery, and see behind the scenes. And the best part, try some wines made by one of the best wine makers in the world, Neil Paulett. Famous for Riesling, you will be able to taste this grape variety made into four different styles, something quite amazing. Also on offer are a Sparkling Red, Semillon, Chardonnay, Cabernet Merlot, Botrytis Riesling , and a stunning Shiraz. Cellar Door is open 10 -5 , 7 days.
Wilson Vineyard, SA Polish Hill River, Sevenhill via Clare, SA 5453
Dr John Wilson is a tireless ambassador for the Clare Valley and for wine (and its beneficial effect on health) in general. His wines were made using techniques and philosophies garnered early in his wine career and can occasionally be idiosyncratic but in recent years have been most impressive. The winemaking mantle has now passed to his son, Daniel. The wines are sold through cellar door and ret...