Jump to Winery List
Auburn Wine District, SA
The Auburn Wine District is located in the Clare Valley Wine Region, about 20km south of Clare. Auburn is located about 110 km from Adelaide and 25 km south of the town of Clare. Auburn has traditionally been a hub for local transport and it lies at the junction of main roads that connect the Clare Valley Region with the Riverland Region and with Yorke Peninsula. Auburn has an outstanding array of attractions for visitors including many boutique wineries, cafes, restaurants, food outlets, art galleries, craft dealers, tearooms and a variety of shops. There is a wide variety of accommodation at Auburn and in the surrounding townships, including motels, hotels, numerous delightful bed and breakfasts and also a small caravan park. The renowned Riesling and Rattler Rail Trails for walkers and cyclists begins in Auburn and there is also a charming river walk that meanders along the River Wakefield through the town. Also you can follow the Auburn Heritage Walk that showcases the beautiful heritage buildings are a major feature of Auburn.

The Clare Valley Wine Region includes eleven districts : Watervale ; Mintaro ; Leasingham ; Auburn ; Gilbert Valley ; Stanley Flat ; Armagh ; Burra ; Clare ; Polish Hill River ; Sevenhill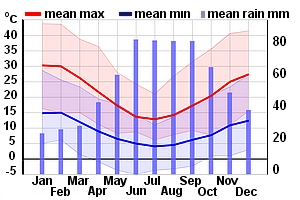 Winery Tour Map
Wineries
Taylors Wines, SA Winery Road, Auburn, Clare Valley, South Australia, 5451
For three generations the Taylor family have crafted great Australian wines at their winery in the Clare Valley, South Australia. This idyllic valley is famed for producing powerful yet elegant reds along with world renowned Rieslings and is only a 90 minute drive from Adelaide. At our Cellar Door, you'll find many ways to make your visit enjoyable. From relaxing in the superbly manicured winery garden area with a glass of wine and a cheese platter to enjoying a game of boules or cricket on the large lawn area. Of course, we also offer educational wine tasting experiences and behind the scenes winery tours.
Grosset Wines, SA Cnr Manoora Road and Stanley St, Auburn, Clare Valley, SA 5451
It takes time, devotion and attention to detail to produce beautiful wine, especially when you're a small family-run operation. Our founder Jeffrey Grosset is dedicated to creating pure expressions of variety and place. Our certified organic Clare Valley vineyards are handpicked and hand pruned; each bunch of grapes is harvested at optimum ripeness and the winemaking process is gentle and uncomplicated. We have four estate-owned, certified organic vineyards; each located in high altitude country just north of the winery. Now in our fourth decade, annual production is capped at 11,000 cases. Just 25 per cent is exported but we have built a significant international profile and produce wines deemed consistently outstanding; benchmarks in their class. We sell on premise, export to a number of countries, and sell here at our newly renovated cellar door.
Koonowla Wines, SA 18 Koonowla Road, Auburn, Clare Valley, SA 5451
Koonowla is one of the Clare Valley's most historic properties. Located just 5 minutes outside of Auburn the family-owned estate comprises extensive vineyards, cellar door, livestock and farming enterprises, a beautiful historic homestead and stately gardens straight from the covers of home beautiful magazine and many rustic buildings rich in intriguing history. Vines were first planted on Koonowla in the 1890's. By the early 1900's Koonowla was one of the states biggest players, producing from its own winery and cellars, over a quarter of a million litres of wine annually. Koonowla wine was to be found in the restaurants and homes of London's elite for the best part of 25 years before a disastrous fire devastated the winery and reduced the vineyard size. Thankfully the beautiful heritage stone buildings were saved and today Koonowla's 120 acres of vines produce
Mount Horrocks Wines, SA Old Railway Station, Curling Street, Auburn SA 5451
Producing 3,500 cases a year, Mount Horrocks Wines is a boutique winery creating high quality, award winning wines from single vineyard, estate grown fruit. Owner/winemaker Stephanie Toole carefully handcrafts her wines, which she describes as essentially 'handmade food wines' and all her wines are 100% Australian Certified Orgainc Wines and vegan and vegetarian friendly. Seven wine varieties are produced under the Mount Horrocks Wines label including riesling, semillon, cabernet sauvignon, shiraz, nero d'avola, rose and the Cordon Cut Riesling which was served to Her Majesty Queen Elizabeth II at her 80th birthday. James Halliday awarded Mount Horrocks a red five star rating in his 2018 James Halliday Australian Wine Companion and Stephanie was nominated as one of the eight finalists for the prestigious 2007 Gourmet Traveller Australian Winemaker of the Year Award.
Wakefield Wines, SA PO Box 90 (Taylors Rd), Auburn SA 5451
See Taylors. - The Taylor family were wine merchants in Sydney before establishing the now-famous winery in the Clare Valley, South Australia. In 1969, Bill Taylor Snr., along with his sons John and Bill, purchased a holding of 178 hectares by the Wakefield River in Auburn and planted Cabernet Sauvignon. The excellent Bordeaux wines such as Mouton-Rothschild had long held a fascination for the Tay...
Velvet and Willow, SA 17 Main North Road, Auburn, Clare Valley, SA 5451
We are a family owned and operated business located in the rolling hills of the picturesque Clare Valley. Our charming cellar door, pantry and gardens is at the gateway to the Clare Valley in the town of Auburn! Stop by to enjoy complimentary tastings of our award-winning wines and indulge in gourmet coffees, assorted breakfast offerings, specialty cheese platters and other tasty snacks. With both cozy indoor seating and a spacious patio surrounded by idyllic gardens – it's a delightful place to start your morning or spend a leisurely afternoon.
Wines by KT, SA 20 Main North Road, Auburn, 5451
Welcome to Wines by KT. I've been living and making wine in the Clare Valley district since 1998 and after eight years of managing historic Leasingham Wines I decided to establish my very own owned and operated wine business in 2006. The focus of Wines by KT is creating individual vineyard wines from the sustainably cared for Peglidis and Churinga vineyards, in Watervale, South Australia. It was these vineyards that I selected as the most exciting from my winemaking experience at Leasingham - now providing the heart of all my single vineyard wines - Riesling, Shiraz, Cabernet Sauvignon and Tempranillo. Specialising in my first-love, Riesling, and inspired by lovingly grown grapes from a beautiful part of the world, I'm working to create wines that express spirit of place and enjoyment. Come up and see me some time