Jump to Winery List
Watervale Wine District, SA
The Watervale Wine District, located in the Clare Valley Wine Region, south of the Clare, includes wineries near Watervale and Penwortham. Watervale is a beautiful town surrounded by vineyards and located 120 km north of Adelaide. A good way to explore the area is along the Riesling Trail. The old railway line between Clare and Auburn has been re-surfaced with gravel and visit many of the to wineries and craft shops that you find along the way. Bicycles can be hired in Clare. There are many historical buildings in the area including: Old Stanley Grammar School, The Watervale Primary School, Uniting Church and Methodist Church Hall. There is also a fascinating wine museum at the Quelltaler Estate Winery that inlcudes a wonderful display of early wine making equipment. The equipment has been beautifully restored and polished, and various handwritten documents of the 1900s are also on display. Watervale's early vineyards were established by Francis Treloar as early as 1865.

The Clare Valley Wine Region includes eleven districts : Watervale ; Mintaro ; Leasingham ; Auburn ; Gilbert Valley ; Stanley Flat ; Armagh ; Burra ; Clare ; Polish Hill River ; Sevenhill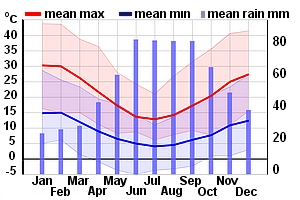 Winery Tour Map
Wineries
clos Clare, SA 40 Old Road, Watervale, Clare Valley, South Australia, 5452
A boutique Winery located in the corner of the famous Florita Vineyard in Watervale - run by brothers Tom & Sam Barry. The story of clos Clare is quickly growing into what will be one of the great wine stories of the Clare Valley. It began in 1986 when the Barry family purchased the Florita vineyard from the then owners, Leo Buring. This vineyard produced, for many years, the great wines of Leonay and Richmond Grove.
Olssens, SA Sollys Hill Road, Watervale SA 5452
Kevin and Helen Olssen first visited the Clare Valley in December 1986. Within two weeks they and their family decided to sell their Adelaide home and purchased a property in a small, isolated valley 3 kilometres north of the township of Watervale. Between 1987 and 1993 production from the 5-hectare vineyard was sold to other makers, but in 1993 the decision was taken to produce wine under the Ols...
Annie`s Lane, SA Quelltaler Rd, Watervale SA 5452
See Beringer Blass--Annie`s Lane is part of the Beringer Blass group and is the oldest commercially operating winery in the Clare Valley. The Clare Valley portfolio of Beringer Blass formerly made at Quelltaler, is sold under the Annie`s Lane label, the name coming from Annie Weyman, a turn-of-the-century local identity. Since 1996, a series of outstanding wines have appeared under the Annie`s Lane Label
Crabtree Watervale Wines, SA 1 North Terrace, Watervale SA 5452
Welcome to Crabtree Winery. We are a boutique estate winery in the heart of the historic and iconic, Watervale district of the Clare Valley. Our charming cellar door provides a memorable experience where you can relax and enjoy our beautiful wines whilst admiring views of the Valley. Our tasting room and courtyard looks out over our 13 hectare vineyards which are planted with vines dating back to 1946. The original 1850's homestead forms part of our tasting room, providing a homely and rustic atmosphere. We encourage you to visit and try our range of premium handcrafted and estate grown wines and chat with our friendly and knowledgeable staff. Crabtree winery was founded in 1984 by Robert Crabtree who then quietly built a formidable reputation for award winning classic Watervale Riesling and traditionally styled premium Shiraz and Cabernet Sauvignon, along with the popular variety, Tempranillo and innovative Rose, produced from grenache.