Jump to Winery List
Leasingham Wine District, SA
Leasingham Wine District, located in the Clare Valley Wine Region, and includes wineries and vineyards near Leasingham and Watervale, south of Clare in South Australia. Leasingham is a small town on the southern edge of the Clare Valley, located about 115 km from Adelaide and about 115 km south of Clare. Leasingham is the gateway to the Clare Valley wineries as it is located at the junction of Main North Road and the connecting roads to Hoyleton (to the West) and Mintaro (to the East). The famous Riesling Trail passes through the western fringe of the township. It is a bike and walking track that follows the route of an historic railway route between Clare and Auburn. You will enjoy tasting the local wines made by the Leasingham Winery located in a beautifully restored historic building established in the 1800s. You can choose from an extensive range of boutique wines that are available for tasting. You can also see the displays and learn about the history of winemaking in the area.

The Clare Valley Wine Region includes eleven districts : Watervale ; Mintaro ; Leasingham ; Auburn ; Gilbert Valley ; Stanley Flat ; Armagh ; Burra ; Clare ; Polish Hill River ; Sevenhill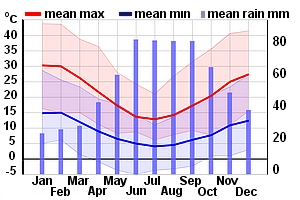 Winery Tour Map
Wineries
Koerner Wine, SA 935 Mintaro Road Leasingham, SA 5252
All wines are produced from fruit grown in the Watervale area of the Clare Valley, with the majority coming from their family's vineyard, Gullyview. This vineyard has been owned and managed by their parents, Anthony and Christine Koerner, for the past 35 years. Our winemaking philosophy is very simple - the wines are made in the vineyard. The date of picking is the most crucial part of the process.
Claymore Wines, SA 7145 Horrocks Highway, Leasingham, Clare Valley, South Australia, 5452
Claymore wines began in 1997 with two medical professionals thinking this was their way to early retirement in the Clare Valley. What started as a weekend hobby has progressively become a logistic nightmare through parallel growth of the wine industry. They started making a little Grenache with a little Riesling . Enjoy our light and spacious Cellar Door where we offer tastings and sales. Or sit in the sunshine and enjoy a glass of wine and a cheese platter consisting of local and providore produce. Our cellar door is dog friendly, bike friendly and child friendly. We take group bookings for buses and tours.
Tim Gramp Wines, SA Mintaro Road, Watervale SA 5452
Nestled in the hamlet of Leasingham (2 kilometres south of Watervale), the Tim Gramp winery has served as a production and cellar door sales base since its purchase in 1996. The four-acre Cabernet Sauvignon vineyard, winery complex and old stone cottage provided the perfect opportunity for Tim Gramp to pursue his winemaking direction and philosophy. This vineyard has been designed using a unique I...
O`Leary Walker, SA 7093 Horrocks Highway, Leasingham, Clare Valley, South Australia, 5452
O'Leary Walker Wines was established in 2000 by winemakers David O'Leary and Nick Walker. With over twenty five years' experience and established reputations making premium wine with the big companies, these two long-time friends decided to take control of their own destiny and craft small batches of wine from some of the best vineyard sites in South Australia. With a great leap of faith they are now doing exactly what they set out to do. The Cellar Door is a modern-looking affair, all sleek lines and angles blended beautifully with the organic touch of ironstone and timber.