Jump to Winery List
Balhannah Wine District
The Balhannah Wine District in the Adelaide Hills Wine Region in South Australia includes wineries near Balhannah, Oakbank, Woodside, Nairne and Hahndorf. The tourist centre of Balhannah has a famous chocolate shop for tempting your pure indulgence. The renowned local wineries of Nepenthe Wines and Shaw and Smith showcases some the the Adelaide Hills best wines. Similarly the Balhannah Hotel, the Stanley Bridge Hotel and Maximilian's Restaurant all have delicious food and feature local wines. You can use Balhannah as a base to explore all the delights of the Adelaide Hills Region including boutique wineries, fabulous country markets, excellent art galleries, craft shops, local food outlets and the range of charming villages each with their own character and range of attrctions. The district is an ideal destination for a romantic weekends away, a day-trip from Adelaide, cosy pub meals, sumptuous restaurants, scenic drives, bushwalking and biking tours. Children love the wildlife parks, Adelaide Hills's famous giant rocking horse and rev-heads love the National Motor Museum. The local wineries in the Balhannah Wine District include: Bird in Hand Winery, Cobb's Hill Vineyard, Deanery Vineyard, Shaw and Smith.
The Adelaide Hills Wine Region includes seventeen districts : Paracombe ; Kuitpo ; Lenswood ; Paccadilly ; Echunga ; Gumeracha ; Lobethal ; Hahndorf ; Aldgate ; Magill ; Balhannah ; Mannum ; Uleybury ; Clarendon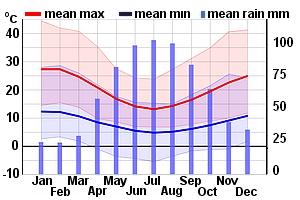 Winery Tour Map
Wineries
Artwine Cellar Door, SA 72 Bird in Hand Road, Woodside, Adelaide Hills, South Australia, 5244
Artwine is an architecturally designed Cellar Door situated in the beautiful Adelaide Hills just over half an hour away from Adelaide. With captivating views the Cellar Door is open seven days a week for tastings, wine and art sales and a choice of delicious local produce platters that are served daily. Our passion is in producing estate grown single vineyard varieties with a strong focus on the new-emerging varieties. Our varieties include our flagship Fiano, Prosecco, Albariño, Viognier, Pinot Grigio, Graciano, Tempranillo, Cabernet Franc and Montepulciano.
Bird in Hand, SA Cnr Bird in Hand and Pfeiffer Roads, Woodside SA 5244
Bird in Hand is a family owned company based in the Adelaide Hills in South Australia. The company markets a premium range of Wine, Olives and Oils around Australia and overseas. The BIRDinHAND wine range is primarily sourced from the Adelaide Hills estate, with Shiraz and Riesling varietals sourced from the second family property in the Clare Valley. Benefiting from being both the viticulturist a...
Cobbs' Hill Estate, SA 382 Swamp Road, Oakbank, Adelaide Hills, SA 5243
Cobb's Hill Estate is set on 250 acres of quality farmland, with over 50 acres of vineyards and a herd of black angus cattle. The new Cellar Door and Bed & Breakfast, located in the old homestead, is set amongst a botanical garden only 30kms or 30 minutes from the Adelaide CBD. Relax with homegrown premium cool climate wines, gourmet platters in our tasting rooms and undercover decking with shady lawns in summer and log fires in winter.
Lambrook Wines, SA Nairne Road, Woodside SA 5244
Lambrook began in 2008 with two small parcels of fruit (Shiraz and Sauvignon Blanc) and a half-crazy idea of making it into our own label wine. It was something we'd always wanted to do—we dreamed of people ordering our wines in restaurants. So, when we were offered these parcels of spectacular quality fruit, we thought… let's just go for it!
Murdoch Hill, SA Mappinga Road, Woodside SA 5244
The Murdoch Hill vineyard is found on the property known as `Erinka`. It is 4 kms east of Oakbank in the Adelaide hills, on undulating gum studded countryside. Within the hills there are many different microclimates. The Murdoch Hill vineyard is located where it is more open and warmer and it has been found that both red and white wines do exceptionally well. The Adelaide hills has a strong domest...
New Era Vineyards, SA Pfeiffer Road, Woodside SA 5244
New Era Vineyards is a premium cool climate wine growing vineyard located in the picturesque Adelaide Hills, 30 kilometres east of Adelaide, South Australia. New Era was one of the earlier vineyards established in the premium cool climate of the Woodside - Adelaide Hills region and possesses a location that takes full advantage of its northerly facing aspect. New Era Vineyards has been serving the...
O'Leary Walker Wines, SA 18 Oakwood Rd, Oakbank SA 5243
Wines made by David O'Leary and Nick Walker. These two well known wine identities have over 30 years experience making regionally distinctive wines. O'Leary Walker has a range of cool climate Adelaide Hills Wine making up a large part of their wine portfolio.
Petaluma, SA HO: PO Box 33A Crafters 5152, Clare SA 5453
Established by Brian Croser in 1976, Petaluma is one of Australia`s most prominent wine companies. The pre-eminent quality of Petaluma`s wines is based on distinguished vineyard sites for each of the chosen varieties, in four important South Australian wine regions: - Piccadilly Valley in the Adelaide Hills, for Pinot Noir and Chardonnay; - Mount Barker in the Adelaide Hills, for the Rhone varieti...
Shaw and Smith, SA Lot 4 Jones Road, Balhannah, SA, 5242
In 1994 Shaw and Smith planted 28-ha of vines at Woodside in the Adelaide Hills. This vineyard is the home of Shaw and Smith`s `single vineyard` M3 Chardonnay and consistently produces outstanding chardonnay fruit. The balance of the vineyard is planted to Sauvignon blanc and is a vital component of our Sauvignon Blanc blend each year. The M3 Vineyard is close planted and uses vertical shoot posit...