Jump to Winery List
Gumeracha Wine District
Gumerache District includes wineries near Birdwood, Chain of Ponds, Kersbrook and Gumerache in the Adelaide Hills Wine Region. Other town in the area include Springton, Mt Torrens and Williamstown. The famous town of Gumeracha, located about 35 km east of Adelaide, is home to the world-famous Giant Rocking Horse and is the gateway to the Adelaide Hills Region. The huge toy rocking horse promotes the Toy Factory which is located in Gumerache. Nearby in Birdwood is the National Motor Museum that includes more than 300 vintage, veteran and classic cars and is surrounded by beautiful grounds are ideal for a family picnic or a BBQ. The surrounding farms are famous for their fresh strawberries. Wineries in this area include: Birdwood Estate, Chain of Ponds Wines, Malcolm Creek Vineyard, Mount Torrens Vineyards, Talunga Wines.
The Adelaide Hills Wine Region includes seventeen districts : Paracombe ; Kuitpo ; Lenswood ; Paccadilly ; Echunga ; Gumeracha ; Lobethal ; Hahndorf ; Aldgate ; Magill ; Balhannah ; Mannum ; Uleybury ; Clarendon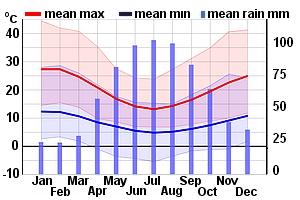 Winery Tour Map
Wineries
Birdwood Wine, SA Shop 3, 22 Shannon St, Birdwood SA 5234
The Birdwood Wine and Cheese Centre promotes Boutique wines, cheeses and gourmet products from around the State of South Australia. South Australia is considered the driest state in the driest continent but we produce some of the most outstanding produce available. As many small wine producers do not have a cellar door for their tastings and sales, we will promote and sell their wines within our c...
Chain of Ponds Wines, SA Main Adelaide Road, Gumeracha SA 5233
The Chain of Ponds wine label represents the most `highly awarded boutique winery` in Australia (Association of Boutique Winemakers). Chain of Ponds was founded in 1985 by the Amadio family, with the hand planting of the first pilot vineyard which sits perched on the northern facing slopes of Gumeracha. In February of 2004 the Chain of Ponds Brand was acquired by Acacia Wines, a new venture headed...
Elysian Springs, SA 2920 Eden Valley Road, Mt Pleasant SA 5235
Elysian Springs is a 200-acre estate located in Mt Pleasant at the pristine northern-most end of the Adelaide Hills wine region bordering the Eden Valley. The property started its journey when established by the Seppelt family back in 1980 when it was planted to Syrah, Sauvignon Blanc, Pinot Noir and Chardonnay. Today, the journey continues where we endeavour to use sustainable viticulture along with biodynamic and organic techniques to produce wines with a true sense of place. Our passion for the land and all things vinous are what drive us to produce wines that best represent the beautiful part of this land we are custodians of.
Kersbrook Hill Wines & Cider, 1498 South Para Road, Kersbrook, Adelaide Hills, South Australia, 5231
A family owned and operated winery and cellar door. Offering a range of wines and basket pressed cider. Open 7 days a week and late nights on Friday. Coffee, platters, pizza's and desserts available everyday. Sit back and enjoy a personalised tasting or a beautiful lunch. We also offer private tours of our winery and unique function spaces.
Malcolm Creek Vineyard, SA 1 Bonython Road, Kersbrook, SA 5231
Malcolm Creek Vineyard was established in 1982 and is named after the creek on the property. The beautifully maintained, boutique size vineyard is located at Kersbrook in the Adelaide Hills, just on the border of the Barossa Valley between Chain of Ponds and Williamstown. The vineyard produces premium Cabernet Sauvignon, Sauvignon Blanc and Chardonnay wines, as well as a Methode Traditionelle Blanc de Blanc sparkling wine.
Telunga Estate, SA 198 Torrens Valley Road, Gumeracha, Adelaide Hills, SA 5233
Located in the beautiful Adelaide Hills on the Adelaide side of Gumeracha. The Estate has marvellous views as it overlooks the Torrens Valley. Hosting fabulous boutique wines that are available for sale in the cellar door and award winning food, winning top three in the Adelaide Hills for its pizzas.