Jump to Winery List
Lobethal Wine District
The Lobethal Wine District includes wineries near Lobethal, Mount Torrens, Woodside and Charlestown, Spring Head, Hairpin Bend. The historic German village of Lobethal lies in the in the heart of the Adelaide Hills about 35 km from Adelaide and at an elevation of about 410 m above sea level. The heritage of Lobethal is a part of the early history of South Australia and the settlement of German Lutherans who were persecuted by the King of Prussia. The settlers established distinctly German heritages villages at Lobethal, Klemzig, Glen Osmond and at the most well known town of Hahndorf. Today Lobethal lies at the centre of a district of orchards that grow stone fruits, apples and pears as well as market gardens and dairy and beef farms and vineyards. Local attractions include: # Lobethal Information Centre # Lutheran Church Complex # Lobethal Woollen Mill (Costume Museum).
The Adelaide Hills Wine Region includes seventeen districts : Paracombe ; Kuitpo ; Lenswood ; Paccadilly ; Echunga ; Gumeracha ; Lobethal ; Hahndorf ; Aldgate ; Magill ; Balhannah ; Mannum ; Uleybury ; Clarendon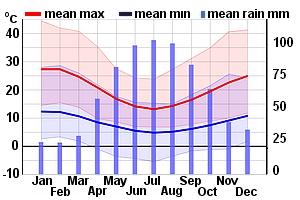 Winery Tour Map
Wineries
Leabrook Estate, SA 24 Tusmore Ave, Leabrook SA 5068
Leabrook Estate is a family-owned boutique winery located in the cool climate Adelaide Hills at Balhannah in South Australia. From an engineering background and having made wine for 35 years, I am the winemaker and grapegrower. My wife, Chris, manages the marketing and sales for the company. Leabrook Estate specialises in high quality Pinot Noir and Chardonnay and produces a range of other cool-cl...