Jump to Winery List
Paccadilly Wine District
The Piccadilly Valley Wine District includes the central areas of the Adelaide Hills Wine Region near the towns of Summerton, Piccadilly and Crafters. Other towns in the district include: Ashton, Uraidla, Summerton, Piccadilly, Crafters, Stirling, Aldgate and Bridgewater. The town of Piccadilly once a major market gardening centre which produced food for the Adelaide and overseas market. However, a large part of the Piccadilly Valley is now used for growing premium 'cool climate' grape varieties. Located on the elevated eastern slopes of the Mount Lofty Ranges, the Piccadilly Valley runs from Ashton through Summertown and Uraidla to Bridgewater. The growing season is long and the fruit ripening unhurried, leading to maximum flavour development. The area produces outstanding Sparkling wines from Chardonnay and Pinot Noir, and a wonderful range of table wines. Some of the many wineries and vineyards in this district include: Arranmore Vineyard, Ashton Hills, Barratt Wines, Parish Hill Wines, Petaluma - Piccadilly Valley, Pfitzner - Eric's Vineyard, Piccadilly Fields, Whisson Lake.
The Adelaide Hills Wine Region includes seventeen districts : Paracombe ; Kuitpo ; Lenswood ; Paccadilly ; Echunga ; Gumeracha ; Lobethal ; Hahndorf ; Aldgate ; Magill ; Balhannah ; Mannum ; Uleybury ; Clarendon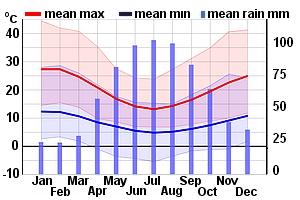 Wineries
Ashton Hills Vineyard, SA Tregarthen Road, Summertown, Adelaide Hills, SA 5141
Founded by Stephen George in 1982 Ashton Hills has acquired an international reputation as one of Australia's finest pinot noir producers. A unique site in the Piccadilly Valley that has carefully cultivated a range of pinot noir clones over 30 years, the Ashton Hills Vineyard sits 570 meters above sea level and is regarded as a true pioneer in cool climate Adelaide Hills wines.Long regarded as the benchmark for pinot noir, Ashton Hills also produces an exceptional riesling, chardonnay and wonderful range of sparkling wines.
Barratt Wines, SA Cornish Road (off Collins Road), Summertown SA 5141
Barratt Wines, acclaimed for its award-winning specialty Pinot Noir, is a family-owned and operatedwinery located in the Piccadilly Valley; a premium grape-growing region of South Australia`s Adelaide Hills. It sources grapes from two small vineyards (Uley and Bonython), to produce quality wineshandcrafted to exacting standards. Adelaide Hills is very typically cool climate: Sauvignon Blanc,Chardo...
Greenhill Wines, SA 1016 Greenhill Road, SUMMERTOWN SA 5141
Specializing in ultra-cool climate wines, set in a pinot noir & gruner veltliner vineyard with stupendous views of the Piccadilly Valley. Paul and Penny Henschke invite you to sit on the deck or by the wood fire and enjoy their wine and food.
Petaluma, SA Spring Gully Road, Piccadilly, SA 5151
Established by Brian Croser in 1976, Petaluma is one of Australia`s most prominent wine companies. The pre-eminent quality of Petaluma`s wines is based on distinguished vineyard sites for each of the chosen varieties, in four important South Australian wine regions: Piccadilly Valley in the Adelaide Hills, for Pinot Noir and Chardonnay; Mount Barker in the Adelaide Hills, for the Rhone varieties V...
Whisson Lake, SA Gully Road, Uraidla SA 5142
The Whisson Lake Vineyard is South Austalia's highest commercial vineyard at vertigo-inducing 615m+ above sea level. The east-facing hillside curves and rises so steeply it's created its own Burgundy-style mesoclimate, sunny and warm in some sections, cool and shady in others. What results is entirely distinct fruit all grown from the same hill. Whisson Lake Winery is open to Pinot Noir lovers by appointment with the wine markers, Mark & Andrie Whisson.