Jump to Winery List
Lenswood Wine District
The Lenswood Wine District includes the central areas of the Adelaide Hills Region, near Lenswood, Lobethal, Basket Range and Forest Range. The major industries in the district are apples and wine grapes. The small rural village of Lenswood is in the heart of the Adelaide Hills Wine Region and food and wine are the core of the community's focus. The larger towns of Lobethal and the tourist facilities of the Dairyland Village and Onkaparinga Enterprise Centre are located just to the north-east> To the south-west there are the attractions of Heritage Park and Melba's Chocolate Factory and the tourist townships of Woodside, Oakbank and Hahndorf. Some of the wineries in this are include: # Basket Range Wines # Geoff Weaver # Henschke - Adelaide Hills # Knappstein Lenswood Vineyards # Leland Estate # Mawson Ridge Vineyard # Mt Lofty Ranges Vineyard # Nepenthe Vineyards # Pike and Joyce # Stafford Ridge Vineyard # Tilbrook Estate.
The Adelaide Hills Wine Region includes seventeen districts : Paracombe ; Kuitpo ; Lenswood ; Paccadilly ; Echunga ; Gumeracha ; Lobethal ; Hahndorf ; Aldgate ; Magill ; Balhannah ; Mannum ; Uleybury ; Clarendon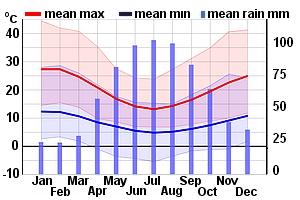 Winery Tour Map
Wineries
Anderson Hill Cedar Door, SA 407 Croft Road, Lenswood, Adelaide Hills, South Australia, 5240
Anderson Hill is a family-owned winery located in Lenswood, Adelaide Hills. It was started by Ben Anderson and his father Brian in 1994 and has produced high-quality cool climate grapes with intense flavor since then. Our vineyard is located 600 meters above sea-level, which is one of the highest and coolest vineyards in South Australia. We hand-prune and hand-pick all of the vines to ensure the premium quality of the fruit. By handling them carefully with traditional winemaking methods and minimal intervention, we showcase the high-end cool climate wines from the region. Our product line includes Chardonnay, Sauvignon Blanc, Sparkling Whites, Pinot Noir, Rosé, and Shiraz.
BK Wines, SA 23 Onkaparinga Valley Rd, CHARLESTON SA 5244
Family owned boutique producer specialising in Chardonnay, Pinot Gris, Pinot Noir & Syrah. All single vineyard wines showcasing the diversity of the Adelaide Hills.
Geoff Weaver, SA 2 Gilpin Lane, Mitcham SA 5062
Geoff Weaver`s vineyard at Lenswood high in the Adelaide Hills is devoted to grow the low crop, richly flavoured grapes that produce his wines. Since the release of the first wines in 1985 he has built a reputation as one of the Adelaide Hills finest wine producers. Major varieties planted are Sauvignon Blanc, Chardonnay, Riesling and Pinot Noir....
Golding Wines, SA 52 Western Branch Road, Lobethal, Adelaide Hills, SA 5241
Golding Wines is situated within the Lenswood appellation, high in the picturesque Adelaide Hills. We are passionate about our life and work in this dynamic cool climate region and firmly feel our sense of place here. Our family have been working the land in these Hills for three generations. 
Henschke, SA Cold Store Rd, Lenswood SA 5240
According to Prue Henschke, Viticulturist, Lenswood was chosen primarily as a site for Pinot noir. Australia`s hot dry summers which produce great shiraz wines wasn`t working for pinot noir. Prue Henschke, was employed at Roseworthy Agricultural College as a technical assistant in viticulture at the same time that Dr Richard Smart and Peter Dry were summarising the viticultural climates in Austral...
Loberthal Road Wines, 2254 Onkaparinga Valley Rd, Mount Torrens SA 5244
Lobethal Road leads you to handcrafted wines of distinctive cool climate character. Located only 40 minutes drive from Adelaide, our vineyard and cellar door are nestled at the foot of Mount Torrens in the beautiful Adelaide Hills.
Mawson Ridge, SA Mawson Rd, Lenswood SA 5240
The Mawson Ridge vineyard is nestled high in the Adelaide Hills in Lenswood. At an altitude of 560 metres, the wet winters, cool summer climate and lean soils are providing fine varietal wines. Our cellar door is located at the historic town of Hahndorf. We invite you to experience South Australian wine at its best. Nestled in the prime cool climate Adelaide Hills viticultural region, which has ga...
Mt Lofty Ranges Vineyard, SA Harris Road, Lenswood SA 5240
Established in 1992, Mt Lofty Ranges Vineyard is an award winning 5 star boutique vineyard, cellar door and chef hatted restaurant nestled high in the Adelaide Hills at Lenswood, 35 minutes from the Adelaide CBD offering stunning views
Nepenthe, SA Vickers Rd, Lenswood SA 5240
The first established was the 24 hectare Lenswood vineyard in 1994, which meanders over small hills and into valleys surrounding the Nepenthe winery. Lenswood is undulating, at the higher altitude of the four vineyards, and carries a huge variety of natural vegetation. With under half of lenswood420.jpgthe property cleared, Lenswood constitutes a number of small vineyards separated by tracts of na...
Pike and Joyce, SA 730 Mawson Rd, Lenswood SA 5240
Single Estate Vineyard established in 1998. Joint venture between Joyce Family of Lenswood and Pikes Wines from Seven Hill, Clare. Cool climate, premium Adelaide Hills Wines. Cellar Door open 7 days a week from 11 am until 4pm for wine tasting, sales and regional platters. Restaurant open Thursday to Sunday for a la carte dining and 3 course chef's tasting menu. Menu changes monthly to reflect the provenance of the Adelaide Hills and beyond. Exquisite location and stunning views.
Tilbrook Estate, SA 17/1 Adelaide-Lobethal Rd, Lobethal SA 5241
Tilbrook Estate is a boutique winery situated in the Adelaide Hills, 40 minutes drive from Adelaide, South Australia. The Winery and Cellar door are situated in the Old Woollen Mills in Lobethal, amongst a hub of innovative gourmet food and craft businesses. Tilbrook produce a large range of wines in small quantities, and are best known for their range of Chardonnays, and Late Harvest Botrytis Pin...