Jump to Winery List
Hahndorf Wine District
The Hahndorf Wine District, the Adelaide Hills Region includes wineries near Hahndorf, Verdun, Balhannah and Ambleside. The historic town of Hahndorf was established by German Lutherans who fled persecution in their homeland. The town boasts many attractions including galleries, antiques, museums, and many shops that sell German food, soaps, fabrics and leather goods. There are also many cafes and an excellent German Cake Shop. Hahndorf has a wide range of accommodation and is a great base to stay when visiting the Adelaide Hills There are a wide range of motels, hotels (including the famous German Arms and the Hahndorf Inn, a caravan park and camping area, delightful bed and breakfasts and holiday houses. Some of the many attrctions and events for tourists and visitors include: # Founder's Day # The Hahndorf Band Festival and Musikfest in May # Beerenberg Farm # Misty Hollow Fantasy Cave # The Hahndorf Academy # The Hahndorf Farm Barn # The Cedars.
The Adelaide Hills Wine Region includes seventeen districts : Paracombe ; Kuitpo ; Lenswood ; Paccadilly ; Echunga ; Gumeracha ; Lobethal ; Hahndorf ; Aldgate ; Magill ; Balhannah ; Mannum ; Uleybury ; Clarendon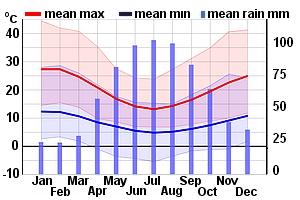 Winery Tour Map
Wineries
Hahndorf Hill Winery, SA 38 Pains Rd, Hahndorf SA 5245
Hahndorf Hill specializes in Austrian variety wines such as Gruner Veltliner, Blaufrankisch and Zweigelt, which we are helping to pioneer in Australia. We are situated at the edge of historic Hahndorf village - Australia's oldest-surviving German settlement. Our cellar door is set in the heart of our boutique vineyard and offers beautiful views from our glass-enclosed balcony. Visitors can enjoy a unique Austrian variety wine flight with a tasty cheese plate, or indulge in ChocoVino, our acclaimed chocolate and wine matching experience.
Howards Vineyard, SA 53 Bald Hills Rd, Nairne SA 5252
Experience something beautiful. Relax at our stunning Cellar Door, amongst the rolling vines and towering gum trees. Enjoy winemaker Tom Northcott's superb fresh wines. Enjoy Heather Day's Asian inspired banquet menu for Sunday lunch, settle in for the day with a bottle of wine and take in the Adelaide Hills. Mid-week - enjoy our Yum Cha menu - Wed-Fri
Maximilians, SA Main St, Verdun SA 5245
Maximilian`s is unique. Max`s Austrian, Swiss and French influenced cuisine, with classics such as Prawns Florentine, Chateaubriand and his signature Toffee Strawberries are mainstays of a menu spanning three decades. Cosy, romantic corners near big open fires, vineyard views, private rooms, Lush Beer garden. An exceptional wine list, including Maximilian`s own estate grown wines will satisfy the ...
Ngeringa Estate , SA Williams Rd, Mount Barker Summit SA 5251
Ngeringa Estate presents a range of world-class handcrafted biodynamic wines, created exclusively from premium estate-grown grapes using minimal intervention farming techniques and sustainable production practices. The property is also home to an award-winning biodynamic farm, supplying fresh produce to leading SA restaurants.
Roger`s, SA Lot 10, Pain Rd, Hahndorf SA 5245
Winemaker: Larry Jacobs; Hours: daily 10am-5pm. Tasting: yes, no charge; Tours: no. Gourmet platters, coffees and cake over weekends and public holidays.Varieties include: Chardonnay, Shiraz, Lemberger, Trollinger Rose...
Romney Park Wines, SA Romney Park, Johnson Rd, BALHANNAH SA 5242

Sidewood Cellar Door, SA 15 Onkaparinga Valley Rd, Verdun SA 5245
Experience Sidewood Cellar Door at Maximilian's Restaurant with the surrounding rural views of the Adelaide Hills. Taste the Sidewood wines that impress the judges with consistent trophies and golds medals. Casual dining available on the Sidewood deck, overlooking the floating golf green. Take the Sidewood Golf Challenge to hit a hole-in-one! Sidewood Cellar Door, an Adelaide Hills destination that you'll be back to visit.
The Lane Vineyard, SA 5 Ravenswood Lane, Hahndorf, Adelaide Hills, SA 5245
High amongst the textured landscape of the Adelaide Hills, discover The Lane Vineyard. A luxury, hatted Dining Room and contemporary Tasting Room that exemplifies cool elegance and style. Wines for a lifetime of occasions. Every drop and expression of our place. 25 minutes from the CBD of Adelaide, with captivating views over the Mount Lofty Ranges, you will quickly feel a world away.