Jump to Winery List
Wagga Wagga Wine District
The Wagga Wagga Wine District is based on the area surrounding Wagga Wagga which is the largest inland town in New South Wales. It is located in the Riverina Wine Region about 600 km south-west of Sydney on the Murrumbidgee River. Wagga Wagga boast a wonderful mix of nature reserves, heritage, attractions, activities and outstanding architectural beauty. There is a thriving and dynamic arts community that produces more than 80 live shows each year and there are six major local arts organisations that provide activities and events throughout the year. The Wagga Wagga Art Gallery is worth a visit as it includes a renowned collection of glass art in the National Art Glass Gallery. Wagga Wagga has fabulous sporting facilities. The nature reserves and national parks nearby provide excellent opportunities for ecotours, bushwalking, camping, mountain bikes and birdwatching. You can enjoy tasting farmhouse cheeses and local wines at the Charles Sturt Winery, and visit the famous Wagga Wagga Botanic Gardens, with its zoo, aviary and artificial lake. Other local attractions in the surrounding area include the Temora Aviation Museum, Cootamundra Wattle Festival, Junee Licorice and Chocolate Factory. Major events include the Wagga Wagga Gold Cup, the Wagga Wagga Jazz Festival and the National Horse Festival.

The Riverina Region is home to 17 districts: Junee ; Coolamon ; The Rock ; Lake Cargelligo ; Deniliquin ; Hanwood ; East Griffith ; West Griffith ; Yenda ; Leeton ; Wagga Wagga ; Balranald ; Narrandera ; Stanbridge ; Hay ; Hillston ; Jerilderie.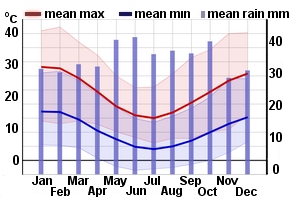 Winery Tour Map
Wineries
Borambola Wines, NSW 1734 Sturt Highway, Borambola NSW 2650
Borambola Wines is a family owned business and specialises in 100% locally grown and produced wines including red, white, sparkling, as well as Tuckerbox hoppy lager beer and apple cider. Borambola Wines philosophy is to grow the best grapes, to make the best wines! You are welcome to visit our Cellar Door for a tasting, and we also cater for weddings, ceremonies, corporate functions and special events.
Cottontails Wines, NSW 562 Pattersons Road,, Wagga Wagga NSW
Soak up the splendour of the Riverina and enjoy a little wining and dining at Cottontails Wines in Wagga Wagga. Spread across 40 acres of serene countryside, Cottontail's four hectares of vineyard and olive trees not only provide a scenic outlook, but are the foundations of the winery's award-winning wines and olive oil. Indoors, modern stylish surrounds welcome you to stay a while, making it an idyllic venue for weddings, birthdays and special occasions, catering for up to 150 guests. Enjoy Cottontail's award winning wines, an exclusive international and local beer selection and a carefully crafted list of cocktails and drinks over a choices of traditional tapas, gourmet wood fired pizzas or a la carte mains like duck breast with parsnip and carrot on pilaf, drizzled in red wine plum sauce.
CSU Winery, NSW Boorooma Street, North Wagga Wagga, NSW 2650
The CSU Winery is an integral part of Australia`s leading wine and food science school and as such is at the forefront of viticultural practices and wine making techniques. The winery focuses on excellence, using state of the art technology without sacrificing tradition. It is seen as important that the winery reflect the same environment as other commercial Australian wineries, being market drive...
Eunonyhareenyha Winery, NSW 404A Oura Road, Wagga Wagga New South Wales 2650
A boutique family owned and run winery, where the fruit is grown using minimal water and chemicals, then hand harvested. Prime fruit is produced to make fine local wine. The Winery was established in 1998 in the beautiful Eunony Valley, just 8.5kms North-East of Wagga Wagga, NSW and is family owned and operated by Howard and Jan Pollard, with the majority of their wines made on-site.The Winery grows Cabernet Sauvignon and Tempranillo grape varieties. These particular varieties of grapes are very suitable to the seasonal conditions, with cold winters and hot summers. The Winery uses minimal chemicals in the growing season and the soil is self-draining sandy loam that is supplemented with dripper underground water when required.
Wagga Winery, NSW RMB 427 Oura Road, Wagga Wagga
Located just 15 minutes from Wagga Wagga on the Oura Road, the Wagga Wagga Winery offers cellar door sales and a fully licensed restaurant set amongst 17 acres of established grape vines a stone`s throw from the Murrumbidgee River. Wagga Wagga Winery has been a finalist in the NSW Tourism Awards twice and has featured on the popular `Getaway` TV series. A friendly welcome and your comfort is assur...