Jump to Winery List
Deniliquin Wine District
The Hanwood and South Griffith Wine District is exemplified by the outstanding McWilliam's Hanwood Estate Winery that was built in 1917. The winery and its tourist facilities showcases winemaking excellence and has fantastic modern facilities and tools for the vigneron, including an outstanding premium wine cellar, with some of the very best wines produced in Australia. The area features the Big Hanwood Barrel was built in 1973. It is a scale replica a wine barrel, complete with hoops and staves. The winery is a must for all visitors to the area and has friendly parking and fabulous facilities including picnic areas for visitors.

The Riverina Region is home to 17 districts: Junee ; Coolamon ; The Rock ; Lake Cargelligo ; Deniliquin ; Hanwood ; East Griffith ; West Griffith ; Griffith Central; Yenda ; Leeton ; Wagga Wagga ; Balranald ; Narrandera ; Stanbridge ; Hay ; Hillston ; Jerilderie.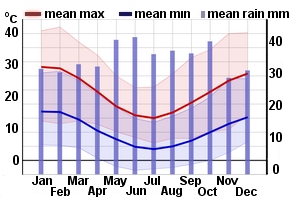 Winery Tour Map
Wineries
Handwood Vineyard, NSW Jack McWilliam Road, Hanwood NSW 2680
It really isn`t surprising that our Hanwood vineyard produces such fine wines. After all, it enjoys some of the most fertile soil in Australia. With the abundant irrigation and fertile soils formed countless years ago by the ancient streams on the Great Dividing Range, the area is perfect for wine production. And McWilliam`s Hanwood wines enjoy a reputation as being some of the best. In 1913, John...
Mino & Co Wines, NSW 113 Hanwood Ave, Hanwood NSW 2680
Mino & Co Pty Ltd, was established in 1997 and has been producing wines of various styles, suited to the regions growing conditions but not limited to, for almost two decades. The winery is located in a small village called Hanwood, just outside Griffith in New South Wales with the area falling into the 'Riverina' region of NSW. The area is well known for producing heavier style red wines such as Durif, Shiraz and Cabernet. Predominant white varietals found in the area range from Riesling, Chardonnay, Semillon and Pinot Grigio. The Riverina is further credited for its world class Botrytis Semillon, a grape left on the vine to ripen and inherit the Botrytis fungus.The wine is then produced into a sweet, concentrated dessert wine. In more recent times growers, and more specifically The Winery, have begun planting various Italian Varietals due to demand in the Australian wine market and the areas suitable growing conditions.
Nugan Estate, NSW 72 Banna Ave, Griffith NSW 2680
Nugan Estate is a 60 year old family company that recently entered the premium wine market with its Nugan Estate and Cookoothama labels. All wines are sourced from tthe Nugan family vineyards in Coonawarra, King Valley, McLaren Vale and Riverina. Open: Tastings at Michelin Restaurant Mon-Fri, 11.30am-3.00pm Sat-Sun, 10.30am-2.30pm Closed Good Friday, Xmas, Boxing and New Year`s Day...
Piromit Wines, NSW 113 Hanwood Avenue, Hanwood
Located in Griffith, Piromit wines have immediate appeal, are best enjoyed with friends, and are a delightful fit with the quintessential Australian lifestyle. Our multi medal winning wines offer a point of difference, yet they still retain the intrinsic varietal and regional nuances for which the Riverina is renowned. Along with the more traditional varieties and blends such as Cabernet Merlot, S...
Wickham Hill, NSW 22 Jensen Road, Griffith NSW 2680
Wickham Hill Winery is located in Griffith in the Riverina wine region of New South Wales Big Rivers.No Cellar Door....