Jump to Winery List
East Griffith Wine District
The East Griffith Wine District, in the Riverina Wine Region in southern NSW, includes vineyards, wineries and cellar doors to the East of Griffith, along the Irrigation Way, and Yenda Road, and near the villages of Beelbangera and Bilbul. There are several boutique wineries in this area which are close to the centre of Griffith.

The Riverina Region is home to 17 districts: Junee ; Coolamon ; The Rock ; Lake Cargelligo ; Deniliquin ; Hanwood ; East Griffith ; West Griffith ; Griffith Central Yenda ; Leeton ; Wagga Wagga ; Balranald ; Narrandera ; Stanbridge ; Hay ; Hillston ; Jerilderie.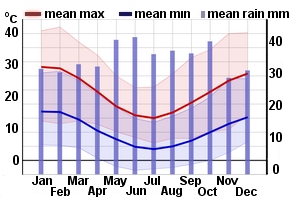 Winery Tour Map
Wineries
Baratto Wines, NSW 674 Murrumbidgee Avenue, Hanwood
It has been a Baratto family tradition in Italy for many generations to make wine for themselves and the locals in their village. In 1949, Florindo Baratto immigrated to Australia and purchased bare land in Hanwood. He and his wife Amabile planted their first vines in 1960 and these vines are still producing grapes today. In 1970, it was Florindo`s love of wine that encouraged him to carry on this...
Beelgara Estate, NSW Farm 576 Rossetto Road, Beelbangera NSW
Beelgara is located in the village of Beelbangera, just outside the town of Griffith in the heart of New South Wales` Riverina district. It is approximately 550 kilometres southwest of Sydney. While Beelgara has a rich resource in quality fruit from the Riverina, we source cool climate parcels of wine from across Australia, including Clare, Adelaide Hills, Coonawarra and Yarra Valley to build a tr...
De Bortoli Wines, Riverina, NSW De Bortoli Road, Bilbul NSW 2680
The De Bortoli family story is one of determination and triumph that started 90 years ago in war-torn Europe and is now told, generations later, across Australia. Starting with Vittorio and Giuseppina De Bortoli, our history encompasses the universal story of immigrants making good in an adopted land through hard work, innovation and the support of family and friends. From humble beginnings making small amounts of dry table wine, mostly for fellow European immigrants, De Bortoli Wines expanded and consolidated under the direction of Vittorio and Giuseppina's energetic son Deen and his wife Emeri. Their four children – Darren, Leanne, Kevin and Victor – joined the family business and developed De Bortoli's reputation for premium wine, firstly through iconic dessert wine Noble One and then via the success of the cool climate wines produced at the family's Yarra Valley Estate. Today, as a fourth generation contemplates entering the family business, De Bortoli Wine's official motto, Semper ad Majora ("always striving for better") and the unofficial one (good food, good wine and good friends) remain as true and central as ever.
Dee Vine Estate, NSW Farm 576 Rossetto Road, Beelbangera NSW 2680
Dee Vine Estate has a well established family tradition in viticulture, spanning across two continents and four generations. The importance and pride that we have embedded into our vineyards are the foundations in which these wines are crafted from. We strive to continuously produce fine wines. This is our passion. Producing great wine comes as natural to us as drinking it.
Vico Wines, NSW Farm 1687 Beelbangera Road, Griffith, NSW 2680
Ray Vico has been growing grapes for many years with 9 hectares of vines, more recently deciding to bottle and sell part of the production under the Vico label....