Jump to Winery List
Junee Wine District
The Junee and Temora Wine District is located about 500 km south-west of Sydney, in the Gundagai Wine region in south- western New South Wales. Junee is one of the largest producers of canola in NSW and is also a major producer of barley, wheat and oats. There are many attractions and activities in Junee, Temora and in the surrounding district. # Discover the historic Broadway Museum, the Roundhouse Rail and Transport Museum, and the unique Bethungra Rail spiral a fascinating engineering feat # Get lost in the Living Maze in Endeavour Park. # Go canoeing, fishing, kayaking, swimming or sailing at Bethungra Dam, which has excellent picnic, barbeque and camping areas # See the diverse birdlife at the Junee wetlands. Taste all the delights at the Junee Licorice and Chocolate Factory, located in the famous, heritage listed Junee flour mill.

The Gundagai Wine Region is home to three districts: Gundagai ; Tumut ; Cootamundra ; Junee.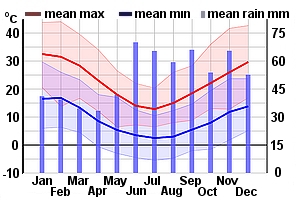 Winery Tour Map
Wineries
Houlaghans, NSW 242 Summer Hill Road, Junee Reefs NSW 2666
The Houlaghans Valley Vinyard is situated on a gravel ridge in the Junee area overlooking the creek and valley that commemorates the early explorer-surveyor who assisted in mapping out the Queensand to Melbourne cattle route and the rich gold discoveries at Junee Reefs, Sebastapol and Temora. Visitors to the cellar door are greeted with a friendly smile and warm country hospitality. Enjoy some sam...