Jump to Winery List
Tumut Wine District
The Tumut Wine District is located in the Tumut River Valley and forms part of the Gundagai Wine Region in southern New South Wales. The other towns in the district are Tarcutta, Adelong, Batlow. The area has many wonderful attractions and activities for visitors and tourists, and it is the gateway to the Kosciuszko National Park. Other natural reserves in the area include Adelong Falls Reserve, Bago State Forest. The major tourist attractions are: # The large stalactites in North Glory Hole Cave, one of many fascinating caves in the in Yarrangobilly Caves, which also boasts a warm thermal pool. Walk through the historic Adelong to see its many heritage buildings and remnants of the gold-rush days. # Go canoeing, kayaking, boating and fishing at Talbingo Reservoir and Blowering Dam # Taste the delicious apples at Batlow and visit during the Apple Blossom Festival, held in October.

The Gundagai Wine Region is home to three districts: Gundagai ; Tumut ; Cootamundra ; Junee.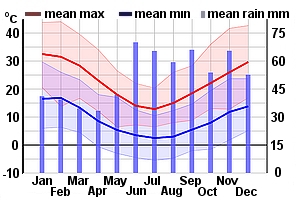 Winery Tour Map
Wineries
Courabyra Wines Tumbarumba, NSW 805 Courabyra Rd, Tumbarumba NSW 2653
Tumbarumba is located 504km south west of Sydney at the foothills of the Snowy Mountains, home to Australia's highest peak, Mt Kosciuszko The alpine climate is one of Australia's coolest and is perfect for producing both premium sparkling and table wines. The first vines were planted in 1981 by Ian Cowell on his Courabyra Rd property – now known as 'Revee Estate'. In 1986 Charles Sturt University and Seppelts purchased the first vintage for Sparkling wine. The vineyard expanded to 30 Ha over three years and became the backbone for the highly successful Salinger label from Seppelts. This has led to an increasing recognition of and demand for Tumbarumba fruit from top winemakers Australia wide. On the 10th December 1998 Tumbarumba was defined as a Geographical Indications (GI) Wine Region of Australia. The vineyards in the region vary in elevations from 500 – 820 metres, rich soil types characterised by decomposed granite, basalt and shale loams are all seen to contribute to the distinct varietal characters. The region shows an average rainfall of 1000mm, with warm days and cool nights. The two main varieties grown in Tumbarumba are Chardonnay and Pinot noir, both for sparkling and table wines, there are some small plantings of Sauvignon blanc, Pinot gris, Reisling, Pinot meunier, Shiraz and Merlot.
Johansen Wines Tumbarumba, NSW 90 Black Range Rd, Tumbarumba
Tumbarumba produces super-premium cool climate wine grapes in the western foothills of the Snowy Mountains in Australia, half way between Sydney and Melbourne. ​Johansen Wines is a family owned and run vineyard located at 790 meters above sea level and only 5 minutes from Tumbarumba. We have around 25 hectares of grapes shared over two vineyards "Mountain View" and "Glenburnie". Our varieties include, Chardonnay, Sauvignon Blanc, Riesling, Pinot Gris, Gamay, Pinot Noir and Merlot. Our home is surrounded by all the things we love - vines, family, wine and horses. Our philosophy is simple. We handpick select parcels of grapes grown in perfect cool climate terroir, and partner them with good vineyard management and brilliant winemaking.