Jump to Winery List
Bellarine Wine District
The Gundagai District lies in the heart of the Gundagai Wine Region in southern New South Wales. Gundagai is famous for the Tuckerbox monument, which commemorates the drovers and bullocky drivers who camped at Five Mile Creek, outside of Gundagai. The town, which is becoming well-known for its excellent Semillon and other cool-climate wines lies on the Murrumbidgee River about 400 km south-west of Sydney. The town has an array of beautiful heritage buildings along the main street of Sheridan Street. Some of the many local attractions and activities including: # Fishing in the Murrumbidgee River for Murray cod, red fin, yellowbelly, carp and black bream # Enjoy the scenic views from the top at Mt Parnassus # Browse through the town`s many fascinating craft shops and art galleries. Visit Gundagai for the Snake Gully Cup, which is a 2-day country horse-racing carnival, held in November, that incorporates the Dog on the Tuckerbox Festival # The Turning Wave Festival, held in September, showcases Irish and Australian culture with poetry readings, song, dance, and traditional Irish hurling # The Camp Drafting and Horse sales in March # Visit the Gabriel Gallery and see the glass-plate photographs taken by Dr Charles Gabriel, which depict Gundagai life in the early 1900s.

The Gundagai Wine Region is home to three districts: Gundagai ; Tumut ; Cootamundra ; Junee.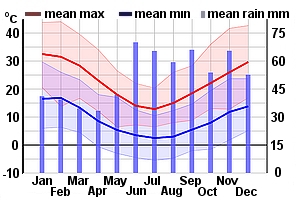 Winery Tour Map
Wineries
Gundagai Wines, NSW "Nargoon" Nangus Rd, Gundagai NSW 2722
We are a family owned wine producer located at Cooba East Station, Gundagai, NSW, Australia. "Our aim is to create great wines, to be enjoyed - in good company." Our vineyard is located at the base of Cooba Mountain, which creates a distinctive climate allowing us to produce a premium quality product, with unique characteristics and flavours. The Coe family, have placed a covenant on the surrounding grassy woodland and mountain that rises above the vineyard, creating a legacy that protects the land for eternity. In the same tradition, this covenant honours the pioneering generations in our family who have worked in harmony with this sometimes unforgiving land. We present our wine with both love for our family and the land our product is coaxed from. At Coe & Co Wines we like to work in a professional manner while having fun along the journey. In addition, we recognise the responsibility we have to help the environment and to protect our children's legacy.
Jugiong Wine Cellar, NSW Riverside Drive, Jugiong NSW
The Jugiong Wine Cellar stocks a range of boutique wines otherwise hard to find on retail shelves - these wine gems have been carefully selected from 18 wineries in the local wine regions of Gundagai, Tumbarumba, Hilltops (Young) and Canberra (Murrumbateman). The focus of Jugiong Wine Cellar is the four major surrounding wine regions of Tumbarumba, Young/Hilltops, Canberra District (Murrumbateman)...
Nick Spencer Wines , NSW Vineyard near Gundagai
Nick Spencer made a name for himself after a hugely successful decade-long stint as chief winemaker at Eden Road, before deciding in 2017 to take the plunge and start his very own label. The Nick Spencer wines are, like Eden Road's, focused on the regions of the NSW High Country, in particular, Tumbarumba and Gundagai. With Nick's access to some of the region's best fruit, his wines are all about balance, style and drinkability, with Nick's stamp of quality on top. Tiny volumes made and an exciting producer to watch out for!
Paterson's Gundagai Vineyard, NSW 747 Old Hume Hwy, Tumblong NSW 2729
Paterson's Gundagai Vineyard Paterson's Gundagai Vineyard comprises some 24 hectares of vineyard on the Paterson family farm (about 800 hectares) in the Gundagai wine grape growing region near Canberra, NSW, Australia. The Gundagai wine region lies in the foothills of the Great Dividing Range and the climate is continental with warm dry growing conditions followed by a long dry and cool ripening period. Red wines from the region tend to be medium bodied and very aromatic. The vineyard was planted in 1997 and our first wine was a 2001 Cabernet Sauvignon - which won numerous awards in wine shows.
Tumblong Hills, NSW 1149 Old Hume Hwy, Tumblong NSW Australia 2729
Perched on a gentle slope overlooking the Murrumbidgee River, the Tumblong Hills site was deemed ideal for growing premium fruit after an exhaustive selection process by some of the world's finest wine professionals. Chosen for its ironstone-rich volcanic soils, and warm days and cool nights during ripening, the vineyard pioneered Gundagai's modern winemaking history, boasting the most expansive planting for the region in the 1990s. Two decades on, and the Syrah and Cabernet Sauvignon vines have achieved full maturity, producing enticingly rich and complex fruit. Beyond the early plantings, the vineyard also boasts exceptional Nebbiolo, Barbera, Sangiovese and Pinot Noir vines with additional red and white varieties on the horizon. Many of Tumblong Hills' wines proudly feature 100% estate grown fruit, plus select varieties are also sourced from nearby premium Australian vineyards.