Jump to Winery List
Yenda Wine District
The Yenda Wine District includes vineyards, wineries and cellar doors on the irrigated lands immediately to the East of Griffith, close to the small town of Yenda, that lies in the Riverina Wine Region, in south-west new South Wales. Despite its size the small township lying about 16 km east of Griffith has extensive vineyards which produce about 70% of the bulk wine produced i n New South Wales. There are also other produce from the irrigated farms including rice, vegetables,citrus and stone fruits and poultry. The Casella Winery, one of the largest wineries in Australia and can bottle more than 30,000 bottles per hour at peak production. The township of Yenda is close to the Cocoparra National Park that features spectacular waterfalls, gorges, fantastic bushwalks and scenic lookouts. Nearby is Binya State Forest.

The Riverina Region is home to 17 districts: Junee ; Coolamon ; The Rock ; Lake Cargelligo ; Deniliquin ; Hanwood ; East Griffith ; West Griffith ; Yenda ; Leeton ; Wagga Wagga ; Balranald ; Narrandera ; Stanbridge ; Hay ; Hillston ; Jerilderie.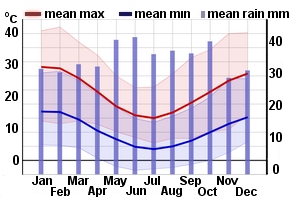 Winery Tour Map
Wineries
Berton Vineyards, NSW 55 Mirrool Ave, Yenda NSW 2681
From small beginnings Berton Vineyards has expanded it`s operations with the purchase of the Yenda winery based in the heart of the Riverina (Big Rivers New South Wales). The state of the art facility has the capacity to process 20,000 tonnes and produce premium wines that display personality, length of flavour and fabulous texture. Nestled amongst the olive trees and wide green lawns lies the Ber...
McManus Wines, NSW Rogers Road, Yenda NSW 2681
McManus Wines is located in Yenda, near Griffith, in the Riverina wine region of New South Wales Big Rivers....
St Peters, NSW Whitton Stock Route, Yenda NSW 2681
Draws grapes and wine from various parts of southern Australia and New South Wales for its dry table wines, most of which are sold overseas through Australian Prestige Wines. Product Range: A wide variety of wines under the St Peters, Edenhope, Yenda Vineyards and Wilton Estate labels. Opening hours: Mon-Fri 9-5...
Terrel Estate, NSW 1065 Whitton Stock Route Road, Yenda NSW 2681
Terrel Estate is located in Yenda, in the Riverina wine region of New South Wales Big Rivers.Their wine is exported to China, Singapore, USA, UK and Europe....
Yarran Wines, NSW Myall Park Road Yenda
Yarran Wines is a family owned and operated winery producing quality and award-winning wines from specially selected fruit parcels. The vineyards, winery and cellar door are located within the heart of the Riverina, one of Australia`s most prominent wine producing regions. Each vintage is an exciting challenge for winemaker and viticulturalist alike, the Riverina climate enables grapevines to harn...