Jump to Winery List
West Griffith Wine District
The West Griffith Wine District includes vineyards, wineries and cellar doors to the West of Griffith, along the Hillston Road and Walla Avenue. There are several boutique wineries in this area which are close to the centre of Griffith and can be easily reached from the centre of Griffith, including Melange Wines, Evans and Tate and Cranswick Estate.

The Riverina Region is home to 17 districts: Junee ; Coolamon ; The Rock ; Lake Cargelligo ; Deniliquin ; Hanwood ; East Griffith ; West Griffith ; Griffith Central; Yenda ; Leeton ; Wagga Wagga ; Balranald ; Narrandera ; Stanbridge ; Hay ; Hillston ; Jerilderie.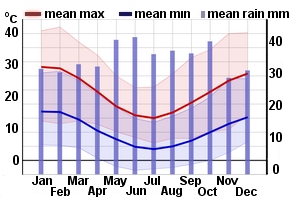 Winery Tour Map
Wineries
Calabria Family Wines, NSW 1283 Brayne Rd, Griffith NSW 2680
Calabria Family Wines Cellar Door is the star winery of the Riverina region, as rated by Gourmet Traveller WINE magazine in 2012, 2013, 2014, 2015, 2016 & 2018 – so it is a must visit destination while you are in town. Family tradition is strongly present when you visit Calabria Family Wine's Tuscan-style cellar door, offering warm Italian hospitality that has been passed down through the generations. Huge double front doors open into an elegant cellar door and tasting area, fitted out with beautiful oak panelling. Our friendly, knowledgeable Cellar Door staff offer a warm welcome to all visitors ensuring an educational, memorable and thoroughly enjoyable experience. Visitors can enjoy the spectacular winery surroundings and special events. Enjoy our famous alternative wine styles, Montepulciano, Aglianico, Nero d'Avola, Pinot Bianco and the hero flagship, Three Bridges Durif.
Cranswick Estate, NSW Walla Avenue, Griffith NSW 2680
Cranswick Premium Wines is an extraordinary Australian success story. In just on ten years it has grown from quite humble beginnings into a well established Australian public company with sales now extending into 29 countries. It is a vibrant and youthful company that thrives on the spirit of competition. Modern contemporary building set amongst lawn and trees. Barbecue and outdoor entertaining ar...
Evans and Tate, NSW Barramundi Winery, Walla Avenue Griffith
This winery is the result of the acquisition of one of the Riverina`s export success stories, Cranswick Estate, by the dynamic Western Australian based Evans and Tate Wine Group. The contemporary cellar door is a great place to sample some truly superb wines. Buses are welcome by appointment....
McWilliam's Winery & Vineyard, NSW McWilliam's Rd, Hanwood, Griffith NSW
Spanning 6 generations dating back more than 130 years. Specialising in Morning Light Riverina Botrytis as well as Ports and Muscats including Hanwood Grand Tawny Port. The McWilliam family pioneered the Riverina wine region in 1913 when J.J. McWilliam carted 50,000 vine cuttings to the largely untested region and planted them in a nursery. Since that time the wide Riverina plain, centred around Griffith and situated on the banks of the Murrumbidgee, has continued to grow as a respected and successful winemaking region. Today the winemaking region covers 20,000 hectares and is the largest wine producing region in NSW, as well as the second largest in Australia. Among other varietals, the region has a reputation of producing high quality Shiraz, Chardonnay and Semillon wines.
Melange Wines, NSW Farm 1291 Harward Road, Griffith
A recently established boutique winery, Melange offers a unique tasting experience. Inside the winery amongst the barrels you can enjoy the fruits of the winemaker. Open: Mon-Sun, 9am-5pm Closed Good Friday, Xmas and New Years Day Buses welcome...
Sans Pareil Estate, NSW 462 Old Willbriggie Rd, Griffith NSW 2680
"We produce these premium wines from family owned vineyards in our region. Only the best parcels of fruit are selected to ensure our consistently exceptional quality."
Warburn Estate, NSW 700 Kidman Way, Tharbogang, Griffith NSW
A family owned vineyard specialising in Merlot, Shiraz, Montepulciano and Pinot Noir in red wines and in the white wines Sauvignon Blanc and Pinot Grigio. Warburn Estate is a leader in the Riverina wine region and Australian wine industry. Proudly in Australia's top ten wine producers – Warburn Estate is owned by the Sergi family, whose winemaking heritage was brought to the area from Italy in 1952. Today, it stands tall as a fourth generation, pioneering wine family. From the first grape plantings in Tharbogang, to today, producing one of Australia's fasting growing brands under $7 – Gossips, Warburn Estate's achievements have been remarkable. The foundations that established Warburn Estate in the 1950's remain the same today – hard work and strong family values.
Westend Estate Wines, NSW 1283 Brayne Rd, Griffith NSW
Specialising in Riesling, Sauvignon Blanc and Pinot Grigio in the white wines and in the red wines 3 Bridges Durif and Calabria Aglianico, Cabernet Sauvignon and Pinot Noir. Also boasting a functions centre catering for up to 120 persons.