Jump to Winery List
Leeton Wine District
The Leeton Wine District is based on the area surrounding Leeton, which is located in the Riverina Wine Region which features lovely parks and well preserved examples of Art Deco architecture and many historic buildings. The irrigated farms around Leeton, and in Yanco, are some of the richest food-producing areas in Australia . You can enjoy a BBQ or picnic at the renowned Yanco Weir, and enjoy bushwalking along the Murrumbidgee River, where you can swim, fish, canoe, kayak or go boating. Some of the local attractions are events include: # The monthly Rotary Markets # The Picnic Races at Easter # The Leeton Sunrice Country Festival # Visit the Sunrice Country Visitors Centre, Berry Juice Factory and the many boutique wineries in the area, as well as the major producers.

The Riverina Region is home to 17 districts: Junee ; Coolamon ; The Rock ; Lake Cargelligo ; Deniliquin ; Hanwood ; East Griffith ; West Griffith ; Griffith Central; Yenda ; Leeton ; Wagga Wagga ; Balranald ; Narrandera ; Stanbridge ; Hay ; Hillston ; Jerilderie.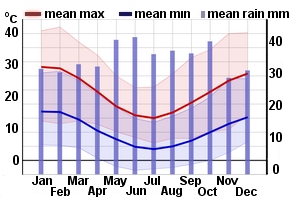 Winery Tour Map
Wineries
Lillypilly Estate, NSW 47 Lillypilly Rd, Leeton NSW
Decades ago, Pasquale Fiumara brought to Australia from Italy the tradition of thousands of years of viticulture and winemaking. Lillypilly Estate was born at Leeton - in the rich agricultural land in New South Wales` largest grape growing area, the Riverina. Today, the winemaker Robert Fiumara, continues to create excellent wines using some of the most advanced technology in the world to enhance ...
Stanbridge Estate Wines, NSW Stanbridge (15km PO), Leeton NSW
Welcome to the Stanbridge Estate Website and our wonderful world of unique wines from Australia. Our aim is to take the mystique out of wine and make it an enjoyable and social experience. Stanbridge Estate specialises in the provision of award winning wines and services specifically for the export market.
Toorak Wines, NSW Vineyard 279, Toorak Road, Leeton NSW 2705
Two brothers, Frank Bruno Jr and Vince Bruno, started the winery in 1965. Their father, Frank Bruno Sr, worked the 50 acre farm growing stone fruit up until the first grapes were planted in 1962. Home of Willandra Estate, Willandra Leeton Selection and Amesbury Estate Wines. Toorak Winery is situated in the heart of the `Riverina` in the town of `Leeton`, approximately half way between Melbourne a...