Jump to Winery List
Healesville Wine District
The Healesville Wine District, which is part of the Yarra Valley Wine Region, includes vineyards and wineries near the townships of Healesville and Badger Creek. The district is located about 50km east of Melbourne. Healesville is a very popular area for a day-trip, week-end getaway or longer holiday. Healesville is a regional wine and fresh food hub enclosed by stunning scenery and a stunning array of attractions. See more than 200 species of fascinating native wildlife in a charming setting on meandering paths and walk-through exhibits at the famous Healesville Sanctuary. Take a wine tour to one of the wineries with cellar doors in the area including: Domaine Chandon, Rochford Wines, Coldstream Hills, Broussard's Chum Creek, Grace Burn Estate, Long Gully Estate, Tarrahill Estate, Tarrawarra Estate and Yarra Track Wines. Some of the local attractions include: # Toolangi Pottery # Silvermist Gallery # Healesville Community Market # Yarra Valley Railway # Yarra Ranges National Park # Giant Steps and Innocent Bystander wines # TarraWarra Museum of Art which includes a stunning restaurant, wine tasting and wonderful collections of Australian modern art.

The Yarra Valley Wine Region includes fifteen districts : Eltham ; Shepherds Bush ; Kangaroo Ground ; Wonga Park ; Dixon Creek ; Yarra Glen ; Coldstream ; Wandin ; Gruyere ; Seville ; Badger Creek ; Woori Yallock ; Warburton ; Healesville Watsons Creek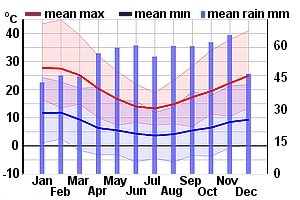 Winery Tour Map
Wineries
Bird on a Wire, VIC Healesville VIC 3777
Winemaker, Caroline Mooney, grew up in the Yarra Valley from the age of 3mths on a farm in Yering (now the Yarra Valley Dairy Handmade Farmhouse Cheese) still owned and run by her family. Spending the weekends shifting cattle and sheep, working in the cattle yards, feeding out and general farm life was, in her mind, the perfect way to grow up. It was also the beginning of her love for the seasons of the Yarra Valley – mushrooming in Autumn, short Winter days, the emergence of Spring and cutting hay and the race to get it in the shed before a summer storm. Her wine interest was sparked by her father's love of collecting wine and opening special bottles for birthdays, Christmas or a family gathering. Caroline started working in the wine industry in 1995 managing cellar door sales at local winery but soon found herself more interested in the vineyard and winemaking process.
Boat O'Craigo Vineyards, VIC 458 Maroondah Highway, Healesville VIC 3777
Our winery's distinctive name echoes that given to a farm in the town of Craigo in Scotland. Craigo is where our ancestors settled alongside the docking point for the ferry that crossed the North Esk River. The Boat O'Craigo name and traditions have drifted across seas to settle and book-end Victoria's burgeoning Yarra Valley. As with the ferry's docking-point, it is here at the gateways to the Yarra Valley that the physical journey of our travels ends, although the journey of the senses is only just beginning.
Goodman Wines, VIC PO Box 275, Healesville
Kate Goodman creates wine's that she love's to drink. Its a personal journey that began almost 30 decades ago. The focus is on crafting small batch wines from premium vineyard sites. The wines are made with an intuitive winemaking approach, minimal handling but still great attention to detail resulting in wines with texture, varietal character and personality. Establishing my own winery in 2012 gave me the freedom to share my winemaking journey with others and make wines that truly express my passion for life and bringing people together.
Innocent Bystander, VIC 316-334 Maroondah Highway, Healesville, VIC 3777
It's a cellar door, restaurant, bar and cafe all rolled into one. Innocent Bystander creates wines (and a cider) that are delicious expressions of what we love to make and drink. Come visit us at our home in Healesville for some delicious wine, great pizza, tasty paella, delicious share boards or enjoy a non-wine option such as a coffee and pastries.
Journey Wines, VIC 1A/29 Hunter Road, Healesville
Journey Wines are a reflection not only of the unique vineyard sites on which the grapes were grown – but also of the journey of winemaker Damian North. History Damian's journey into the world of wine began working as a sommelier at landmark Sydney restaurants like the original Tetsuya's in Rozelle and Pier in Rose Bay. Deciding that his future lay in the intriguing world of wine, he studied winemaking at Charles Sturt University and moved to the Yarra Valley where he spent a number of years as assistant winemaker at TarraWarra Estate.
Long Gully Estate, VIC Long Gully Rd, Healesville Vic 3777
Situated in the foothills of the Great Dividing Range at the Northern end of the Yarra Valley near Healesville, the Long Gully Estate vineyard and winery creates table wines of flavour, finesse and distinction. Long Gully is one of the most commercially successful of all the wineries in the Yarra Valley and the relaxing and inviting cellar door gives you an indication of why. What began as a weeke...
Mac Forbes Wines, VIC 11A Green Street Healesville
Our operation is based in the Yarra Valley and includes Graceburn Wine Room – an urban cellar door in the centre of Healesville, offering tastings of the full Mac Forbes range and other, select producers from here and abroad. Each weekend, the space transforms to Graceburn Bistro – our take on the friendly, modern bistro – and offers dinner from 6pm on Friday and Saturday evenings, and lunch from midday on Sunday. Our menu is seasonally led and that changes weekly. Our wine list to both drink-in and take away is extensive and great value.
Payten and Jones, VIC 3 Lilydale Road, Healesville
Growing up in Healesville, we naturally fell in with the wrong crowd and became winemakers. So, in staying true to our roots, we're making wines that don't strictly adhere to what our teachers told us to do. They are both dirty and delicious with a little soul left in. Come check 'em out some time…. Cellar door tastings & sales daily. Wine Bar daily while staying on a bit later, Friday & Saturday evening.
Rob Hall, VIC 157 Pine Ave, Healesville
The Wines - Chardonnay - Made to be fresh and generous; from three vineyards, Harriet's (near Healesville), Willowlake (southern end of the Yarra Valley), Daniel's Hill (northern end). Pinot Noir - from three vineyards, Harriet's (near Healesville), Willowlake (southern end of the Yarra Valley), Nenagh Park (northern end). New Cabernet - Nouveau style, fresh, soft, moreish, no preservative, from a 28yo dry grown vineyard in Kangaroo Ground.
Salo Wines, VIC 28 Dorothy St, Healesville
At Salo Wines we want to use intuitive winemaking on premium parcels of fruit to make gritty, textured, natural wines. University taught us how to overcomplicate things: to add yeast, add malo bugs and add complexity by working on wines. It's taken years to knock these thoughts out of our heads, and we've found that if you have great fruit, the best wine is made by doing bugger all.
Tarrawarra, VIC 311 Healesville Road, Yarra Glen Vic 3775
Set in the Eastern pocket of the Yarra Valley, TarraWarra Estate was established in 1983 near the town of Healesville. . Its northern aspect and relatively sheltered location make it a warmer site than other parts of the valley, allowing earlier ripening, and therefore minimising disease risk. Our vision was to produce Australia`s finest Pinot Noir and Chardonnay. A state-of-the-art winery, using ...
Timo Mayer, VIC 66 Miller Road, Healesville, VIC 3777
We are a small farm producing hand crafted, single vineyard wines. We believe that wines are made in the vineyard and therefore try to interfere as little as possible in the natural winemaking process. All our wines are unfined and unfiltered to show the true expression of the land. Our aim is to make wines with a point of difference. Bring back the funk!! Timo Mayer The Bloody Hill Vineyard was planted late last century. Ideally located in the center of the Yarra Valley, this small 2.4 hectare vineyard is where the magic happens.
Yarra Track, VIC 518 Old Healesville Rd, Yarra Glen Vic 3775
In Yarra Glen on the old Yarra Track out to the goldfields of the Central Highlands, this vineyard was established in 1989 and has attracted some well-earned praise for its Chardonnay and Pinot Noir. 100% Estate wine from low yield vines. Winemaker: Martin Williams; Owners: Jim and Diana Viggers; Cellar Door: 10am-5.30pm Daily Groups anytime by arrangement....