Jump to Winery List
Coldstream Wine District
The Coldstream Wine District is located in the Yarra Valley Wine Region in the area surrounding the township of Coldstream, located about 50 km east of Melbourne. Coldstream is renowned as the early home of Dame Nellie Melba who was Australia's most famous opera singer. You can still see her home, Coombe Cottage at the juncture of the Melba and Maroondah highways. The Museum of Lilydale has various displays about Melba's life. Coldstream is surrounded by farms and vineyards. It is home to the famous Bloodstream Brewery. The Coldstream Airfield is home to a famous flying school, which is operated by the Royal Victorian Aero Club. Dring winter Coldstream is one of the coldest places around Melbourne, with the temperature dropping below zero degrees centigrade on several mornings each year and frosts are also an issue for the grape-growers.

The Yarra Valley Wine Region includes fifteen districts : Eltham ; Shepherds Bush ; Kangaroo Ground ; Wonga Park ; Dixon Creek ; Yarra Glen ; Coldstream ; Wandin ; Gruyere ; Seville ; Badger Creek ; Woori Yallock ; Warburton ; Healesville Watsons Creek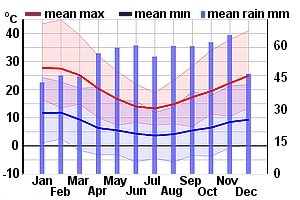 Winery Tour Map
Wineries
Bianchet Winery, VIC 187 Victoria Road, Lilydale VIC 3140
Bianchet is a small family winery in the scenic Yarra Valley, less than one hour`s drive east of Melbourne. The operation at Bianchet is very much hands on, with all of the wines being estate-grown, made and bottled by the Bianchet family, with the aim of producing quality Yarra Valley wines at affordable prices. Since the first vintage of 1980, Bianchet wines have developed full-flavored and stro...
Brunfield Winery, VIC 539 Queens Road, (Cnr Beenak Rd), Seville VIC 3770
A small family business, warm and cozy cellar door with fireplace, photographic images, bread, cheese and coffees available picnic in a casual garden where children can play. Life for Brumfield Winery started just over 20 years ago, well before we actually became an official winery. We visited wineries, really appreciating the smaller ones especially. We picked grapes, absorbed the passion of thos...
Mount Mary, VIC 22- 24 Coldstream West Road, Lilydale, VIC 3140
Mount Mary is one of the great small wineries of Australia, established by Dr John Middleton in 1972. Production is tiny. Mount Mary is noted for both its character and the high quality and individuality of its wines. Since the first (commercial) vintage in 1976, Mount Mary has established itself as one of Australia`s most highly regarded producers. The Quintet Cabernet Blend is based on five clas...
Paynes Rise, VIC 10 Paynes Road, Seville
Paynes Rise Wines in the Upper Yarra Valley is a boutique winery specialising in small batch wines produced from carefully selected fruit from their vineyard in Seville, Victoria. It is the realisation of many years of hard work, dedication and passion of Tim and Narelle Cullen. Paynes Rise endeavour to produce varietal fruit driven wines with complexity, that are expressive of the vineyards unique qualities and upper Yarra cool climate.
Punt Road, VIC 10 St Huberts Rd, Coldstream VIC 3770
The sleek modern cellar door is down a long driveway, nestled in behind a premium apple orchard and the famous Napoleone Vineyard. The modern state of the art winery produces a new range called Punt Road - premium Yarra Valley wines with a regional and varietal focus....
St Huberts, VIC Cnr Maroondah Hwy and St Huberts Road, Coldstream, Vic 3770
Part of the Beringer Blass group, St Huberts is a small winery in the Yarra Valley region. The modern St.Huberts estate is the reincarnation of one of Victoria`s most famous and historic vineyard properties. 120 years ago St.Huberts` wines were the toast of the colony, winning awards internationally, as well as mightily pleasing the grandees back home. Today`s St.Huberts was one of the properties ...
Sticks, VIC 179 Glenview Road, Yarra Glen, Vic 3770
Rob Dolan`s career in the wine industry began in South Australia where he learnt the art of winemaking from a couple of well-known teachers in Greg Clayfield and John Vickery at Rouge Homme. His thirst for knowledge under these distinguished wine makers occurred in parallel with his commitment to the Port Adelaide Football Club where the towering ruckman, known as `Sticks`, was a dual premiership ...
Sunshine Creek, VIC 350 Yarraview Road, Yarra Glen
One of the most recent expansions of Yarra Glen in the Yarra Valley has been the establishment of the Sunshine Creek winery. Sunshine Creek produces three wines, Chardonnay, Pinot Noir and a Cabernet blend of Cabernet Sauvignon, Merlot, Cabernet Franc, Malbec and Petit Verdot. A Heathcote Shiraz is also produced. Chief Winemaker Chris Lawrence and Vineyard Manager Andrew Smith work in conjunction to ensure that premium quality fruit is produced at Sunshine Creek. Viticulturally speaking we follow sustainable vineyard practices, yields are maintained at a low to moderate level to further aid flavour development.
Yarra Edge, VIC 38 Melba Highway, Yering, VIC 3770
The Yarra Edge vineyard, owned and planted by the Bingeman family in 1983, has an aspect and exposure perfect for growing vines - particularly Cabernet Sauvignon. Vine vigor is low due to strong prevailing winds, an element naturally balanced by the hungry soils. Due to these winds and the Yarra River bordering the property, there is low disease pressure, and the Yarra river running alongside the ...
Yarra Hill, VIC 10 St Huberts Road, Coldstream VIC 3770
Punt Road Wines and Yarra Hill Winery (Fernando Vineyard, Briarty Hill Vineyard, Emperors Prize Vineyard, Napoleone Vineyard) are located in Coldstream, in the Yarra Valley wine region of Victoria`s Dandenong Ranges in Melbourne Surrounds. The Punt Road range consists of Sauvignon Blanc, Pinot Gris, Chardonnay, Pinot Noir, Merlot, Shiraz, Cabernet Sauvignon and Botrytis Semillon. When vintage cond...
Yering Farm, VIC St Huberts Road, Yering VIC 3770
A beautiful old hayshed has been transformed into our cellar door. The vineyard is nestled between a dairy farm and our orchards and offers fantastic views of the Yarra Valley and mountains beyond from the wide veranda. The History of Yering Farm goes back to the 1850`s when the Deschamp family were leaving Paul De Castellas Yering Vineyard after supervising its planting .The Deschamps ended up in...
Yeringberg, VIC Maroondah Highway, Coldstream VIC 3770
Yarra Valley pioneers, the de Pury family are renowned for wines of finesse and elegance that epitomise the finest the region can produce. Produced from some of the oldest vines in the valley, these are long lived wines made in tiny quantities....