Jump to Winery List
Watsons Creek District
The Watsons Creek District is located in the area around Watsons Creek, which lies about 30 km north-east of Melbourne's Central Business District. The Watsons Creek Antiques and Cafe is the primary business in the area, specialising in Edwardian and Victorian furniture and china, and also offering B&B-style accommodation. There are many local cafes and restaurants which offer local produce and some of the wines from the many boutique wineries in the area.

The Yarra Valley Wine Region includes fifteen districts : Eltham ; Shepherds Bush ; Kangaroo Ground ; Wonga Park ; Dixon Creek ; Yarra Glen ; Coldstream ; Wandin ; Gruyere ; Seville ; Badger Creek ; Woori Yallock ; Warburton ; Healesville Watsons Creek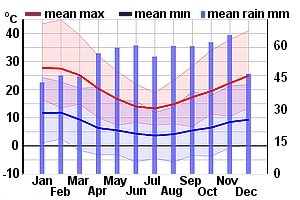 Winery Tour Map
Wineries
Evelyn County Estate, VIC 55 Eltham-Yarra Glen Road, Kangaroo Ground, VIC 3097
This modern vineyard set among the gentle hills and valleys on the Kangaroo Ground side of the Yarra Valley. It features a stunning architecturally designed cellar door, restaurant and gallery complex with fantastic views over the vineyard. The Yarra Valley represents one of the finest cool-climate wine regions in the world, and the Evelyn County Estate vineyard site produces premium fruit display...
Kings of Kangaroo Ground, VIC 15 Graham Rd, Kangaroo Ground Vic 3097
A love of fine wine, an appreciation of art and care for the environment has created our winery, `Kings of Kangaroo Ground`. Kangaroo Ground is a unique oasis of deep rich volcanic soils, the feeding ground for kangaroos and favoured hunting area of the original inhabitants, the Wurundjeri people. Now vines grow, the kangaroos still graze on native grasses and roots preserved amongst the vines. Ow...