Jump to Winery List
Wandin Wine District
The Wandin Wine District in the Yarra Valley Wine Region is centred on the township of Wandin located about 40 km from the central business district of Melbourne. The other towns and suburbs in the district include: Lilydale, Mt Evelyn, Monbulk, Silvan, Montrose. The area is very popular for walkers and cyclists as the are many natural remnants in the area. The Warburton Trail, which is a popular cycling and walking track that extends from Lilydale to Warburton, runs through Mount Evelyn. The Mount Evelyn Aqueduct Walk is another trail connecting Hunter Road and the Mount Evelyn Forest (part of the Dandenong Ranges National Park) to Swansea Road. If you are looking for a getaway with wine and roses, then you can't beat Monbulk in the Dandenong Ranges. Monbulk is located in tree covered hills, farm land and pastures and the area is renowned for roses, tulips, various fruits and its boutique quality wines. The Monbulk Winery is open on public holidays and most weekends, and offers tastings of their unusual kiwi fruit wines and various traditional grape wines. Five Oaks Vineyard also has a cellar door and BBQ facilities. The area is renowned for its nature reserves. Silvan Reservoir Park in the Dandenong foothills is one of a series of bushland area where visitors can enjoy bushwalking and bicycling walking trails through native and planted exotic trees and enjoy a relaxing picnic or BBQ. Wineries in the area include: Burgi Hill Vineyard, D'Angelo Estate Vineyard, Marc's Estate, Melaleuca Grove (Gumanan Pty Ltd), Monbulk Winery, Mt Delancey Fruit Winery, Silvan Winery, Whitsend Estate, Yarra Vale.

The Yarra Valley Wine Region includes fifteen districts : Eltham ; Shepherds Bush ; Kangaroo Ground ; Wonga Park ; Dixon Creek ; Yarra Glen ; Coldstream ; Wandin ; Gruyere ; Seville ; Badger Creek ; Woori Yallock ; Warburton ; Healesville Watsons Creek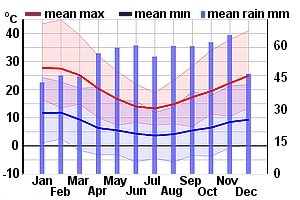 Winery Tour Map
Wineries
D`Angelo Estate, VIC 41 Bayview Road, Officer VIC 3809
D`Angelo Estate Vineyard comprises of two vineyards one in Officer and the other in Montrose, Victoria. Officer is south east of Melbourne towards Gippsland and Montrose is on the eastern side of Melbourne.Valley region. Both of these vineyards are family owned and are maintained by the D`Angelo family. Benny D`Angelo, as the winemaker, has a goal to grow and make the most complex and enjoyable wi...
Melaleuca Grove, VIC 8 Melaleuca Court, Rowville Victoria 3178
Melaleuca Grove produces a range of premium cool climate wines from grapes grown by dedicated growers in the world renowned Yarra Valley and the adjacent Yea Valley regions of Victoria, Australia. Melaleuca Grove Wines are made and distributed by Gumanan Pty Ltd, a small boutique winemaking company run by Jeff and Anne Wright who are dedicated to excellence in winemaking. Jeff and Anne both have b...
Monbulk Winery, VIC 11 Macclesfield Road, Monbulk, Vic 3793
Established in the eighties Monbulk Winery is a small family run business producing grape wines, fruit wines, and Snake Gully cider. Only an hour from central Melbourne and situated in the picturesque Dandenong Ranges, the winery has spectacular 360 degree views across the region. Visitors are welcome to sample the wines during opening hours, from 10 a.m. until 5 p.m, Wednesdays to Sundays, or by ...
Mt Delancey, VIC 60 Delancey Rd, Wandin North VIC 3139
Mount Delancey Winery is a small family run business set in the famous berry region of Wandin, in the Yarra Valley wine region of Victoria`s Dandenong Range in Melbourne Surrounds. Mount Delancey produces the popular classic wines. The vineyard is unirrigated and this, in combination with the slower ripening conditions of the Yarra Valley, can create intense flavour in its grapes. As well, there a...
Six Acres Wines, VIC 20 Ferndale Road, Silvan
Six Acres Wines is located in the southern hills of the Yarra Valley. The winery and vineyard is owned and worked by the Zuccaro Family. With a fascination for cool climate wines, Ralph and Lesley selected the Yarra Valley region to start their venture into grape growing and winemaking. In 1999, a site of six acres was selected in Silvan, it had all the characteristics needed to produce premium wine; a north facing slope, high altitude climate with deep furtive red volcanic soil. In that same year, the best varieties for this site were chosen. These included Pinot Noir, Cabernet Sauvignon & Merlot.
Whitsend Estate, VIC 52 Boundary Road, Colstream VIC 3770
When you drink Whitsend family wine, you know that each stage of the process to produce this wonderful wine has been under the personal direction of the owners, Ross and Trish Baldwin. In 1997, it wasn`t only instinct that that led them to the spot that is now Whitsend Estate. Soil tests and site analysis confirmed that they had found an outstanding 50 acre site for a vineyard that would take full...
Yarra Vale, VIC 6 Roseman Rd, Chirnside Park, Vic 3116
Yarra Vale is a proud producer of award winning premium wines located in the Victorian Yarra Valley Region. Our range of premium Yarra Valley wines comprise of Chardonnay, Sauvignon Blanc, Pinot Noir, Merlot, Cabernet Sauvignon and Shiraz....