Jump to Winery List
Gruyere Wine District
The Gruyere Wine District includes wineries in the Yarra Valley between Healsville and the townships of Gruyere and Badger Creek, about 60 km east of the centre of Melbourne. Nearby is picturesque Piccaninny Lake. The area has a wonderful range of attractions and a variety of accommodation ranging from bed and breakfasts to the caravan park and camping area at Badger Creek Holiday Park. You can enjoy bushwalking, mountain biking, fishing, and well as wine tasting at the many cellar doors in the area. Sample the local food at the various stalls, cafs and restaurants in the district and at the nearby town of Healesville.

The Yarra Valley Wine Region includes fifteen districts : Eltham ; Shepherds Bush ; Kangaroo Ground ; Wonga Park ; Dixon Creek ; Yarra Glen ; Coldstream ; Wandin ; Gruyere ; Seville ; Badger Creek ; Woori Yallock ; Warburton ; Healesville Watsons Creek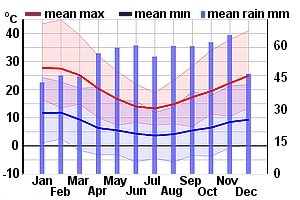 Winery Tour Map
Wineries
Badger`s Brook, VIC 874 Maroondah Highway, Coldstream Vic 3770
Badger`s Brook Vineyard was first named by its current owners because of the vineyard`s small running creek that is in close proximity to nearby Badger Creek, a well known Yarra Valley landmark. William Ryrie, one of the districts early white settlers, named Badger Creek. William Ryrie named the creek after his horse, Badger, which became stuck in the creek whilst he was exploring the area and sub...
Coldstream Hills, VIC 31 Maddens Lane, Coldstream Vic 3770
Coldstream Hills was established in 1985 by James and Suzanne Halliday. From its initial vintage of 450 cases it has grown to become one of Australia`s leading small wineries, its wines sold in some 16 countries and a reputation out of all proportion to its size. Situated in the cool and beautiful Yarra Valley, about one hour`s drive east of Melbourne (cellar door opening details and map), its ste...
Coome Farm Wines, VIC 673 Maroondah Highway, Coldstream
The estate-grown wine brand of Coombe Yarra Valley – the historic property of legendary opera singer Dame Nellie Melba. Coombe Farm's wines are produced entirely from fruit grown on the estate vineyards. They are handcrafted in small volumes from fruit deemed to be the best of the vintage, the balance being sold to some of Australia's most recognised, premium wine producers. Coombe Farm flagships include the sparkling 'Nellie Melba' Blanc de blanc and the Estate Pinot Noir & Chardonnay – all popular, high-scoring and regular trophy & medal winners. Coombe Farm has a FIVE STAR James Halliday rating.
Domaine Chandon, VIC 727 Maroondah Highway, Coldstream Vic 3770
Domaine Chandon was established by French champagne house Moet and Chandon in 1986 and is dedicated to the production of méthode traditionnelle sparkling wine and premium quality, cool-climate still wines. Set in the verdant hills of Victoria`s beautiful Yarra Valley, just a short drive from Melbourne, the winery attracts more than 100,000 visitors a year. Domaine Chandon is open every day of the ...
Dominique Portet, VIC 870-872 Maroondah Highway, Coldstream Vic 3770
Dominique and Julia Portet spent six months in Provence. On their return, they decided to fulfil their dream in the Yarra Valley because of the quality of its wines, especially Cabernet and Merlot. The fragrance, aromatics and structure reminded Dominique of Bordeaux. The affable Dominique Portet is a household name in Victorian wine. He was the prime mover in the large Taltarni estate in the Pyre...
Giant Steps, VIC 336 Maroondah Highway, Healesville VIC
Giant Steps is owned and operated by a small team - Phil, Allison and Harry Sexton. Our story starts 2600 km and 23 years ago when Phil established the Devils Lair vineyard in Margaret River. He was joined there in 1990 by Allison, an American biochemist. 1995 proved an excellent year; son Harry was born. In life, not many people get the chance to do something again; differently, with the benefit ...
Helen's Hill Estate, VIC 16 Ingram Road, Coldstream
Helen's Hill Estate is 100% family-owned vineyard and winery with all of the various benefits and wrinkles that come with running a family operation! It turns out that back in the 1950's John was a businessman working in Collins Street and happened to meet a young lady by the name of Helen. Things progressed, the couple started courting and John plucked up the courage to ask Helen for her hand in marriage. Helen agreed, but on one condition; John had to buy a farm as Helen had, from a very young age, longed for a life on the land. Following his heart, John bought land in the Yarra Valley and the couple started a family and life on the farm. Tragically, Helen was diagnosed with cancer and passed away leaving John and 2 very young children to carry on.
Maddens Rise, VIC Corner of Maddens Lane and Maroondah Highway, Coldstream Vic 3770
Biological farming practices are used wherever possible. This greatly improves soil biology, better utilises nutrients, suppresses disease causing organisms, improves water efficiency and improves soil structure. The overall effect is to make the vines healthier, more 'water wise' and more resistant to attack from pests and disease. The fruit, and our wines, reflect this. Our wine is made on-site using hand picked grapes, small batch fermentation, minimal oak influence and wild yeast ferments. Our small and cosy cellar door opened in March 2010, with opening hours being Thursday, Friday, Saturday, Sunday and Monday, from 11.00 am to 5.00 pm – otherwise by appointment. Feel free to visit for a warm welcome and great tasting experience. We purchased a paddock in 1994 and planted our first grapes in 1996. We have since purchased more land, and expanded the planting so that we now produce: Chardonnay, Pinot Noir, Cabernet Sauvignon, Merlot, Shiraz, Viognier, Nebbiolo (clone unknown).
Oakridge Estate, VIC 864 Maroondah Highway, Coldstream Vic 3770
Since its founding in 1978, Oakridge has been making wine in the Yarra Valley and throughout that time has been dedicated to producing some of the finest examples of cool climate wine styles seen in Australia. Oakridge began as a small family winery in 1978 with its original vineyards in the rolling hills of Seville in the southern part of the Yarra Valley. The winery immediately received critical...
Riverstone Estate, VIC 105 Skye Road, Coldstream Vic 3770
Rivertsone Estate Homestead and cellar door facility is built with bluestone and 100 year old oregon timber. Enjoy a glass of wine with an antipasto platter overlooking the Yarra River and stunning views of the Yarra Valley. Situated in the heart of the Yarra Valley on the banks of the Yarra River at Coldstream, RiverStone Estate produces only premium quality wines for the domestic and internation...
Rochford Wines, VIC 878 - 880 Maroondah HIghway, Coldstream
At Rochford Wines – Yarra Valley, we specialise in high quality winemaking from two single vineyard sites with thirty five plus year old vines. The approach of our Chief Winemaker, Marc Lunt, is drawn from the traditional Burgundian's philosophy that "you don't make wine; you merely accomany it from vine to bottle" and in his own words, "Produce the best fruit possible in the vineyard, handle the fruit gently to preserve fruit character, minimise extraction and allow the wines to express the inidividuality of the vineyard and each growning season with an assertive edge displaying healthy acidity in a cool year and ripe fruit expression in a warm year." Our Viticulturist, John Evans, believes the success of our wines come from "right site, right clones" and is firmly aligned to the practice of "grasses under vines" to ensure the purest of organic matter being put back into the soil.
Soumah of Yarra Valley, VIC 18 Hexham Road, Gruyere
Soumah ("so-ma", meaning South of Maroondah Highway) is located at the foothills of picturesque Warramate Hills. At Soumah of Yarra Valley the Cellar Door and Trattoria are open 7 days and offer visitors a stunning view of Soumah's vineyard and the rolling hills behind it. Being Northern Italian inspired, Soumah's Trattoria serves traditional Italian cuisine carefully selected to match the Northern Italian wine styles. History It is known that 'great wine is made in the vineyard' and we set out to select an exact location that delivered every advantage of a cool climate, undulating topography and ancient soils. We then wanted to bring some focus to our endeavour. After being resident overseas for many years, we found the elegance & honesty of Northern Italian wines and food is what inspires us. So we found our hidden gem, located down a county lane in the dress circle Warramate foothills of the Yarra Valley. It is from here we set out to make wine with the charm of Northern Italy but the provenance of the majestic Yarra Valley.
Squitchy Lane Vineyard, VIC 9 Medhurst Road, Gruyere
Squitchy Lane is a 30 year old Yarra Valley vineyard. We produce premium quality wines from our 16 acres of vines. Come and visit our rustic cellar door, for a truly authentic wine tasting experience. At Squitchy Lane, we work hard in the vineyard to make sure our winemaker doesn't have to work hard in the winery. If the grapes aren't right, no amount of winemaking attention can fix them. That's as close as we come to a winemaking philosophy. We'd prefer not to be boxed in by philosophies which are often dogma by another name. So we let our grapes do the talking. This means reducing winery additives but gentle and continual massaging of the wines since we believe there is a substantial difference between physical and chemical inputs. The end result is a group of wines that are balanced, harmonious and graceful. We strive for full flavour development at low alcohol levels so the wines can refresh as well as sustain the soul.
Thick as Thieves, VIC 355 Healesville - Koo Wee Rup Road, Badger Creek
Thick as Thieves is a small Yarra based wine producer focused on crafting small batch, cool climate wines from pristine parcels of fruit. Meticulous attention to detail throughout the winemaking process and minimal handling and intervention results in wines with fresh and focused varietal character, texture and balance. In other words, interesting wines that you'll want to share with your close friends and partners in crime.
Thousand Candles, VIC 159 Killara Road, Gruyere
Thousand Candles is a wine of place. Our aim is to make something uniquely Australian. We prioritise farming over winemaking in the hope of finding the truest, not the best, wine the land can offer.
Tokar Estate, VIC 6 Maddens Lane, Coldstream Vic 3770
Welcome to Tokar Estate Yarra Valley WineryWith majestic sweeping views of the Yarra Valleys finest vineyards, surrounding mountain ranges, stunning skylines and set in the picturesque dress circle of the acclaimed Yarra Valley, Tokar Estate is an ideal location in which to relax, soak up natures beauty, taste some exquisite wines and sample the most exotic cuisine this side of the Mediterranean. ...
Warramate, VIC 27 Maddens Lane, Gruyere Vic 3770
Warramate Wines, Yarra Valley is a family owned and operated winery established in 1970 by the Church family. Making wines from estate grown grapes planted on the north facing slopes of the Warramate Ranges overlooking the magnificent Yarra Valley. Small quantities of premium quality handcrafted Riesling, Cabernet Merlot, Pinot Noir and Shiraz wines from vines that are now 40 years old. From the b...
Warramunda Estate, VIC 860 Maroondah Hwy, Coldstream
Warramunda Estate is a family owned vineyard situated on the north-facing slopes of Coldstream in the Yarra Valley. Subtle nuances in altitude, aspect and soil type guide the viticulture and winemaking. With meticulous use of time-honoured methods, the Magdziarz family showcases the pure-hearted character and quality of this privileged sit. This family owned and run winery is committed to the bespoke production of premium hand-made, hand-grown wines that deeply express the Coldstream region's distinctive landscapes and rich earth. Warramunda Estate wines stand out due to this authentic provenance, the wines are made exclusively from the grapes grown on the property, distinctly reflecting 'their place', the terroir of Coldstream.
Yarra Yering, VIC 4 Briarty Road, Gruyere Victoria 3770
Dr Bailey Carrodus makes extremely powerful, occasionally idiosyncratic wines from his 30-year-old, low-yielding unirrigated vineyards. Both red and white wines have an exceptional depth of flavour and richness. Dry White No 1 (Sauvignon Blanc Semillon), Chardonnay, Pinot Noir, Dry Red No 1 (Bordeaux-blend), Dry Red No 2 (Rh`ne-blend), Merlot (tiny quantities at $100 a bottle), Underhill Shiraz, U...