Jump to Winery List
Yarra Glen Wine District
The Yarra Glen Wine District is located in the Yarra Valley Wine Region and is centred on the area surrounding Yarra Glen, Christmas Hills, located about 40 km north-east of Melbourne. The picturesque town of Yarra Glen lies between the foothills of the Great Dividing Range and the Yarra River , close to Toolangi State Forest and Kinglake National Park. The natural landscape in the area varies from the wetlands and small lakes beside the river, to pasture for grazing cows and horses, and the area is dotted with many wonderful vineyards, all with a pleasant backdrop of tree-covered mountain slopes. There have been vineyards in the Yarra Valley since the first vineyard was established at Yering Station in 1838 by the Ryrie Brothers. The vineyards were removed and replanted to pasture in the 1930s due to the failing economy and markets, but they were and re-established in the early 1960s. The main grape varieties grown in the area are Chardonnay, Sauvignon Blanc, Pinot Noir, Cabernet Sauvignon and there are now over 100 wineries in the Yarra Valley. The famous Yarra Valley Food Trail is a good guide to the area. It includes fresh food stalls for local produce sold at the farm gate, farmers markets, speciality food shops, restaurants and cafes and of course wineries and cellar doors. Vineyards and wineries in the area include: Balgownie Estate, Hanson - Tarrahill Vineyard, Lovey's Estate, Martha's in the Vineyard, Mt Hope Wines (Lovey Estate), Train Trak (Mayall Wines), Yarra Glen Wines, Yarra Ridge Vineyard, Yering Station.

The Yarra Valley Wine Region includes fifteen districts : Eltham ; Shepherds Bush ; Kangaroo Ground ; Wonga Park ; Dixon Creek ; Yarra Glen ; Coldstream ; Wandin ; Gruyere ; Seville ; Badger Creek ; Woori Yallock ; Warburton ; Healesville Watsons Creek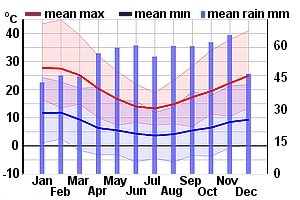 Winery Tour Map
Wineries
Balgownie Estate, VIC 1309 Melba Highway, Yarra Glen
Balgownie Estate Vineyard Resort & Spa is located in the heart of Victoria's Premiere Wine region, the Yarra Valley, less than an hour from the Melbourne CBD. Balgownie Estate is a 4.5 Star Boutique Luxury Resort offering award winning Accommodation, Fine Dining Restaurant, Day Spa, On Site activities and superb Conference and Wedding facilities. The resort is based on the principals of Quality, Wellbeing and Lifestyle providing Sustainability and Accessibility. Together with our 5 star Rated Wines and award winning resort, Balgownie Estate will provide you an unforgettable getaway experience.
Denton Hill View Vineyard, VIC 160 Old Healesville Road, Yarra Glen
Welcome to John and Simon Denton's Vineyard. Our vineyard, located in the Yarra Valley, is on a fabulous site with great aspect for grapes and with wonderful views of the whole valley. View Hill is an isolated hill in the middle of the Yarra Valley on the north side of the Yarra River. It exists because it is a granite 'plug' from the late Devonian Age [370 million years ago], sitting above the surrounding softer sandstones and siltstones of the Valley. James Halliday says of the vineyard, the 'granite base is most unusual in the Yarra Valley, and together with the natural amphitheatre that the plug created, has consistently produced exceptional grapes.' We love the valley because it feels like a valley with a real sense of containment unlike say much of the Hunter Valley and most other grape growing areas.
Greenstone Vineyards, VIC 179 Glenview Road, Yarra Glen
Greenstone Vineyards is situated on 90 acres at the base of the Christmas Hills, in Yarra Glen. Our picturesque Yarra Valley vineyard, winery & cellar door is only 1 hour from Melbourne's CBD. The Greenstone wine portfolio encompasses both our Heathcote and Yarra Valley vineyards, producing a select range of wine varietals in the way that we think great wines are made – by starting with the best sites that produce the best grapes. These wines will always be a reflection of the unique characteristics of their regional site. With panoramic views of the Yarra Valley, and the Dandenong Ranges beyond, the Greenstone Vineyards cellar door has brought our wines closer to its consumers, creating the opportunity for people to try our wines and understand the Greenstone philosophy, whilst being immersed in the heart of the Yarra Valley and its wine-making history. Call in for a casual tasting, a more formal wine experience, or to simply unwind with a glass of Greenstone wine and a delicious cheese platter.
Hill Paddock Winery, VIC Yarra Valley
The Vineyard was established in 1996 by Dr. Richard Gutch OAM and Verna Gutch and family on their property Hill Paddock situated on the Yarra River, ten kilometres from the township of Healesville in the Yarra Valley region of Victoria, Australia.Gracedale Hills Estate In 2005-2006 a purpose built winery with modern gravity fed utilities and complete with an underground barrel hall was constructed on the property. The winery facility is called "Hill Paddock Winery" and is now used by our winemaker Mac Forbes to produce all of the Gracedale Hills "Hill Paddock" label wines. Hill Paddock produces Shiraz, Chardonnay & Rose.
Lovey`s Estate, VIC 1548 Melba Highway, Yarra Glen VIC 3775
Lovey`s Estate is part of a restaurant and accommodation complex situated prominently on the Melba Highway, just on the far side of Yarra Glen, in they Yarra Valley wine region of Victoria Dandenong Ranges and Melbourne Surrounds. The majority of the production from the 11-hectare vineyard is sold ; part is made under contract at Tarrawarra and is available through cellar door and the restaurant....
Rob Dolan Wines, VIC 21-23 Delaneys Road, Warrandyte South
Rob Dolan Wines is about "Real wine, real people, real character" and that is exactly what you will experience when visiting the cellar door in Warrandyte South, just 30 minutes from Melbourne's CBD. The intimate space has been incorporated into the properties' original Farmhouse which is set on over 100 acres of rolling farmland and vineyard. The friendly and knowledgeable Cellar Door staff are on hand to guide visitors through a comprehensive tasting of the range of wines. Visitors are welcome to purchase wine to takeaway or enjoy on the deck. A selection of local produce including Stone and Crow Cheese is available seven days a week. Visitors are able to create their own cheese plate with accompaniments such as City Larder terrine and pate, Mount Zero Olives, Oil and Dukkha, The Farm Yarra Valley crackers and our very own range of pickles, pastes, jellies and relish.
Santolin Wines, VIC 21-23 Delaneys Road, Warrandyte South
We're a small family business based in the Yarra Valley, run by husband and wife team Adrian and Rebecca Santolin. Adrian makes the wines, has a steep family history in the wine industry and has worked in some incredible wine regions around the world. With a background in wine marketing, Rebecca has designed, developed and managed some of Australia's most well-known wine brands. We live, breath and love wine.
Serrat, VIC PO Box 478, Yarra Glen
Serrat is the family home and vineyard of Nadège and Tom Carson Established in 2001, the Serrat vineyard is close-planted at 8800 vines per hectare, more than four times the average density. Remarkably the vines carry only a few bunches each and produce an average of half a bottle per vine. Composed of 0.8ha each of pinot noir and chardonnay, 0.4ha of shiraz, and a sprinkling of viognier. Most recent has been the establishment of an esoteric mix of 0.1ha each of malbec, nebbiolo, barbera, grenache noir and the first Victorian grenache blanc.
Train Trak, VIC 957 Healesville Yarra Glen Road, Yarra Glen VIC 3775
Situated in the heart of the Yarra Valley, our Train Trak vineyard produces premium quality grapes, which reflect the region`s cool climate, rich soil and ideal elevation. The vineyard`s name relates to the train track that runs through the property over a quaint trestle bridge. The train line, built in the 1800`s was an important link to the Yarra Valley and is still a significant landmark traver...
Yarra Ridge, VIC Glenview Road, Yarra Glen VIC 3755
Over the past two decades, Yarra Ridge has emerged as a Yarra Valley icon, producing exceptional wines and maintaining a reputation for energy and innovation. Our winemakers and viticulturalists are full of youthful energy and ability. It`s a functional winery is set among gum trees, looking from the base of the northern foothills across the tranquil valley floor. At the smart little cellar door a...
Yarrawood Estate, VIC 1275 Melba Highway, Yarra Glen
YARRAWOOD ESTATE is internationally acclaimed for producing fine hand-crafted single vineyard wines. Situated on the floor of the valley, the ESTATE is 150 acres in size. The mild climate of the valley allows for gradual, extended fruit ripening. Restricted yields and mindful winemaking enables the production of exceptional wines that are rooted in the purity and quality of the fruit. YARRAWOOD ESTATE's Cellar Door & Café enjoys outstanding 360-degree views over our immaculate vineyard, picturesque lake, and the Yarra Valley beyond. Visitors are welcome to sample our full range of YARRAWOOD Tall Tales wines, or simply just relax with a glass of wine and a delicious meal. During the summer months' live music is performed every weekend on the lawn. Lawn rugs and games are available, so bring the whole family and enjoy the best of the Yarra Valley all in the one place.
Yering Station, VIC 38 Melba Highway, Yering VIC 3770
Victoria`s first vineyard was planted at Yering Station in 1838. Paul de Castella took possession of the property in 1850 and with vine stocks sourced from Chateau Lafite, expanded the vineyard significantly. The wines he produced won international acclaim. Today`s vineyard at Yering Station was planted in 1988 to the classic varieties of Chardonnay, Pinot Noir, Cabernet Sauvignon, Merlot and Cabe...
Zonzo Estate, VIC 957 Healesville-Yarra Glen Road, Yarra Glen
Located in the renowned Victorian wine region of the Yarra Valley, Zonzo Estate is a restaurant, winery and award-winning wedding destination. Known for its authentic Italian food and breathtaking views of the Yarra Valley, Zonzo Estate has expanded on its 2015 premium reserve wine collection adding a Moscato, Rose, Pinot Grigio and a selection of craft beers to its growing portfolio in the following years. Zonzo Estate launched its 2015 vintage early in 2016, created by experienced Yarra Valley winemakers Caroline Mooney and Kate Goodman and produced by grapes hand-picked from the Estates rolling vineyard.