Jump to Winery List
Kangaroo Ground Wine District
The Kangaroo Ground Wine District in the Yarra Valley Wine Region is based on the delightful town of Kangaroo Ground located about 25 km north-east from Melbourne's central business district. Kangaroo Ground is the home of Inglewood Estate winery which consists of 25 acres planted with Pinot, Merlot and Cabernet Sauvignon, producing about 1500 bottles of hand made boutique wine each year. Inglewood also runs a small mob of Suffolk Sheep. Inglewood offers wonderful Corporate Events, sensational Wedding Ceremonies and Receptions and Private Functions. Inglewood Estate is well known in the district for its beautiful setting, convenient location and is an unforgettable venue. Other major attractions in the area are the fine restaurant of Wellers of Kangaroo Ground and Samson Hill Estate that offers a fabulous A-La-Carte menu and great wines.

The Yarra Valley Wine Region includes fifteen districts : Eltham ; Shepherds Bush ; Kangaroo Ground ; Wonga Park ; Dixon Creek ; Yarra Glen ; Coldstream ; Wandin ; Gruyere ; Seville ; Badger Creek ; Woori Yallock ; Warburton ; Healesville Watsons Creek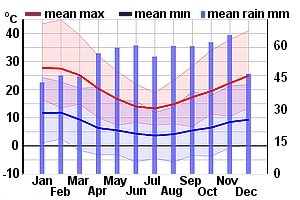 Winery Tour Map
Wineries
Diamond Valley, VIC 2130 Kinglake Road, St Andrews, VIC 3761
Since the first release in 1982, Diamond Valley Vineyards has enjoyed outstanding success for its wines, amassing a tally of medals despite its tiny size, and justifying the Lances` insistence on Quality before Quantity. The hillside vineyard in Melbourne`s Yarra Valley is blessed with pure air, bathed in sunlight and is a haven for kangaroos and native birds. The Lance family tend their vines by ...
Eltham Vineyards, VIC 225 Shaws Road, Arthurs Creek, VIC 3099
Shaws Road Winery and Eltham Vineyards are located in Arthurs Creek in the Yarra Valley wine region of Victoria Dandenong Ranges (Melbourne Surrounds). Enjoy the spectacular views from Strathewen to the Great Dividing Range from their cellar door. Cellar and winery open every 3rd Sunday of the Month or by appointment any other time. All wines are produced at our Shaws Road and Strathewen Hills Win...
Jansz Estate, VIC 125 Rifle Range Road, Smiths Gully VIC 3099
Jansz Estate is a family-owned vineyard and winery, established in 1995 by the Jansz Family. The Estate is nestled in the foothills of the Kinglake Range, located 40 km north east of Melbourne and on the western fringe of the Yarra Valley Wine Region, Victoria, Australia. The Yarra Valley Wine Region is very unique, the wide range of Topography found within its boarders, its varying microclimates ...
Lovegrove Vineyard, VIC 1420 Heidelberg - Kinglake Rd, Cottles Bridge, Vic 3099
Located on the sunny north-west slopes of the Diamond Valley this wineries is highly regarded for the quality of its wines, the vineyard has a reputation for producing superior fruit. Distinctive wines of true varietal character and resounding fruit quality are produced on the estate. Enjoy some of life`s great pleasures - wine, food, friends and country atmosphere at the cellar door and gallery. ...
Naked Range Wines, VIC 125 Rifle Range Rd, Smiths Gully Vic 3760
The Naked Range of the Yarra Valley in Victoria, Australia is a vibrant range of wines that are now available throughout several countries around the world. It has been produced by Jansz Estate, a boutique vineyard that is currently producing vintages of exceptional quality. Jansz Estate is a family-owned vineyard instigated by horticulturalist Mike Jansz. The Estate was established in 1995, in Sm...
Panton Hill, VIC 145 Manuka Rd, Panton Hill, VIC 3759
Just a 45 minute drive out of Melbourne, via the Eastern Freeway and Eltham, brings you to the Panton Hill vineyard. Travelling along the high ridge from Eltham you will see magnificent views of the Dandenongs, King Lake Ranges and the city. Winemaker and viticulturist Teunis Kwak was born in Holland and migrated with his family to Canada when he was a child. Settling in British Colombia, he later...
Punch, VIC 10 Scott St, St Andrews
James has been making wine from his family's vineyards for more than 25 years, firstly under the tutelage of his father – recognised Pinot Pioneer and Diamond Valley Vineyards founder, Dr David Lance – and since 2005, making his own mark with Punch. Our vineyard is meticulously and sensitively cared for – using appropriate organic and holistic systems based on both science and years' experience.​ Vines are hand dressed, pruned and harvested. In the winery we use minimal interventions, harnessing natural yeasts, gravity settlings, slow elevage in barrel, and no fining or filtration. After estate bottling, we allow all of our wines significant time in bottle, to develop closer to their peak before release. We'd love for you to try our wines, available online, from one of our stockists, or in our new cellar door – Punch Wine Room – right in the heart of St Andrews.
Shaws Road Winery, VIC 225 Shaws Road, Arthurs Creek
Shaws Road Winery, in the little hamlet of Arthurs Creek, is a small family-owned winery. Nestled in the rolling hills of the western Yarra Valley, close to Hurstbridge and St Andrews, the views from the winery buildings are exceptionally pretty, looking out over the new prairie-style winery gardens across the family-owned beef farm and apple orchards, to the Kinglake Ranges in the background. The winery has wide verandahs for fine weather dining, or a cosy indoor tasting room when the weather is cooler. The wines produced by Shaws Road are typical Yarra Valley cool-climate wines. Predominately Chardonnay, Pinot Noir and Merlot, together with some new methode champenoise Sparkling wines. Open the third Sunday of every month for tastings, wine sales and lunch.
Wedgetail Estate, VIC 40 Hildebrand Road, Cottles Bridge VIC 3099
Wedgetail Estate is a very special winery. It is a small vineyard at the head of a steep valley at Cottles Bridge. It is off the well-worn tourist tracks but well worth a visit. Guy Lamothe developed his signature winemaking style from his experiences in France and on the Mornington Peninsula. The new rammed-earth winery is built from the same mudstone-over-clay that nurtures the vines. On weekend...