Jump to Winery List
Woori Yallock Wine District
The Woori Yallock Wine District in the Yarra Valley Wine Region includes vineyards and wineries near the townships of Woori Yallock, Launching Place, Yarra Junction, Don Valley, Wesburn, Warburton, Hoddles Creek and Gembrook. The district is located about 50 km east of the centre of Melbourne. The town of Woori Yallock is in the Shire of Yarra Ranges and is located on the Warburton Trail, which is a walk and cycle track that follows the dismantled old Warburton railway line. It also has a bottle shop, that sell local wines and a pub located on the Old Warburton Highway. Nearby is Launching Place that has many camping grounds where you can go camping, mountain biking, bushwalking, hiking, fishing and boating on the Yarra River. Yarra Junction is at the heart of a premier grape-growing area that has excellent soils and climatic conditions are similar to Burgundy in France. The Junction is also home to one of Australia's most successful quarterhorse studs, Triandibo, and you can visit the property after making an appointment. This district is an ideal base to explore the Yarra Valley and its many attractions such as the Karwarra Australian Plant Garden at Kalorama, overlooking Sylvan Dam, the Healesville Sanctuary, the Puffing Billy Railway and the natural reserve areas in the Dandenong Ranges.

The Yarra Valley Wine Region includes fifteen districts : Eltham ; Shepherds Bush ; Kangaroo Ground ; Wonga Park ; Dixon Creek ; Yarra Glen ; Coldstream ; Wandin ; Gruyere ; Seville ; Badger Creek ; Woori Yallock ; Warburton ; Healesville Watsons Creek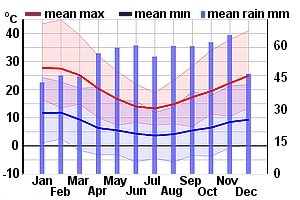 Winery Tour Map
Wineries
Bulong Estate Winery , VIC 70 Summerhill Rd, Yarra Junction
Bulong Estate Winery are located just off the Warburton Highway in the Upper Yarra Valley, an area recognised as being one of the best in the Yarra Valley for the production of high quality cool climate grapes. Our wines are all grown, made and bottled on site, so they are true single vineyard wines and wines of the Upper Yarra Valley. A beautiful wedding venue with spectacular views and locations for photos. Or the perfect location for your private party, celebration or business function. Get in touch to receive information on our function and wedding packages and menus. You are welcome to visit to inspect or chat about your wedding or party plans, just give us a call or email to make an appointment.
Gembrook Hill, VIC 2850 Launching Place Road, Gembrook
Hidden behind Mt. Dandenong and the southern ranges of the Yarra Valley, Gembrook Hill Vineyard was established in 1983 by Ian and June Marks. It is Yarra Valley`s coolest, most southern vineyard, Gembrook Hill, produces distinctive, premium quality wines with refined fruit flavours; funky, high acid and long life. Magnificent views of Mt. Donna Buang and the northerly aspect ended the four year s...
Hillcrest Vineyard, VIC 31 Phillip Rd, Woori Yallock Vic 3139
Hillcrest Vineyard is a micro-boutique maker of individual, classically styled wines. Its owners, David and Tanya Bryant, look to the best producers from the famous French regions of Bordeaux and Burgundy as both their inspiration and benchmark. The style of the wines is clearly influenced by the art of Old World viticulture and winemaking, yet retains the richness so distinctive in Australian win...
Hoddles Creek Estate, VIC 505 Gembrook Road, Hoddles Creek
Hoddles Creek Estate is a relatively new venture that has all the hallmarks of being a very good producer. Set up with the help of Mario Marson (ex-winemaker for Mount Mary and Jasper Hill) no expense has been spared to create top class Merlot, Pinot Noir and Chardonnay. The Hoddles Creek Vineyards are all hand pruned and hand harvested with specific attention being given to organic practices in t...
Langbrook Estate, VIC 40 Stephensons Lane, Yarra Junction Vic 3797
Just over one hours drive from Melbourne and surrounded by magnificent mountain views and acres of virgin bushland, Langbrook is perfect for a weekend or mid week escape that will linger in your memory for years to come. Langbrook Farm and Estate covers 250 hectares of prime picturesque Yarra Valley farmland, and is the home of Kalinka Charolais cattle and Langbrook Estate Vineyard. Langbrook Esta...
The Wanderer, VIC 2850 Launching Place Rd, Gembrook
We strive to deliver individual wines of flavour, character and balance by working with high quality low yielding vineyards and using minimal winemaking techniques. We have been making wines from single vineyard locations in the Yarra Valley and from Spain since 2005. The Wanderer is made by Andrew Marks who is based at his family vineyard, Gembrook Hill Vineyard.