Jump to Winery List
Dixons Creek Wine District
The Dixons Creek Wine District is located in the Yarra Valley Wine Region and is centred on the area surrounding Dixons Creek and Steels Creek, located north of Yarra Glen, about 35 km north-east of Melbourne's central business district. Dixons Creek is home to the famous de De Bortoli Winery and Restaurant. The elegant restaurant can be found upstairs from the cellar door in the Yarra Valley, overlooking the De Bortoli vineyard. Third generation member of the family, Leanne De Bortoli and her husband, manage the Yarra Valley winery and restaurant, home to some of the oldest grape vines in the Valley..Mandala Wines Restaurant is also located in this area.

The Yarra Valley Wine Region includes fifteen districts : Eltham ; Shepherds Bush ; Kangaroo Ground ; Wonga Park ; Dixon Creek ; Yarra Glen ; Coldstream ; Wandin ; Gruyere ; Seville ; Badger Creek ; Woori Yallock ; Warburton ; Healesville Watsons Creek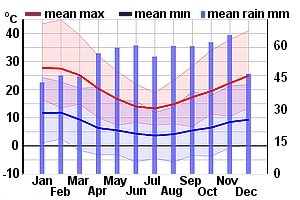 Winery Tour Map
Wineries
916, VIC 916 Steels Creek Road, Steels Creek VIC 3775
916 Pinot Noir is produced from a single five acre vineyard in the Yarra Valley. Each bottle is protected to ensure authenticity, and the wine is traceable to specific areas in the vineyard. At its core, 916 Pinot Noir showcases site and seasonal variations which the Steels Creek micro-climate brings. Harvest is deliberately limited in quantity, handpicked, and segmented by distinctive fruit characters; under the guidance of Viticulturist John Evans and Winemaker Ben Haines.
De Bortoli, VIC 58 Pinnacle Lane, Dixons Creek
The De Bortoli winery and vineyard is located at Dixons Creek just 8 kilometres along the Melba Highway, from the small township of Yarra Glen. The property was purchased by the De Bortoli family in 1987 and they have added another 150 hectares of grapes to the original 13 hectares. The vineyard has a good mix of varieties including; Chardonnay, Riesling, Semillon, Pinot Noir, Cabernet Sauvignon, ...
Fergusson Winery, VIC 82 Wills Road, Yarra Glen, Vic 3775
Peter Fergusson planted his first vines in 1968 and now has extensive plantings of Chardonnay, Pinot Noir, Shiraz and Cabernet Sauvignon. The Fergusson vineyard lies among rising hills at the northern end of the Yarra Valley. The estate has been in the same family for more than 30 years and Peter and Louise Fergusson have kept to the tradition of wining and dining in their own welcoming style. As ...
Henkell Vineyards, VIC 1568 Melba Hwy, Dixons Creek VIC 3775
Henkell vineyards was planted in the 1980`s in the Yarra Valley, approximately 55 km from the city centre of Melbourne. It is about 400m wide and 1 km deep. Henkell vineyards contains 60 acres of vines. The varieties grown are: Chardonnay, Sauvignon Blanc, Shiraz, Merlot, Pinot Noir and Cabernet Sauvignon. In normal years a harvest of between 130 and 170 tons of grapes can be expected. This volume...
Immerse, VIC 1548 Melba Highway, Dixons Creek VIC 3775
`An experience beyond the expected`. Immerse Vineyard, Restaurant, Accommodation and Spa is the place where lovers of good wine and food can discover, relax and indulge themselves in the Yarra Valley. Nestled amongst the vines in Victoria`s premium wine growing region, just an hour from Melbourne - but far from the stresses of everyday life.Situated on the Melba Highway just past Yarra Glen (which...
Mandala Wines, VIC 1568 Melba Hwy, Dixons Creek
Mandala Wines proudly craft wines of character and finesse, designed to be enjoyed with good food and great company. The contemporary cellar door and glasshouse restaurant are the heart of the Dixons Creek site, with DiVino Restaurante as resident restaurant boasting expansive views of the surrounding vineyards and beyond. DiVino Restaurante works with locally-sourced seasonal produce create an ever-evolving menu of delicious, internationally influenced food. The restaurant is open for lunch from Wednesday to Sunday, and for dinner on Friday-Saturday evenings. Drop into the cellar door for a tasting with the friendly and knowledgeable staff. All current release wines are available to taste every day, and the single-site wines join the list on selected weekends. Back vintages and cellar door only releases are also available throughout the year! The cellar door is open from 11am – 4pm all weekdays except Tuesday (closed), and from 10am – 5pm on weekends.
Roundstone, VIC 54 Willowbend Drive, Yarra Glen VIC 3775
Roundstone is one of the picturesque smaller vineyards that make a tour through the gently rolling hills of the Yarra Valley so interesting. The wines employ the usual Yarra varieties with Pinot Noir and Chardonnay being specialities. Varieties include: Chardonnay, Ros...
Shantell Vineyard, VIC 1974 Melba Highway, Dixons Creek VIC 3775
Shantell is a small vineyard and winery situated in a picturesque hillside setting at Dixons Creek, just 60km from the heart of Melbourne. The 16 hectare undeveloped property was purchased in 1980 by Shan and Turid Shanmugam and the first thousand vines planted in spring of 1981. Shan and Turid now have 10 hectares of vineyard planted to the premium grape varieties Chardonnay, Cabernet Sauvignon, ...
Steels Creek, VIC 1 Sewell Rd, Steels Creek VIC 3775
Steels Creek is a small winery sourcing fruit from only 1.7 hectares of vines. Despite their size, the red wines are made on site by Simon Peirce and the white wines made with assistance from consultants. Initial plantings in the one hectare vineyard were Cabernet Sauvignon, Cabernet Franc, Merlot and Colombard. The Merlot failed to develop satisfactorily and was replaced with Chardonnay in 1990. ...
Steels Gate Wines, VIC 1974 Melba Highway, Dixons Creek
Situated in a picturesque hillside setting at Dixons Creek, Steels Gate Cellar Door and Restaurant is located just 60km from the heart of Melbourne; comprised of two hand-crafted boutique vineyards within the Yarra Valley. Steels Gate Home Block Vineyard, situated at 230m above sea level was planted in the late 1970's on an undulating slope on friable grey loam soils. Completely unirrigated and hand nurtured, surrounded by National Park. The vines are cared for by hand and the grapes carefully hand picked at the perfect harvest time. Steels Gate cellar door & modern restaurant, situated at 150m above sea level was planted in the early 1980s. Steels Gate produce elegant wines of distinction. Our estate grown and made wines offer finesse and exceptional flavour. The combination of good food, good wine and exceptional views make sitting down for a meal almost irresistible. Local artwork on display and a pantry full of local products available for sample and purchase.
Toolangi, VIC Pauls Lane, Dixons Creek Vic 3775
At Toolangi Vineyards, owners Garry and Julie Hounsell are firmly committed to making the finest wines possible, and to that end they have assembled a talented team who share their passion. The Toolangi philosophy is to source the very best grapes from the Yarra Valley and put them in the hands of the very best winemaker for the particular varietal. Toolangi Vineyards is located in Dixon`s Creek i...
Yarra Yarra, VIC 239 Hunts Lane, Steels Creek VIC 3775
Yarra Yarra is a labour of love. From the beginning in 1977, the vision has been to make special wines, wines we wanted to drink and if others wanted to share the pleasure, that was a bonus. Our focus has always been on producing the best possible wines regardless of cost, rather than on how many cases or what profit was made. `Word got around that the wines of Yarra Yarra were of exceptional qual...