Jump to Winery List
Herne Hill Wine District
The Herne Hill District includes the Swan Valley area near Herne Hill in Perth, North of Midland and East of the Great Northern Highway. One of the new wineries typical of the area is Sittella established in 1998. Owners Simon and Maaike Berns and their fantastic team of professionals to produce high quality traditional wine styles. The Sittella winery and restaurant lies nestled among the vines on a gently winding road near the upper reaches of the Swan River, a leisurely 30 minute drive from Perth City.

The Swan Valley Wine Region includes ten districts : Upper Swan ; Baskerville West ; Basketville East ; Herne Hill ; Henley Brook ; Middle East ; Lower Swan ; Middle Swan ; Guildford ; Belhus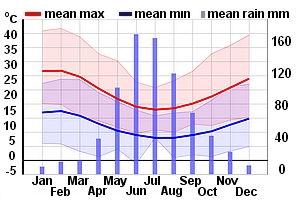 Winery Tour Map
Wineries
Adriatic Wines, WA Great Northern Highway, Herne Hill, WA 6056
Established in 1971, Adriatic Wines produces wines from the Swan Valley region....
Jarrah Ridge, WA 651 Great Northern Hwy, Swan Valley, Herne Hill, WA 6056
Jarrah Ridge winery represents a unique link between the green rolling hills of Western Australia`s picturesque Chittering Valley where the vineyard is located, and the red, arid outback. Principals Syd and Julie Pond have had a long association with the State`s unique remote hinterland and have reflected this in the presentation of their wines. These are in fact, a tribute to the brave and resolu...
Talijancich Wines, WA 26 Hyem Road, Herne Hill, WA 6056
In 1932 the family`s involvement with Grape-growing and Winemaking began, when the late Jim Talijancich first purchased land situated at the foothills of the Darling Ranges in the heart of the Swan Valley. His son Peter Talijancich, continued the tradition in the late 1940`s; soon realising that the Swan Valley was a special place to live and work. Blessed with rich fertile soil and Mediterranean ...
Ugly Duckling Wines, WA 7790 W Swan Rd, West Swan WA 6055
A charming, rustic cottage overlooking the vines is home to our small boutique vineyard and cellar door. Premium wines, all locally grown and crafted, coupled with old-fashioned service and a friendly smile is what you'll find at our popular spot that welcomes dogs in the outdoor dining area. Enjoy a delicious platter of wine-friendly fare, or choose from the range of gourmet pies (some made with Ugly Duckling wines), while you relax and soak up the fantastic views across the Swan Valley to the Perth hills.
Windy Creek Estate, WA 27 Stock Road, Herne Hill WA 6056
Windy Creek Estate invites you to their family owned winery for wine tastings with cheese and crackers. Try their award-winning Sauvignon Blanc along with our Chardonnay, Chenin and our unusual Rose `Caprice` (just like a strawberry champagne without the bubbles). Also available are our 8 year old Port and Liqueur Muscat . New flavours include our popular `Wicked Stepmother`s` jams and marmalades ...