Jump to Winery List
Upper Swan Valley Wine District
The Upper Swan Valley Wine district includes the area in the Upper Swan River Valley, east of the Great Northern Highway, north-east of Perth. It includes vineyards and wineries near the townships of Upper Swan, Belhus, Basketville, Ellensdale and Perth. The Upper Swan refers to the upper portion of the Swan River. Typical of wineries in the area is Upper Reach Winery which is family owned and operated, and is located on the banks of the Swan River. near Baskerville property. All the wines are made on-site, in their state of the art winery. Their aim at the winery is to produce high quality wine exclusively from estate grown fruit, ensuring that each wine reflects the terroir of the vineyard and climate and the particular characteristics of the vintage. Upper Reach is one of the best-known Swan Valley wine producers, that has won an extensive list of wine show awards. They attribute their success to a hands-on approach both in the vineyard and at the winery.

The Swan Valley Wine Region includes ten districts : Upper Swan ; Baskerville West ; Basketville East ; Herne Hill ; Henley Brook ; Middle East ; Lower Swan ; Middle Swan ; Guildford ; Belhus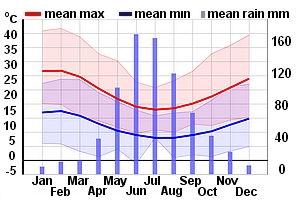 Winery Tour Map
Wineries
Corymbia, WA 30 Nolan Avenue, Upper Swan, Upper Swan, WA
Corymbia is the deep-rooted, far-sighted vision of husband-and wife-team, Rob and Genevieve Mann. The Mann name is synonymous with Western Australia's Swan Valley, where Rob's pioneering grandfather Jack worked a remarkable 51 consecutive vintages for Houghton. Rob was just a boy when he joined his father - former Australian test cricketer Tony - in planting the vines on what is now the dry-grown, organically farmed Corymbia vineyard. After building an exceptional reputation in their own right, the couple kicked off their homecoming dream, Corymbia, with the 2013 vintage, during Rob's tenure as estate director at Newton Vineyard in Napa Valley. Now firmly ensconced back in the Swan Valley, Rob and Gen's Chenin Blanc and Tempranillo-dominant red blend sit at the heart of a bright future for this brilliant duo.
Natural Wine Co., WA 17 Copley Road, Upper Swan WA
The Natural Wine Company is a discretely located boutique winery, producing an extensive range of premium crafted wines from local hand picked grapes, using traditional methods with modern technology. Nestled on the Darling Range the winery is located amidst wildflowers and natural bushland on the north side of the Swan River, a short trail walk to Bells Rapids and close to Walyunga National Park....
The Laughin' Barrel Swan Valley, WA 247 Haddrill Rd, Baskerville WA 6056
rian & Sharon have been in hospitality for 20years, along our journey in life we had two beautiful boys which have turned around the way we think about Dining out experience. At The Laughin` Barrel we found a beautiful place that fits us down to a tee! We have a big playground and lots of running room. We have been dedicated to making everyone's experience here in the Swan Valley one to remember. Established in 1952 as Baskerville Wines by Oscar Borghesi. As history goes on a beautiful Restaurant was built in 1972 to compliment the wine. Now in 2010 we have renamed it to bring a bit of fun and laughter to the valley hence "The Laughin Barrel". Come join us for a beautiful day out in a family friendly relaxing place. Where you can sit back, laugh, love and watch the world go by.
Twin Hill Wines, WA 1093 Great Northern Hwy, Baskerville WA 6056
teve Kraljevich migrated to Australia from Dalmatcia in 1926 at the age of 18. Drawn to the Swan Valley by his love of wine he met his wife Annie. Together they established Twin Hill Wines making their first vintage in 1937. Working alongside their father, Mark and Eddie continued to produce many fruitful vintages. Today Twin Hill Wines is proud to continue the Kraljevich family heritage in the Swan Valley with Dorothy and her two sons Stephen and Anthony and daughter-in-law Robyn.