Jump to Winery List
Lower Swan Wine District
The Lower Swan Wine District includes the Lower Swan area in the Swan Valley Wine Region near the township of Caversham, west of Midland and north of Guildford. One of the outstanding wineries in the area is Sandalford Wines, which was established in 1840 and is one of Australia`s largest and oldest family owned winemakers. There are also a sustainable winery and features wines sold under the brands of Prendiville, Margaret River Range, Estate Reserve and Element award-winning wines. Using advanced viticultural practices and an innovative winemaking team, they have a renowned reputation for quality and attention to detail. The Lower Swan district is also home to the renowned Caversham Wildlife Park and Zoo which is located in Whiteman Park and features one of the largest collections of native fauna in Western Australia.

The Swan Valley Wine Region includes ten districts : Upper Swan ; Baskerville West ; Basketville East ; Herne Hill ; Henley Brook ; Middle East ; Lower Swan ; Middle Swan ; Guildford ; Belhus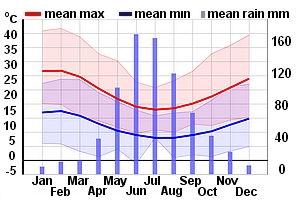 Winery Tour Map
Wineries
Banara Wines, WA 37 Benara Road, Caversham WA 6055
Specialists in vintage and liqueur ports and liqueur Muscat styles, this family winery draws on nine generations of experience to produce consistently good wines. Cellar sales: 10am-6pm daily....
Mandoon Estate, WA 10 Harris Road, Caversham, WA, 6055
Settled on the banks of the Swan in the 1840s, Mandoon is an iconic destination for the region with cellar door, fine dining restaurant, outdoor deli, microbrewery, gallery and kids play area. Mandoon Estate is located just 30 minutes from Perth CBD and accessible by both road and river, or just a scenic helicopter flight away! Or for the ultimate weekend away, stay in one of 32 beautifully appointed rooms at the Colony. A block of Verdelho was first planted in 1895 and still produces grapes today, make it one of the oldest commercially used vineyards in Western Australia. The winery has only been producing wine since 2010, all of which can be enjoyed at the award-winning cellar door. The focus is on creating a boutique range of premium wines from well-preserved low-yielding vineyards in the Swan Valley and other regions. Varieties include Sauvignon Blanc, Semillon, Verdelho, Riesling, Chardonnay, Grenache, Cabernet, Cabernet Merlot and Shiraz.
Pinelli Wines, WA 30 Bennett St, Caversham, WA 6055
A traditional family winery that keeps its wide range of multi-award winning wines at affordable prices. Wine tasting and cellar door sales available. Open 10.00 am 5.00 pm Monday - Sunday. Wines produced include: Chenin Blanc, Chardonnay, Shiraz and Cabernet Sauvignon....
Riverbank Estate, WA 40 Helena Street, Guildford WA 6055
Established in 1991, RiverBank Estate is a small Winery and Restaurant situated in the Western Australian wine growing region of the Swan Valley less than twenty minutes from the centre of Perth. The vineyard overlooks the Swan River and benefits from the warm climate of this grape growing region. Well-matured fruit with distinctive varietal characteristics and flavour is the end result. White and...
Sandalford Estate, WA 3210 West Swan Road, Caversham WA 6055
The historic Sandalford Caversham Estate is located in the heart of the Swan Valley on the banks of the beautiful Swan River, a short 20-minute drive from the city of Perth. It is Western Australia`s largest and oldest family-owned winery with some of the most highly prized vineyards in Margaret River, Mount Barker, Frankland River and the Swan Valley. They are committed to producing the finest gr...