Jump to Winery List
Baskerville East Wine District
The Baskerville East Wine District lies in the Swan Valley area near Baskerville and the nearby towns of Baskerville, Millendon, Brigadoon, Midland. This district is home to the famous Olive Farm Wines, which is a boutique family owned winery located in the Swan Valley. Olive Farm Wines produces premium boutique wines including red wine, white wine, sparkling wine varieties and fortified wines. The full range of wines produced can be tasted at the Olive Farm Wines cellar door located in the Swan Valley, located only 30 minutes drive from the Perth CBD. Olive Farm Winery is renowned as the oldest established winery in all of Western Australia. Vines were first planted in 1829 by Thomas Waters, an English botanist. Mr Waters carried with him a number of plants, including olive trees and grapevine cuttings. He was granted a large parcel of land in South Guildford, which he cleared and began to plant the olive trees hence the name Olive Farm. He excavated and underground cellar which still stands today and is used as a cellar sales outlet.

The Swan Valley Wine Region includes ten districts : Upper Swan ; Baskerville West ; Basketville East ; Herne Hill ; Henley Brook ; Middle East ; Lower Swan ; Middle Swan ; Guildford ; Belhus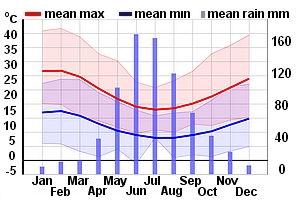 Winery Tour Map
Wineries
Brigadoon Estate, WA 65 Cathedral Avenue, Brigadoon, Western Australia. 6069
Brigadoon Estate Wines was established in 1997 in West Australia`s oldest wine growing region, the Swan Valley, just 20 minutes from the Perth City centre. The owners have strived to develop a small family business focusing on providing quality wines that can be enjoyed with a light lunch, in shady parkland settings, overlooking the Darling Ranges. The first step in achieving a lifetime ambition w...
Faber Vineyards, WA 233 Haddrill Road, Baskerville WA 6056
Faber Vineyard is our family vineyard and winery in Western Australia's Swan Valley.  Faber was established by John Griffiths & Jane Micallef in 1997 to grow regionally distinctive grapes and craft wines that are rich and flavoursome.  Faber is Latin for a smith, a craftsman, an artisan; skilled, ingenious. We believe wine should be inspired – crafted with a sense of creating something distinctive and characterful.  Winemaking is a simple craft – let the fruit dictate the style of the wine, not the winemaker.  True winemaking is not an act of manipulation but of allowing the conversion of grapes to wine in such a way as to express the flavours and nature of those grapes.  It's about wines that sing of their origins – variety, soil, climate.  Wine is a natural product, wrought by craftsmen.  
Fig Tree Estate Winery, WA 100 Bisdee Road Millendon, Millendon, WA, 6056
Taste traditionally-made, small-batch wines with the winemaker, paired with a delicious gourmet platter featuring figs from the property's 100-year-old tree, alongside seasonal local produce. Proudly family owned and operated by the Jenkins family, the winery commenced with plantings of Verdelho, Shiraz and Grenache varieties in 2010. The estate grows and sources fruit locally, specialising in small lot, traditionally made wines that are handcrafted and full of unique character. Varieties include Sparkling Chenin Blanc, Verdelho, Chardonnay, Shiraz Grenache, Cabernet Shiraz, Merlot and Shiraz Liqueur. Swan Valley Apple Ciders are also produced.
Lamont Winery, WA 85 Bisdee Road Millendon, Western Australia 6056
Encouraged by Corin Lamont`s late father, Jack Mann, the winery was established by the family in 1978 with an ethos of producing full flavoured table and fortified wines. The estate grown vineyard has just over 5 hectares of vines. Apart from some recently planted Shiraz, most vines are between 15 and 20 years old. The vineyard soils are of two types, each of three layers - sandy loam over loam ov...
Neilson Estate Wines, WA 63 Logue Rd, Millendon, WA 6056, Millendon, WA, 6056
Family owned winery Neilson Estate Wines focus on creating new and exciting wines through years of experience and passion. Neilson vineyard has a wide range of wines, and their motto is creativity and new additions. When visiting the wineyard you will have an in depth introduction to the wines by the owners. Located in Western Australia's oldest wine region, this winery has a broad range of wines, suiting everyone's pallet.
Olive Farm Wines, WA 920 Great Northan Hwy, Millendon, WA, 6056
The heritage of WA's oldest winery, four-generations of family ownership and the 'dream' cellar door including a decadent cheese emporium, makes for one un-missable Swan Valley experience. The Olive Farm property dates back to 1829 and was established by an English botanist named Thomas Waters who brought grapevine cuttings and olive trees with him when he settled in Perth. He planted the olive trees first, hence the name, but wine was soon produced, with the first vintage in 1834. (Much of which became currency for bartering with the local shopkeepers!) The winery become one of the first in WA to produce Traditional Method Sparkling wines back in the 1960s. These remain a core of range which is now named 'Olivine'. Still table wines were introduced in the 1970s and achieved great success in the local wine shows. The current range is diverse, with over 35 sweet to dry white, red, sparkling and fortified wines. There are all the Swan Valley classics, along with some other surprise varieties like Tempranillo, Traminer, Durie and Cabernet Franc.
Susannah Brook, WA 72 Bisdee Rd, Swan Valley, WA 6056
Located in the Swan Valley, Western Australia. Peaceful for the parents and fun for the kids, Susannah Brook Cottages Swan Valley offers a safe and approachable natural environment perfect for your next family holiday. With natural and gourmet delights, wines, honey, art, cheese and chocolates all at your doorstep, guests can enjoy the best of what the Swan Valley has to offer and still be just a ...
Swan Valley Wines, WA 261 Haddrill Rd, Baskerville, WA 6056
All Swan Valley Wines are authentic expressions, as well the refinement of the family wine making tradition. The Swan Valley has a long history of viticulture as Peter and Paula Hoffman and their sons Paul and Thomas discovered when they purchased their property at Baskerville from the Vallelonga family in 1989. All about the district there remained the relics of the days when returned soldiers, m...