Jump to Winery List
Baskerville West Wine District
The Baskerville West Wine District lies in the Swan Valley area near Baskerville in the Perth area, North of Midlands and West of the Great Northern Highway. Baskerville is an outer rural suburb about 31 km north east of the centre of Perth. Most of the surrounding land is covered with vineyards, and several well-established Swan Valley wineries are based in the area. Baskerville is also home to the Feral Brewing Company, which is a micro brewery situated in the beautiful Swan Valley. Feral Brewing offers a unique selection of award winning beers, premium boutique wines made from their own vineyard and outstanding food at their restaurant.

The Swan Valley Wine Region includes ten districts : Upper Swan ; Baskerville West ; Basketville East ; Herne Hill ; Henley Brook ; Middle East ; Lower Swan ; Middle Swan ; Guildford ; Belhus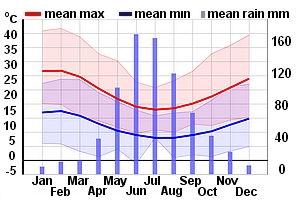 Winery Tour Map
Wineries
Harris Organic Wines, WA 179 Memorial Avenue, Baskerville, WA, 6056
The only certified organic winery in Perth and fascinating example of sustainable viticulture, producing traditional table, sparkling and dessert wines in the Swan Valley. Harris Organic Wines is an extremely friendly place. Make your way past the cats and free-range chickens to the cellar door of this small boutique winery and you can enjoy a seated tasting of organic wines with winemaker and owner Duncan Harris (a $ 10.00 tasting fee applies, redeemable against any wine purchase). Sustainability is central to Harris Organic's philosophy. The wines are made with natural yeasts and the bare minimum of additives and preservatives. The grapes are irrigated only by what they receive from the sky and Duncan never uses any pesticides, herbicides or chemical fertilisers.
Mann Wines, WA 105 Memorial Ave, Baskerville, WA 6056
Mann Wines is a small winery located in Baskerville, Swan Valley. We specialise in sparkling wine and produce for the months of August and September....
Marlindah Vineyard, WA 59 Swan Street, Baskerville WA
Come and visit the unique hand-made mud-brick cellar of Marlindah Vineyard for premium wine tasting, garlic olives, home-made wine vinegar, seasonal macadamia nut and mandarin tasting....
Pandemonium Estate, WA 1050 Great Northern Highway, Baskerville, WA, 6056
Visit this family-owned, small-batch producer of premium table and fortified wines with a Spanish twist, located in the heart of the Swan Valley wine region. Established in 2008 by Martin Buck and Loraine Donlevy, Pandemonium Estate is a small wine producer located in the heart of the Swan Valley wine region. Spanish varieties Pedro Ximenez and Grenache are the great passion of the winery, while well-known Swan Valley varieties Chenin Blanc, Moscato and Shiraz are also made. The eleven-hectare vineyard is sustainably managed with minimal chemical input; utilising tough lateritic soils and warm summer breezes to produce fully-formed fruit flavours. The Pandemonium cellar door is designed around some of the oldest vines on the property and offers tastings of the full wine range as well as wine by the glass or bottle which can be enjoyed alongside views of the Darling Ranges. Vineyard platters, cheese and tapas are also available. The cellar door is open weekends and public holidays 11am - 5pm.
The Ritual, WA 233 Haddrill Road, Baskerville, WA 6056
The Ritual is the product of a partnership between two Perth wine identities. John Griffiths is winemaker, and Bill Healy owns the 40-ha Orondo Farm Vineyard in Dwellingup, where John obtains much of the grapes for his own (Faber) and other labels. The modest line-pricing and simplicity of the product range reflect no more than sober experience. Exports to the UK and China.
Upper Reach Winery, WA 77 Memorial Ave, Baskerville, WA 6056
Upper Reach is a family owned and operated boutique winery, on the banks of Perth`s Swan River. All our fruit is grown at our Baskerville property and the wine made on-site, in our state of the art winery. Our aim at Upper Reach is to produce wine of the highest quality from estate grown fruit, each wine reflecting both the vineyard and the particular vintage. Upper Reach is one of the top Swan Va...