Jump to Winery List
Belhus Wine District
The Belhus Wine District includes vineyards and wineries in the Belhus area of the Upper Swan Valley, Perth, west of the Great Northern Highway. Belhus is home to the renowned Ellendale Estate Winery owned by winemaker, John Barrett-Lennard and his family that have a long and highly successful history in winemaking in going back to 1908. George (John Barrett-Lennard`s grandfather), was one of Western Australia`s leading winemakers. In 1908 he won a gold medal for a dry red wine exhibited at the Franco-British Exhibition in France. George had developed his property at Belhus and produced high-quality wine and table grapes on its rich soils. The principle varieties grown are Chenin Blanc, Tawny Port, White Blend.

The Swan Valley Wine Region includes ten districts : Upper Swan ; Baskerville West ; Basketville East ; Herne Hill ; Henley Brook ; Middle East ; Lower Swan ; Middle Swan ; Guildford ; Belhus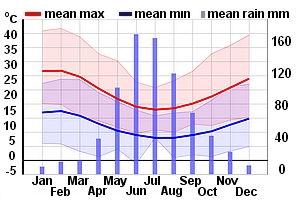 Winery Tour Map
Wineries
Ellendale, WA Lot 109 Corona Way, Belhus, Perth WA 6069
Winemaker, John Barrett-Lennard and his family have a long successful history in winemaking in Western Australia going back to his Grandfather winning worldwide acclaim for a dry red wine in 1908. The Barrett-Lennard family of Ellendale Estate have a long winemaking history. One of John`s forebears, Edward Pomeroy Barrett-Lennard, in company with Captain Freemantle, sailed into the Swan River harb...
Little Black Dog Wines, WA 21 Cruse Rd, Belhus, WA, 6069
Keeping a 100+ year family tradition of winemaking with origins in Macedonia, Little Black Dog Wines makes a quaint range of small-batch, single vineyard wines in the Swan Valley. Today, passed down through the Trandos family, the Little Black Dog vineyard is situated in the beautiful Swan Valley region. All wine is made with handpicked grapes, rich with distinct, fruit-driven flavours, picked from estate-grown vines that are over 30 years old. Being a boutique winery, the family hand-select only the best grapes from their vineyard to make the Little Black Dog wines, selling the balance. All production, from grape to bottle, takes place at the winery. Fourteen different grape varieties are grown in the vineyard, and the wines made include Chardonnay, Cabernet Sauvignon, Malbec, Chardonnay Semillon, Sparkling Chenin Blanc, Shiraz, Rose, Merlot, Liqueur Shiraz, Semillon Sauvignon Blanc and Liqueur Chardonnay Verdelho.