Jump to Winery List
Padthaway Wine Region SA
The Padthaway Wine Region in the Limestone Coast Zone includes wineries along the Riddoch Highway near Padthaway, close to the townships of Keppoch and The Gap. The Padthaway Region, originally known as Keppoch was first identified in 1963 by Karl Seppelt based on an early study by CSIRO) and Agriculture, South Australia. Seppelt acquired of 350 hectares (865 acres) and planted vines, and Lindemans, Hardys (in 1968) and Wynns soon followed and the region is dominated by these major companies. Padthaway has largely lived up to the potential and has become a producer of excellent white wines and fabulous reds. Padthaway has all the essential natural elements needed for excellent wines. A Mediterranean climate, reasonable average rainfall of 520 mm. A major asses is the well-drained Terra Rossa soils that vary from sandy loam to red clay overlying limestone generates rich fruit flavour and intensity. The scarcity of irrigation water as well as spring frosts are the major challenges. The opening of the large, state-of-the-art Stonehaven Winery in 1998 was a major milestone that built the reputation of Padthaway wines.

The Limestone Coast Wine Region includes nine districts : Padthaway ; Robe ; Wrattonbully ; Kingston SE ; Mount Gambier ; Mount Benson ; Lucindale ; Bordertown Coonawarra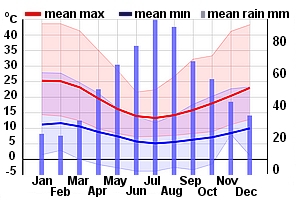 Winery Tour Map
Wineries
Browns, SA 13 km south of Padthaway, PMB 196, Riddoch Highway, Padthaway SA 5271
Traveling south from Adelaide to Mount Gambier, Browns of Padthaway is located a further 13 km south of the township of Padthaway. The highway gives a great view over the vineyard, which can be seen on the right hand side of the highway heading south. Five generations of agriculture expertise has helped make Browns of Padthaway one of the few private family labels producing premium quality wines i...
Farmers Leap Wines, SA 41 Hodgson Road, South Australia, Padthaway SA 5271
Farmers are no strangers to risk. But when you know your land and what makes it tick, such risks often reap great rewards. When Scott Longbottom and Cheryl Merrett took the leap to plant vines on their Padthaway land in 1993, they applied the know-how handed down from three generations of farmers. This place is part of their DNA.
Henry's Drive, SA Seppelts Road Padthaway SA 5271
Handcrafting wines from our family vineyards in Padthaway, South Australia, Henrys Drive Vignerons is named in admiration of the 19th century mail coach service that once drove through our property. Today, Kim continues to build the business she started with Mark with a singular aim as strong now as it was then to craft fine wines from one of Australias great wine growing regions. Henry's Drive Vignerons was established by Kim Longbottom and her late husband Mark and takes its name from the 19th century mail coach service that once ran through their property. Back then coaches were the only means of moving people and their mail through the farming and wine growing areas of South Australias South East and the men who drove them had the respect and admiration of all. Around Padthaway that duty fell to Henry John Hill and his route was known as Henrys Drive.
LCW Corp - Limestone Coast Wines, SA 7089 Riddoch Hwy, Padthaway SA 5271
We like to think of ourselves as a humble winery producing great things. Our family owned and operated business, crafts some of The Limestone Coast's and Australia's finest cool climate wines.
Morambro Creek, SA Riddoch Highway, Padthaway, SA 5271
Morambro Creek wines is a super premium winery owned and operated by the Bryson family, with wines produced from fruit grown on their estate in Padthaway. Established: in 1994, the winemaker is Nicola Honeysett. With 125 hectares under vine, the latest vineyard practices are followed, no insecticides are used and with good natural climatic conditions and low yields the vineyard consistently produc...
Padthaway Estate, SA RMB 52 Millicent, Riddoch Highway, Padthaway SA 5271
Padthaway Estate is located in the heart of the Padthaway wine region of South Australia. This region takes its name from the estate, which was settled by pioneers, Robert and Eliza Lawson in 1847. Upon taking up the property, Robert built Eliza a small 8 roomed white washed Georgian style stone cottage where they resided for 30 years, producing eight children.The family became successful pastoral...