Jump to Winery List
Lucindale Wine Region SA
The Lucindale Wine Region includes wineries located between Naracoorte and Robe, near the township of Lucindale on the Limestone Coast. Like the neighbouring Wrattonbully Region, on the Limestone Coast in South Australia, the vineyards at Lucindale produce fruit for many surrounding regions as well as for their own wine production. This region boasts unique and much sought after terra rossa soil, a very fertile soil that produces wonderful wines. The Di Giorgio Family Wines has a large vineyard at Lucindale with a number of varieties: Chardonnay, Merlot, Cabernet Sauvignon, Pinot Noir, Shiraz. The Lucindale Area School's Sustainable Farm, which began in 1992, has become a major factor in the wine development of the area. The farm idea arose from innovative thinking by the school's then principal Doug Curtis, applied the principle of 'diversify or die' to the to the curriculum for agriculture. The local farming community rallied to support the idea and State and Federal grants helped buy a farm, and the school acquired buildings as a base. Students can choose to be involved in broad-acre cropping, grape growing, wine production, growing trout, Atlantic salmon or yabbies and growing vegetables. Community involvement is reinforced through the school's demonstration and information stalls at the annual South-East Field Days.

The Limestone Coast Wine Region includes nine districts : Padthaway ; Robe ; Wrattonbully ; Kingston SE ; Mount Gambier ; Mount Benson ; Lucindale ; Bordertown Coonawarra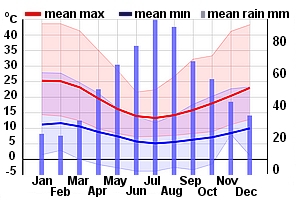 Winery Tour Map
Wineries
Lucindale Area School, SA Gum Ave (PO Box 147), Lucindale SA 4272
Enthusiasm and community involvement has helped a small south-east school to become a major contributor to the region`s development. The Lucindale Area School`s Sustainable Farm, which began in 1992, has become a major factor in keeping the area dynamic and enterprising. The farm was the result of some innovative thinking by the school`s then principal Doug Curtis, who thought the catch-cry `diver...
Lucindale Vineyard, SA vineyard at Lucindale; postal P.O. Box 30, Coonawarra 5263
See Di Giorgio Family Wines: The vineyard plantings at Lucindale total 126 hectares and comprise the following: Cabernet Sauvignon, Chardonnay, Merlot, Pinot Noir, Shiraz. The vineyard development and management practices are of the highest order. The Di Giorgio family has left no stone unturned in their untiring pursuit of excellence in viticulture. The family believes that you cannot make great ...