Jump to Winery List
Robe Wine Region SA
The Robe Wine Region includes wineries between Robe and Millicent and Beachport, and west of Penola (Coonawarra). It includes wineries and vineyards near the towns of Robe, Bray, Clay Wells, Beachport, Hatherleigh, Millicent and Southend. The white wines from this region are noted for their good structure and finesse and the reds for their intense flavour, spicy aromas and ripe fruit character. The main varieties grown in the Region include Shiraz, Cabernet Sauvignon and Chardonnay, with smaller plantings of Merlot, Sauvignon Blanc, Petit Verdot, Pinot Noir, Semillon and Viognier are also grown. The climate is predominantly maritime, with the cooling influence of sea breezes off the Southern Ocean,. The Woakwine Range which offers some shelter from the southerly winds. Elevations for the vineyards range from 50 to 150 m above sea level. The mean temperature in January is about 22.5 degrees C and in July is about 14 degrees C. The region is generally about three degrees cooler than in the neighbouring Coonawarra region which is further inland. The rainfall in the region is generally quite low with just 210 mm falling in the growing season and the mean annual rainfall is about 670 mm. Soils in the region vary considerably, with the renowned Limestone Coast terra rossa, sandy loams on the coastal plains and calcareous sands on the coastal dunes. Visitors are well catered for in Robe and Beachport, with good range of quality accommodation, excellent restaurants, pubs and cafes. Robe is a great place to use as a base for enjoying tours of the local wineries, enjoying the beaches, fishing and boating. Visitors love the spectacular coastline at Little Dip National Park that has good camping facilities, bushwalking, dunes and deserted beaches ideal for endless strolls. Some of the wineries in the Robe Wine Region include: Anthony Dale, Elgin Valley Vineyards (StoneHaven), Governor Robe Wines, Robe Vineyard (Southcorp Wines, Waterhouse Range Vines-Gov Robe, Woodsoak Vineyards.

The Limestone Coast Wine Region includes nine districts : Padthaway ; Robe ; Wrattonbully ; Kingston SE ; Mount Gambier ; Mount Benson ; Lucindale ; Bordertown Coonawarra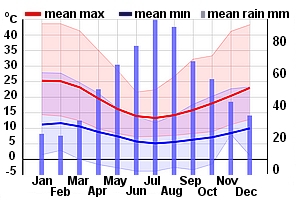 Winery Tour Map
Wineries
Elgin Valley, SA Elgin Lane, Beachport SA 5280
Grape sources for Stonehaven wines include more than 2,200 acres of prime vineyards in several, distinctly different microclimates located throughout the prestigious Limestone Coast region. These currently include Padthaway (1,112 acres), Wrattonbully (400 acres) Coonawarra (315 acres) and Elgin Valley (395 acres). Stonehaven`s vineyards are a perfect combination of youth and experience - we have ...
Karatta Wines, SA Main South Eastern Road, Robe SA
Karatta Wines is a family owned winery nestled in the Robe region along South Australia`s magnificent Limestone Coast. Named after Karatta House, one of Robe`s well-known heritage listed icons on the shores of Lake Butler, Cellar Door and Winery are located 22 kilometres from Robe on the Robe Penola Road. Karatta has two vineyards, both located in the Robe region. These vines are grown on the famo...
Robe Town Brewery, SA 38 Smillie Street Robe SA 5276
Robe Town Brewery is a small family-run Boutique brewery striving to make use of traditional and sustainable methods of brewing for the small-scale production of hand-crafted specialty ales and non-alcoholic beverages. Robe is a small historic town situated on the rugged Limestone Coast of South Australia. Surrounded by beautiful views of the ocean, beaches and wild bushland, Robe is easily one of the region's top destinations for good food and great local wine! The town is scattered with historic buildings dating back over 150 years ago, when Robe flourished as the second most active sea-port in South Australia. It is back in 1869 when the prominent citizen of Robe, George Lord Snr., first established the Robe Town Brewery. With a focus on once again supplying the local market with fine brews, today Robe Town Brewery will be making use of several traditional methods of brewing that were used back when George Lord first served locally made ale at his old Frankfort Hotel (later known as the Criterion Hotel). This involves the use of handmade timber mash tuns (where malt starches are converted to sugars), custom-built wood-fired kettles (where the beer is boiled) and open fermentation vessels (where the yeast does its magic).
Robe Vineyard, SA Main Road Robe, SA 5276
The Robe vineyard has come a long way since the land was used to breed horses for the British Army in India in the 1800s. Part of the wine region known as the Limestone Coast, the Robe vineyard is located on the eastern side of Woakwine Range, about 15 kilometres from the town of Robe and 275 kilometres south of Adelaide. Development of the site began in 1994 with plantings of Shiraz, Merlot and P...
Woodsoak Wines, SA 38 Smillie Street Robe SA 5276
Our wine is produced from grapes grown on the Legoe family property, Woodsoak. This property has been in our family for 60 years and is located in the picturesque Robe Region of South Australia. Past generations of the Legoe family would indulge in a fine drop of wine set amongst the beautiful landscape. The current generation, Will, has married his love of fine wine and Aussie tradition with the vibrancy and colour of Sonias Indian heritage. We have symbolised this by choosing the national bird of India, the revered peacock, as our emblem. Woodsoak Vineyards is 55 acres and includes plantings of Cabernet Sauvignon, Shiraz, Merlot and Pinot Noir. Our soil aspect and mild maritime climate, along with the long and gentle growing season are attributes leading to the production of highly aromatic wines with intense vibrant colours and richly developed forest floor and blackberry fruit flavours. The ever so pleasing result is our Woodsoak Wine! We hope that you enjoy our premium range: Zaahira Sparkling, Santi Sauvignon Blanc, Mayur Chardonnay, Rani Rose, Pyaar Pinot Noir, Raj Shiraz, Vijay Cabernet Sauvignon, Methode Traditionnelle Blanc de Noirs, Methode Taditionnelle Sparkling Shiraz.