Jump to Winery List
Mount Gambier Wine Region SA
The Mount Gambier Wine Region in the Limestone Coast Zone includes wineries south of Penola and Millicent and eastwards to the Victorian border. It includes wineries surrounding the townships of Mount Gambier, Kongorong, Moorak, Marte, Wandilo and Dartboogie. The wine growers in the area are supported by the Mount Gambier Regional Winegrowers Association which was formed in June 2003. This region is regarded by many as the diamond in the crown of the Limestone Coast Zone and is rapidly building a reputation for its outstanding reds made from Pinot varieties and white wines from Savignon Blanc and Chardonnay. Given the large size of the Region, there are a number of districts, each with their own unique, climate, soil characteristics and aspect. Soils range from terra rossa, sandy loams, volcanic loams around Glencoe and Mount Gambier, to the stony, flint and limestone soils Kongorong close to the coast. The first commercial vineyard was planted in 1982 and now the region has grown to include more than twenty growers and several wineries. Mount Gambier is a large rural service centre and tourist destination. There are many attractive, historic buildings in town and many wonderful attractions in the area including the famous Blue Lake.

The Limestone Coast Wine Region includes nine districts : Padthaway ; Robe ; Wrattonbully ; Kingston SE ; Mount Gambier ; Mount Benson ; Lucindale ; Bordertown Coonawarra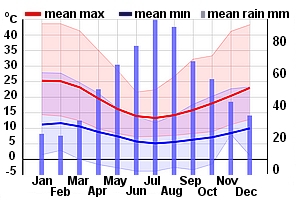 Winery Tour Map
Wineries
Haig Vineyards, SA Cnr Square Mile Road and Lewis Av, Mount Gambier SA 5290
Haig Vineyard is south-east of the famous Blue Lake just out of Mount Gambier. The vines were planted 1982 and include Pinot Noir, Chardonnay and Cabernet Sauvignon. The grapes are grown in rich volcanic soil and harvested as late as May. Both dry and sweet styles of wine are produced and cellar door sales are welcome. Mount Gambier`s very own wine grown in the rich volcanic soils on the Southern ...
Herbert Vineyard, SA 27 Bishop Rd, Mount Gambier SA 5290
Sporting great reviews in the James Halliday Wine Companion and The Wine Front, our Pinot Noir proves to be a popular choice amongst others. "It's not forced, sophisticated or pretentious, but just, simply, overwhelmingly, HERE, NOW"
Wolf Blass, SA Vineyards near Mount Gambier
Released as part of the Wolf Blass Gold Label range, the grapes for the Mount Gambier wine range come from two vineyards. Just outside of Mount Gambier proper, is the Gleed vineyard as a beautiful, boutique property, which also has Pinot Noir and Chardonnay as part of its 15 acres. The second vineyard sits about halfway between Penola and the coast, in the Kongorong region. Both these properties o...